November 22, 2010 -
National Football Post
Scout's notebook: offense
A scout's take on the good, the bad and the ugly from the twelfth week of the college football season concerning some of the nation's top prospects.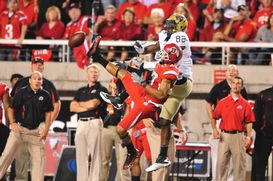 ICONBaldwin isn't a guy who generates a ton of separation for himself on any level of the field.
Not in the same class…
A lot has been made this year of all the top-tier talent in the junior wide receiver class. And when taking a look at Pittsburgh's Jonathan Baldwin this season, I feel as though he's not nearly the same type of prospect as guys like A.J. Green or Julio Jones. First off, he doesn't display the same type of initial explosion off the line or out of his breaks. Plus, this season the guy looks a bit heavier in the upper body and doesn't quite seem as fluid when asked to change directions, fighting himself trying to get back up to speed, as he's forced to routinely gear down and/or round off his breaks out of his routes. And, despite the fact the guy is a powerful strider down the field who picks up speed as he goes, he doesn't have the type of second gear to routinely outpace defenders and quickly get behind them. Now, all this doesn't mean the guy can't play at a high level in the NFL, as he has a big frame, can go up and pluck the football and isn't afraid to work the middle of the field. However, in my mind he looks more like a higher end possession type receiver at the next level than a legit game-breaking type number one threat.
Don't read too much into it…
Despite the quiet six catches for only 30 yards and a touchdown Troy wideout Jerrel Jernigan was able to muster up vs. South Carolina this weekend, it was still impressive to watch the guy generate such significant separation for himself so quickly from the slot. Jernigan was used all over the offense, but when lined up inside, the guy has the initial burst, body control and acceleration to gain a step, run away from defensive backs and then adjust to the football. Plus, he can be very creative after the catch, displaying good balance while making defenders miss either in a phone booth or in the open field. He is a bit limited in where he can play in the NFL because of his size. However, I have been waiting for this matchup all year to see how he stacks up vs. SEC-caliber competition, and I can now honestly say he looks like a potential higher end slot guy in the NFL who can help out in the return game and with some gadget plays on offense as well.
His natural running style will be enough…
Boston College running back Montel Harris possesses only average size at 5-10, 200-pounds. He isn't a real dynamic athlete in the open field and lacks the straight-line speed to really outrun defensive backs in the NFL. However, when you watch the patience, comfort level and decisiveness the guy runs with inside against consistent eight man fronts you can't help but be impressed. Harris showcases impressive fluidity in his hips, good balance and footwork when asked to make a sudden cut and calmly and cleanly is able to pick his way through the line of scrimmage. He's rushed for over 100 yards in six straight games and really is the guy every defense tries to slow down on BC. Now, he has a tendency to get a bit upright at times through the line picking his way through traffic, but he does a nice job lowering his pad level when asked to finish runs and has the kind of feel to help out an NFL run game inside as a solid rotational back.
Other weekend draft nuggets…
• You'd be hard pressed to find a more technically sound offensive lineman in the country than Penn State's Stefen Wisniewski. He isn't the biggest or most powerful of interior linemen inside. However, he routinely is able to fire off snaps on time, generates a real snap through his hips, doesn't waste any motion getting under defenders and properly is able to get his hands inside and under his target. Plus, he showcases good balance and coordination throughout the play in both the run and pass game and really is a tough guy to disengage from. He has the versatility to play either guard or center at the next level and is a guy who I can see coming in and starting early in his NFL career. Now, I don't consider Wisniewski a guy who will ever mature into a real blue-chip type player at the next level, but he's the kind of solid second/third-round pick you can win with in the trenches.
• Speaking of PA offensive linemen, I came away really unimpressed with the play of Temple OT Darius Morris and OG Colin Madison. Morris isn't real clean on his kick-slide, gets upright initially off the edge and seems to lose balance easily in the run game. Madison, on the other hand, isn't a real natural bender when asked to sit into his stance, struggles to generate leverage on contact in the run game and like Morris plays way too high to anchor at the next level in pass protection. Both are solid MAC linemen who have done a nice job resurrecting the Temple program, but will have a tough time making a roster at the NFL level.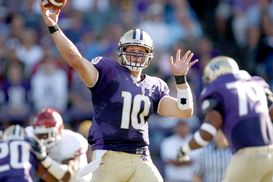 Locker's struggles were once again on display Thursday night.
• Finally, I can't stress enough how vital the decision-making process is when evaluating the quarterback position at the college level. Because in the NFL with the caliber of defensive linemen out there, the offensive line is going to break down. Therefore, the ability to quickly recognize the breakdown, decipher the info needed and get the ball out on time is one of the biggest things I look for when evaluating a QB.
Case in point this Thursday night, Washington QB Jake Locker at times just seemed oblivious in terms of recognizing coverages once he felt pressure, still tried the force the football into his primary read or where his eyes were locked and was fortunate on a couple occasions not to see his poor decisions result in turnovers and/or points going the other way.
However, when you watch a guy like Andrew Luck from Stanford, he consistently shows the ability to quickly identify the pressure, use his subtle movements in the pocket to buy himself just a split second more of time and then deliver the football to a secondary option. He's also able to do so after calmly motioning his offense from one formation to another, like he did this weekend — empty to tank — getting everyone lined up where they need to be and then deciphering the defense with his pre-snap read all while maintaining complete control of his team throughout the process.
It's the little things that set big-time QB prospects apart, not their physical skill sets or gaudy stats, and this is just another reason why if I need a franchise signal caller, I am taking Luck over anyone else. And not only because of his physical skill set, but because of his feel for the game, his demeanor and ability to make quick, correct decisions consistently for his offense even with all the pre-snap movements and defensive chaos going on around him.
Follow me on twitter: @WesBunting