October 11, 2010 -
National Football Post
Scout's notebook: offense
A scout's take on the good, the bad and the ugly from the sixth week of the college football season concerning some of the nation's top prospects.
My takes…
Running back review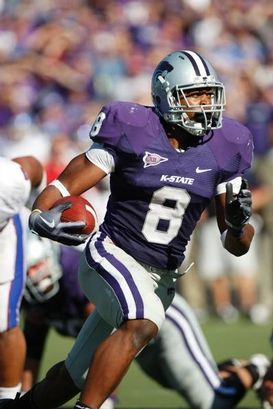 ICONThomas struggles to keep his pad-level down in all areas of the game.
Daniel Thomas: Kansas State (6-2, 228)
I wrote about Thomas in the Thursday night primer and then witnessed all my major concerns to his game come true vs. Nebraska that evening. The guy simply runs too high through the line of scrimmage and opposing tacklers routinely are able get under his frame, stop his feet on contact and bring him down in space or in a phone booth. He also isn't real shifty, struggling to make anyone miss once they square their shoulders and break down on him. Now, to my surprise, he did do a much better job catching the football out of the backfield, even showing some coordination as a route runner and I did like his ability to help out in blitz pickup. However, I think because of his production, paired with the really weak senior running back class, Thomas began to get put on a pedestal that he simply didn't deserve to be on. Now, I do think he deserves to get drafted and can be a physical reserve type option, but he's not an NFL-caliber starting talent in my opinion.
DuJuan Harris: Troy (5-7, 195)
Despite his shorter stature, Harris is a well-put-together back at nearly 200 pounds and does a nice job keeping his pad level down through the line of scrimmage, is really sharp when asked to change directions and possesses a good initial burst out of his breaks. The guy has made a really favorable impression on me so far this season, consistently breaking arm tackles, creating in tight areas and has enough speed to reach the edge and be a threat in the open field. Now, he isn't the most instinctive of backs between the tackles and at times will slow his feet trying to search for a hole. But, he is a patient back who will allow blockers to set up and does a nice job making himself small, running behind his pads and slithering his way for a positive pick-up inside. Looks like a potential roster guy to me who, depending on how he runs, could move up some draft boards come April.
Still don't know what the big deal is
One name that continues to be building momentum in draft circles is Indiana massive right tackle James Brewer. Brewer is a big 6-6, 334-pound kid who displays a strong upper body, can stick to defenders in the pass game and exhibits above-average mirror ability in tight areas for his size. Plus, he looks to have improved his overall flexibility from a year ago, sitting into his stance better and trying to play with a little more leverage. However, after watching his game from two weeks ago vs. Michigan he definitely doesn't strike me as a guy who has the range to reach speed off the edge in the NFL. He consistently is forced to open up his hips and lunge into blocks trying to push defenders past the play. Plus, anytime he doesn't have help inside he's susceptible to the inside move, failing to quickly redirect and looks heavy footed in space. He's not a very good athlete either, struggles to stay engaged when asked to block on perimeter runs and just doesn't look much more than a late round/free agent size guy to me.
How tough is he?
LSU OT Joseph Barksdale has a lot to offer an NFL team from an athletic standpoint. He looks like a coordinated tackle who can bend, has some range on his kick-slide and can reach defenders off his frame in the run game. However, the guy doesn't exhibit much pop on contact, lacks any kind of real punch to his game and just gives off some really soft/finesse vibes to his game. I have since talked to a scout in the region who said he just isn't a real tough kid and to me he just seems like a guy who will have a tough time handling the overall physicality/rigors of the NFL.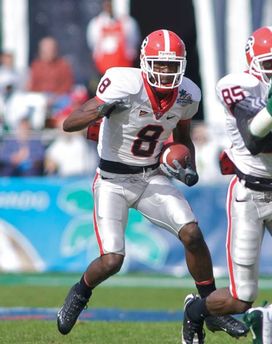 ICONGreen is one of the few potential blue-chip prospects for the 2011 NFL draft.
Short draft night
What else can be said about Georgia wideout A.J. Green? At 6-4, 205 pounds, the guy is so fluid and balanced as a receiver, consistently gaining initial separation out of his breaks with the burst and speed to routinely be a threat down the field. However, what's even more impressive is his overall body control and coordination to go up and make a play on the throw. His concentration level is unmatched when you watch him, as his eyes instantly go to the football and don't come off until he secures the grab. There really isn't much this guy can't do and has the makings of being one of the higher graded out prospects to come along over the past couple drafts.
Can't beat press
So much has been made about the talent in the Indiana wide receiving corps. However, receivers Damarlo Belcher and Terrance Turner both really struggled on Saturday vs. an athletic Ohio State defense that had a pair of corners that weren't afraid to get up into both their faces and play press coverage. Both Belcher and Turner lacked ideal shiftiness off the line, were slow to get into their routes and simply had a tough time generating any kind of separation all game long. One of the biggest reasons for the struggles of wideouts making the jump to the NFL is their inability to beat press coverage and as of now, it's a major concern with both these receivers as well.
They love him
One guy who isn't getting a ton of love in the center class at this stage is Oregon State's Alex Linnenkohl. But, he's a gifted athlete who showcases good range, body control and violence when asked to pull and be a move guy. Plus, he's pretty athletic in pass protection and despite his lack of ideal power he does have the athleticism to hold up inside as a mirror guy. Now, there are some scouts I have talked with that question his size, but everyone will tell you that the Oregon State coaching staff just raves about this kid and in my opinion he definitely offers enough to warrant a draft pick, can make an NFL roster and with some time it wouldn't shock me at all if he's fighting for playing time.
Him? Not so much
However, one center who can't overcome the limited size rap is Stanford's Chase Beeler. He's another guy the coaching staff loves, as he's tough, smart and does all the little things, but at only around 6-3, 280 pounds there are a lot more doubters than supporters at this stage — including myself — as to his chances of making an NFL roster.
Shouldn't be under the radar, but he is
Finally, it's hard to overlook Virginia Tech's 6-2, 215-pound wideout Jarrett Boykin, but when you consider some of the names in the junior wide receiver class, he simply becomes more of an afterthought. However, every time I have seen this guy play the one thing that really sticks out about his game is the overall power/strength he possesses. The guy is a strong runner down the field who can maintain his balance and go up and get the football. He exhibits really strong hands and wrists when asked to pluck off his frame, he's physical after the catch and is a better straight-line athlete than given credit for. Boykin has been effective both underneath and vertically down the field all season for Virginia Tech and is a guy who I think has a potential starting caliber skill set to his game and looks like the next legitimate receiver prospect to come out of Virginia Tech.
NFL draft/college football questions? Get them answered at Wes.Bunting@nationalfootballpost.com
Follow me on Twitter: @WesBunting