April 03, 2012 -
Brad Biggs
Seahawks get major facelift as NFL unveils new uniforms
The NFL continues to dominate headlines in the offseason and today it is with the unveiling of new uniforms designed by Nike, which takes over following a 12-year run by Reebok.
The buildup for this day has been coming even though the vast majority of uniforms will only have slight modifications and tweaks, changes that had to be approved by the individual clubs and the NFL.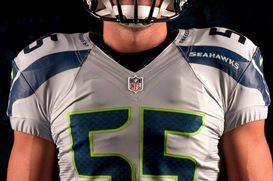 What do you think of the Seahawks' new look?
But the Seattle Seahawks have made a big change. The Seahawks have incorporated a good deal of neon green with their new uniforms and feathers on the collar of the jersey and down the side of pants. The 12 feathers is a tribute to the 12th Man in Seattle. The numbers are in a futuristic, funky look.
There is a lot going on here, and it's the closest thing to the wild uniforms that Nike creates for the University of Oregon. The question worth considering is will Nike slowly incorporate these modern looks with more teams in coming years? Will it be out with the old and in with the bizarre? Or are the Seahawks on their own in this venture?
Seattle's helmet has also changed with a silver bar being added to the logo, which connects in the back of the helmet.
Just keep in mind: All of the changes are made with the singular goal of creating more marketing and apparel dollars.
Follow me on Twitter: @BradBiggs
Brad Biggs covers the Bears for the Chicago Tribune