April 27, 2012 -
National Football Post
Second Round Mock Draft
Second round…

33. St. Louis Rams: Stephen Hill, Georgia Tech, WR
The Rams have a ton of picks in day two and start it off by landing one of the draft's top vertical threats.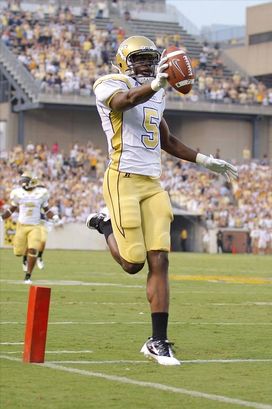 ICONHill won't be on the board long in round two.
34. Indianapolis Colts: Coby Fleener, Stanford, TE
QB Andrew Luck gets a familiar target to throw to.

35. Baltimore Ravens: Mike Adams, Ohio State, OT
The Ravens have never had any trouble gambling on a guy with some character concerns and Adams has the talent to win as a left tackle in the league.

36. Denver Broncos: Jerel Worthy, Michigan State, DT Worthy has been the name connected to the Broncos all along.

37. Cleveland Browns: Rueben Randle, LSU, WR
Yet another piece to improve the Browns on offense.

38. Jacksonville Jaguars: Janoris Jenkins, North Alabama, CB
The Jags have never been shy about small-school talents and Jenkins is one of the draft's top-15 prospects in my mind based on talent alone.

39. St. Louis Rams: Cordy Glenn, Georgia, G/OT
Improving the O-line is another must for the Rams and Glenn can play either tackle or guard in the league.

40. Carolina Panthers: Devon Still, Penn State, DT
Still is a good value who and adds an instant starter to the Panthers defense inside.

41. Buffalo Bills: Jonathan Martin, Stanford, OT
The Bills have a need at tackle and get Martin at a much solid value in round two.

42. Miami Dolphins: Courtney Upshaw, Alabama, OLB
An ideal power complement off the edge for the Dolphins.

43. Seattle Seahawks: Lavonte David, Nebraska, OLB
One of the draft's best overall football players.

44. Kansas City Chiefs: Amini Silatolu, Midwestern State, G
Pencil him in as a nasty starter at guard from day one in the NFL.

45. St. Louis Rams: Alameda Ta'amu, Washington, DT
Quickly the Rams now have on the best young defensive front fours in the NFL.

46. Philadelphia Eagles: Zach Brown, North Carolina, LB
Possesses the kind of athleticism that makes it easy to overlook his faults.

47. New York Jets: Andre Branch, Clemson, DE
Branch has the ability to stand-up and rush from a two point stance.

48. New England Patriots: Trumaine Johnson, Montana, CB
Johnson is a similar prospect to Ravens first round pick Jimmy Smith from a year ago and could play a big role in New England early on.

49. San Diego Chargers: Peter Konz, Wisconsin, G/C
A center/guard combo prospects offers some versatility and much needed talent to the Chargers inside.

50. Chicago Bears: Brandon Thompson, Clemson, NT
Bears continue to improve front four and Thompson is an ideal fit at the nose.

51. Philadelphia Eagles: Josh Robinson, Central Florida, CB
Their once deep core of corners is quickly starting to thin out.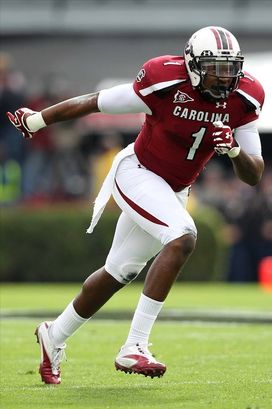 ICONJeffery and A.J. Green could be a scary combo.
52. Tennessee Titans: Cam Johnson, Virginia, DE
Has the talent to out perform a lot of the defensive ends who went ahead of him in round one.

53. Cincinnati Bengals: Alshon Jeffery, South Carolina, WR
The idea of pairing Jeffery up with A.J. Green has to sound intriguing.

54. Detroit Lions: Brandon Boykin, Georgia, CB
Boykin can play all over a defensive secondary and when healthy he's one of the best at his position in the draft.

55. Atlanta Falcons: Vinny Curry, Marshall, DE
Atlanta needs to add some life to the pass rush.
56. Pittsburgh Steelers: Jamell Fleming, Oklahoma, CB
A physical corner to add to the secondary.
57. Denver Broncos: Orson Charles, Georgia TE
The Broncos are in a position where they can add playmakers to the offense and Charles can be a mismatch piece inside.

58. Houston Texans: Joe Adams, Arkansas, WR
Adams has the ability to take the top off a defense and make plays vertically down the field.

59. Green Bay Packers: Kendall Reyes, Connecticut, DT
A solid value, fit and talent for the Packers at the end of round two.

60. Baltimore Ravens: Lamar Miller, Miami, RB
He's too good of a value to pass up and will take some pressure of Ray Rice in the run game.

61. San Francisco 49ers: Brandon Brooks, Miami OH, OG
He's powerful, strong and a perfect fit for the 49ers power scheme.

62. New England Patriots: Mohamed Sanu, Rutgers, WR
A big threat who can work from the slot or the outside. In the Marques Colston mold.

63. New York Giants: Kelechi Osemele, Iowa State, OL
A big strong lineman who can win consistently once he gets his hands on you. Showcases natural bend and can play either guard or tackle at the next level.