June 03, 2014 -
Greg Gabriel
Second year spotlight: AFC South
In the last installment of our series on possible second-year breakout players, we take a look at the AFC South. With two new head coaches now in the division (Bill O'Brien in Houston and Ken Whisenhunt in Tennessee), players who fit their respective clubs when drafted may no longer fit now. Conversely, guys who looked like backups under the old staffs could have a bigger role with these new regimes in place.
Ryan Griffin, TE, Houston Texans: Griffin was a sixth-round pick in 2013 and appeared in 15 games last season. What's interesting is that he was the starter at tight end for pretty much the entire second half of the season. Griffin came on strong over the last four games of the year which is when he recorded 15 of his 19 total catches. He also had one touchdown reception.
With Bill O'Brien as the new head coach in Houston, we may see a lot of two tight end formations similar to what is currently used in New England. Rookie third-round selection C.J. Fiedorowicz (Iowa) would be the "Y" tight end. Griffin is athletic with good hands to go along with his impressive height (6'6"). Pairing him up with Fiedorowicz would give the Texans two very tall tight ends who would create some matchup problems for opposing defenses.
Khaled Holmes, C, Indianapolis Colts: Before the 2013 NFL Combine, USC's Holmes was considered one of the top centers in the coming draft. However, Holmes recorded just 14 reps on the bench press in Indianapolis and his stock began to slide. The Colts nabbed Holmes in the fourth round, which could prove to be a bargain.
With a year to improve his upper body strength, Holmes is ready to step in and become the starting center in 2014. He has the mental and physical tools necessary to succeed at the position and has added strength, which was his one glaring weakness. It will be interesting to see how he progresses.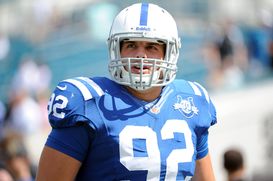 Werner notched 2.5 sacks in 13 appearances for the Colts last season.
Bjoern Werner, LB, Indianapolis Colts: Werner was the 24th player selected in the first round of the 2013 draft. The Colts tabbed the Florida State product because of his edge pass rush skills. Making the adjustment to outside linebacker as a rookie, Werner took a little longer to develop than expected.
With a year spent both in the weight room and learning to play on his feet, Werner is ready to become a quality NFL player. And the Colts are banking that it happens soon because star pass rusher Robert Mathis is suspended for the first four games of the season. Werner has to make up for Mathis' pass rush production.
Luke Joeckel, OT, Jacksonville Jaguars: Joeckel was considered by many to be one of the top offensive linemen in the 2013 draft. As a rookie, the Texas A&M standout started his first four games at right tackle and was then moved to left tackle for the fifth game. Unfortunately, Joeckel broke his ankle early during that contest and missed the remainder of the season.
The injury proved to be more serious than originally thought and the rehab process has been long and tedious. Joeckel is just about back to 100 percent now and is ready to prove he was worthy of being drafted second overall a year ago.
If healthy, Joeckel has the tools to be a dominant left tackle in the NFL. Before the season is five games old, we will know just how good this guy truly is.
Justin Hunter, WR, Tennessee Titans: Hunter was a second-round pick in 2013 and played well in a backup role last season, despite the facts that he lacked the strength needed to fight off jams and his route running required improvement.
Hunter has added about 15 pounds in the weight room this off-season and has worked hard on his route running. He has the size and speed to become a very good NFL receiver. As a rookie, Hunter caught 18 passes for 354 yards with a YPR (yards per reception) average of 19.7. Now the Tennessee product just needs to do it on a more consistent basis.
It's not unusual for receivers to require a year or two of professional football before they play with confidence. Hunter now has a year under his belt and I expect big things in 2014.
Follow Greg on Twitter: @greggabe