May 27, 2014 -
Greg Gabriel
Second year spotlight: NFC East
The NFC East had some productive rookies in 2013. Some of these players, like the Cowboys' Terrence Williams and Philadelphia's Zach Ertz, will play even better in 2014. There were also some young guys who functioned more or less as role players during their rookie campaigns, with bigger things expected from them this season.
Gavin Escobar, TE, Dallas Cowboys: Escobar was the Cowboys' second-round choice out of San Diego State in 2013. He played well in a limited role as a rookie, but finished the season with only nine receptions and two touchdowns.
With tight ends taking on a more prominent role in just about every offense around the league, Escobar needs to and will step up to the plate in 2014. He has the size, hands and athleticism to be an excellent NFL tight end. While Jason Witten is still the Cowboys' top option at the position, he is entering his 12th year and does not have to speed he possessed earlier in his career. It's because of this that Escobar now has the opportunity to play a bigger role in the offense.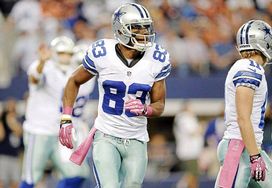 With Austin out of the picture, Williams should see an improvement on his 74 targets from last season.
Terrence Williams, WR, Dallas Cowboys: Even though he missed a lot of time last year, Miles Austin was always viewed as the No. 2 receiver in Dallas behind Dez Bryant. Austin wasn't re-signed, meaning the No. 2 job is now Williams' to lose.
Williams played well as a rookie, with 44 receptions for 736 yards and five scores. With a year under his belt in the offense system, those numbers should increase to approximately 75 receptions and 10 touchdowns. Williams has the natural traits to put up those kinds of numbers.
Now it's up to him to perform.
Johnathan Hankins, DT, New York Giants: Hankins was the Giants' second-round pick in 2013 and played in the defensive line rotation behind Linval Joseph at nose tackle. With Joseph being lost to the Vikings in free agency, Hankins assumes the starting role in 2014.
What Hankins does best is defend the run. He is big and stout at the point of attack and can occupy two blockers. What he needs to do is improve his pass rush. Joseph, while a top run defender as well, would give the Giants three to four sacks from the inside.
Hankins recorded no sacks a year ago and needs to improve that area of his game, which I believe he will.
Zach Ertz, TE, Philadelphia Eagles: When the Eagles were on the clock for their second-round pick in 2013, it didn't take head coach Chip Kelly long to pull the trigger on Stanford tight end Zach Ertz. There were some draft analysts who felt that Ertz, not Notre Dame's Tyler Eifert, was the top tight end in the 2013 draft.
Ertz had a productive rookie season, with 36 catches for 469 yards and four touchdowns. He had some struggles during the first half of the season, but played very well over the final eight games where he caught 22 of his 36 receptions and scored all four touchdowns.
The hope here is that Ertz picks up where he left off at the end of 2013. He's more athletic and has more speed than Brent Celek, who is more of a "Y" type tight end. Ertz has the athleticism to play split out and create mismatches. My feeling is that Ertz will put up some big numbers this year.
Jordan Reed, TE, Washington Redskins: Reed played very consistent football for Washington as a rookie. He finished the season with 45 receptions for 499 yards and three touchdowns.
Reed is best utilized in the slot or on the move. He is more of a big wide receiver than a "Y" tight end. It is expected that he will improve his blocking, but as a receiver we can look for Reed to increase his production to about 60-65 catches and eight touchdowns.
In the new offense scheme of head coach Jay Gruden, Reed will play an important role.
Follow Greg on Twitter: @greggabe