April 04, 2011 -
National Football Post
Second-round picks with first-round talent
Not only is there some real talent toward the top end of the draft, but the first-round depth is very good as well. Therefore, with only 32 picks in round one, some talented, potential impact-caliber prospects who possess first-round grades are likely to fall into round two.
Here is the NFP's look at some of the potential highest-graded players who could fall into round two.
Quarterbacks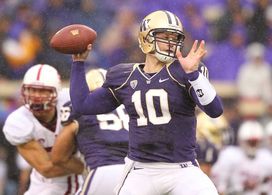 Locker has been slowly falling down draft boards all year.
Christian Ponder: Florida State
In my mind he's the safest bet of any quarterback in the draft. Ponder is a tough, accurate passer with a good enough arm and "gets it" from the shoulders up.
Jake Locker: Washington
As physically gifted as any quarterback in the class and there aren't any off the field concerns attached to his name. Has the talent to be one of the league's best if he ever puts it together mentally.
Running backs
Mark Ingram: Alabama
I still think Ingram is a better prospect than Ryan Mathews, who went 12th overall last year to the Chargers. However, if he gets past the Dolphins at 15, I'm having a hard time finding a spot for him in the back end of round one.
Mikel Leshoure: Illinois
The big back displays impressive short-area quickness for his size, runs hard and has a feel between the tackles. One of the few backs capable of carrying the load at the next level in this year's class.
Ryan Williams: Virginia Tech
An ideal fit as a zone running back. Is a sudden, violent back who accelerates quickly once he puts his foot in the ground and when healthy the guy can be dynamic.
Wide receivers
Jonathan Baldwin: Pittsburgh
As naturally talented as any receiver in the class. A big-time vertical threat with jump ball ability, but has been said to have rubbed some teams the wrong way. Either way if you can get him motivated, he could be a real gem in round two.
Titus Young: Boise State
A gifted vertical threat who can consistently take the top off a defense and make plays down the field. However, character concerns could cause him to fall.
Torrey Smith: Maryland
I'm hearing he very likely could be the third receiver to come off the board come draft day and is another gifted vertical threat.
Leonard Hankerson: Miami
Isn't the most dynamic of athletes on tape, but he possesses some short-area quickness, can win for you in the three-step game and his improved hands have helped boost his stock.
Tight End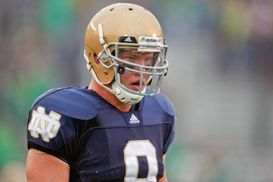 ICONRudolph could be one of the "steals" of the draft.
Kyle Rudolph: Notre Dame
A potential impact-caliber tight end early in his NFL career. Will fall because of the hamstring, but in my view will develop into one of the league's best.
Offensive linemen
Stefen Wisniewski: Penn State
He isn't the biggest or fastest of individuals. However, the Penn State standout is as technically sound as any college lineman I've scouted and will be ready to start either at guard or center from day one.
Benjamin Ijalana: Villanova
I've had him in my first round the past couple weeks, but because of not competing at the Senior Bowl, I could see him falling into the second round. Reminds me some of former second-round lineman Rodger Saffold.
Defensive linemen
Stephen Paea: Oregon State
The powerful defensive tackle has seen a slight slip in his stock after hurting his knee at the Senior Bowl. However, his tape says this guy is a starting-caliber lineman in the NFL and in my mind he's a better NFL prospect than some of the more hyped junior defensive tackles who will end up going ahead of him.
Muhammad Wilkerson: Temple
I like Wilkerson much more as a second/third-round pick than first rounder. I will admit he has talent and a lot of upside. But he just strikes me as far too much of a project to take in round one. However, from what I am hearing, I would not be shocked if he went there.
Linebackers
Akeem Ayers: UCLA
Ayers is a first-round talent with a lot of versatility. But, his overall mental make-up has been questioned by some NFL teams I have spoke with, which could cause him to slide outside the top 32 picks.
Defensive backs
Jimmy Smith: Colorado
On tape, I would say he's the second-best talent at the cornerback position in the draft. However, his character concerns will likely cause him to fall into the later portions of round one or early round two.
Brandon Harris: Miami
Harris has only average size and only slightly above-average speed, which is why he could fall outside of round one. Nevertheless, in my view he's clean in and out of his breaks, finds the football and gives you the versatility to play him both inside and out at the next level.