May 05, 2011 -
National Football Post
Second/third-round breakdowns
Love 'em…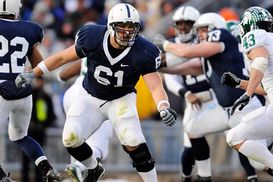 Wisniewski is "NFL ready" from day one.
Oakland Raiders: OL Stefen Wisniewski
Some talent evaluators have been critical of the Raiders saying they "reached" on Wisniewski in the second. However, I don't buy it. He's as technically sound as any offensive lineman I have evaluated since 2002, he's versatile and in my mind is a lock to mature into an 8-10 year starting lineman in the NFL. He's smart, tough, works his hands well and understands angles. Seems like a great second-round value to me.
Indianapolis Colts: OL Benjamin Ijalana
I personally had Ijalana ranked ahead of the Colts' first-round pick Anthony Castonzo and think he can end up being one of the best linemen to come out of his draft. He's got the length and athleticism to play on the outside, the power and flexibility to play inside and just strikes me as a legit NFL talent who is only starting to scratch the surface of his potential.
Houston Texas: CB Brandon Harris
He's a bit undersized and didn't have the type of elite straight-line speed to make a move into the first round. However, in my mind, he's got the fluidity to turn and run with NFL caliber receivers, is balanced/compact with his football and has the ability to play both on the outside or from the slot at the next level. He should be able to come in and contribute from day one in the Texans secondary and long term could end up being Houston's best cover man.
Washington Redskins: WR Leonard Hankerson
Hankerson is a big-bodied wideout who doesn't play nearly as fast as he ran at the NFL Combine and does have some problems with his focus/hands at times. However, he's a coordinated receiver who can beat press off the line, separate out of his breaks and uses his big frame to go up and get the football. He's going to be an ideal fit running those inward breaking routes in the Washington offense and even possesses that sneaky strider speed to turn up the field and win in jump ball situations. Plus, he works hard after the catch and I love his overall value in round three.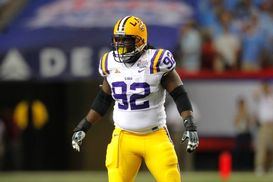 ICONNevis has the burst to make a ton of plays inside.
Indianapolis Colts: DT Drake Nevis
The Colts were in need of a lineman who could consistently create initial pressure inside off the snap and Nevis has the skill set to shine in that role. He's got as good a get off burst as any interior defensive lineman I saw on tape this year. He plays with a great motor, has a passion for the game and rarely stays blocked for long. Plus, Nevis does possess a strong lower half, a compact build and can be tough to move off the ball one-on-one. Overall, I expect him to make a lot of noise this year inside for the Colts creating negative plays behind the line.
Question 'em…
Oakland Raiders: CB DeMarcus Van Dyke
I can't say the pick surprised me at all, seeing as how the fastest cornerback at the NFL Combine landed with the Oakland Raiders. Van Dyke can run — there's no doubt about that. But, he's a really thin-framed kid, plays upright and struggles with his balance when asked to get out of his breaks and track the football. Developing his footwork and keeping his pad level down is the key for Van Dyke going forward if he hopes to be successful at the next level. But, in my mind, he just strikes me as too much of a project for round three.
Denver Broncos: ILB Nate Irving
Irving is a strong, tough, hard-nosed player who is at his best coming downhill and will tackle the ball carrier. However, he's limited as an athlete, as I can't see him holding up in space and think he's more of a two-down guy only. Now, because of the holes inside for Denver at defensive tackle I do think if Irving wins the starting spot at ILB he'll have plenty of opportunities to make plays on early downs. Nevertheless, he will still be a liability anytime he's asked to hold up in space and will get picked on in coverage if asked to play three downs.
San Diego Chargers: LB Jonas Mouton
Mouton displays above average fluidity and coordination in his drop, and can hold his own in space. Looked more like a nickel backer to me at the next level, but I still have questions about his overall passion for the game and fire. On tape he looked disinterested at times, an attribute that really showed when games got out of hand at Michigan and in my mind he wasn't even worth the risk of a draft pick.
Follow me on twitter: @WesBunting