January 27, 2011 -
National Football Post
Senior Bowl impressions
Breaking down some of the positional groupings in Mobile and taking a look at who stood out and who struggled this week during Senior Bowl practice.
A deep OT class
There may not be that blue-chip, top-ten offensive tackle prospect in this year's draft, but there is a group of intriguing guys who could all come off the board in the first round and quickly mature into starting-caliber tackles in the NFL. Mississippi State's Derek Sherrod did a nice job this week reaching speed off the edge and redirecting cleanly in space. He still gets a bit high with his hand placement and isn't as compact as you would like with his punch, but he's a gifted athlete with natural movement skills in pass protection.
Wisconsin's Gabe Carimi on the other hand isn't quite the athlete Sherrod is, but he's good enough to hold his own on the left side, possesses an impressive anchor and can really get after it in the run game. Add in the fact that Boston College's Anthony Castonzo and Colorado's Nate Solder could also find their way into the first round and overall it's a very solid tackle class.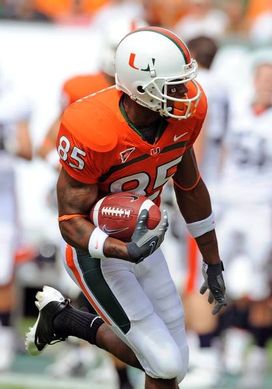 ICONHankerson has been one of the stars on the South roster.
Wideouts aren't far behind
Speaking of a talented class, the senior wide receiver group down here also has a unique and deep plethora of prospects who could make their way onto the field early during their rookie years and improve an NFL offense. If you want a vertical threat, look no further than Boise State's Titus Young, who has shown the ability to not only routinely get behind corners deep, but has the suddenness/balance to his game to really snap his way out of his breaks and separate underneath.
If you're looking for a bigger, possession-type wideout then Miami's Leonard Hankerson and Boise State's Austin Pettis both fit the bill. They do a nice job working the three-step game, they use their big bodies well to shield defenders from the football and know how to pluck the throw off their frame.
And finally one guy who deserves a mention is Nebraska's Niles Paul, who at 6-0, 225 pounds accelerates really well for a guy his size. He is physical when asked to beat press, can create with the ball in his hands and looks capable of making plays from both the inside and out. The biggest question with him this week was his ability to consistently catch the football, which he has done well for the most part.
Some lackluster performances at linebacker
It was a pretty "blah" week for the North linebacking squad as Boston College's Mark Herzlich looked stiff and struggled in coverage for the most part. He also wasn't real effective as a pass rusher in blitz pick-up drills and overall didn't do much to write home about in my view.
Oregon's Casey Matthews and Ohio State's Ross Homan both struggled to hold up at the point of attack throughout the week when asked to anchor vs. tight ends during run drills. However, the one guy who did do a nice job was Washington LB Mason Foster. He's a natural striker who finds the football quickly and runs well in pursuit. He isn't elite physically in any area of the game, but he's just a solid football player who showed well for himself this week and looks like a solid 2nd-3rd round pick who can mature into a starter early in his NFL career.
Follow me on twitter: @WesBunting