January 25, 2012 -
National Football Post
Senior Bowl: North Practice Notes Day 3
I got a good look at the linebackers this morning and it might be the strongest position on the North squad…
Arkansas State LB Demario Davis again stood out with his natural foot quickness and athleticism in coverage. He quickly can redirect, finds the football well and has a burst out of his breaks. Plus, he displayed good change of direction skills limiting tight ends in man coverage.
Utah State LB Bobby Wagner was also surprisingly solid in man coverage today considering he's a guy who was used off the edge routinely on third down in college. He's a physical kid who did a nice job anticipating routes, was able to sink his hips when trying to change directions and close. He's isn't the type of dynamic athlete who is able to get out of his breaks and make plays on the ball, but he understands angles and was able to close quickly in man.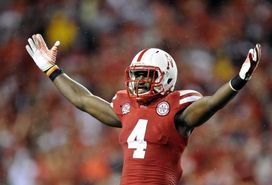 Lavonte David can make plays despite being a bit undersized.
Nebraska LB Lavonte David is a bit undersized. However, he's a "plus" athlete who can turn and run down the field. He's loose in the hips, diagnoses plays quickly and always puts himself around the football. In the run game he's routinely getting early jumps on the actions and knows how to scrape the edge and break down into contact.
Other day three notes…
In the secondary today, Michigan State safety Trenton Robinson showcased the ability to sit into his drop, stay compact with his footwork and quickly get out of his breaks in the deep half when driving on throws. He displayed an initial burst and had some closing range. However, he looks tighter in the hips when asked to turn and run, and doesn't have a great feel when asked to match-up on the wheel routes out of the backfield. Twice he looked slow to decipher the action and gave up a step when trying to turn and run.
Utah OL Tony Bergstrom is another guy who I have been warming up to this week. He's limited off the edge as a tackle. However, when kicked inside to guard he showcases a good first step, sits his base down and "fits" well into contact. He isn't a guy I see as a potential NFL tackle, but as a guard prospect could see him starting at the next level.
On the other hand, Wisconsin OG Kevin Zeitler had a much tougher day. He's a strong kid who can stick through contact once he gets his hands on you. However, he's not real comfortable when trying to mirror in space laterally and would routinely get overextended trying to get his hands on defenders. The more space he's asked to play in the less effective he is in pass protection.
I have to tip my hat to Boise State LB Shea McClellin. The guy has done a nice job this week competing in linebacker drills. Plus, he showcases sneaky fluidity when asked to turn and run down the field with running backs and has a good feel finding the football when lined-up inside. Overall, he's a versatile kid who will get looks in both a 34 and 43 scheme and should be able to create pressure from a number of spots at the next level.
Wednesday was the best day of practice in my view for Nebraska CB Alfonzo Dennard. He was physical in press coverage, did a nice job staying in receivers back pockets down the field and competes when asked to go make a play on the football. He still lets opposing wide outs get behind him. However, as a potential cover two guy he should be able to find a home.
It's been a pretty "blah" week of practice for Missouri TE Michael Egnew. He hasn't shown much burst off the line from a three-point stance and is tighter when trying to get out of his breaks and separate. Now, he is a big kid, but looks limited in the type of routes he can run at the next level.
Finally, Appalachian State WR Brian Quick finally started to flash a little for me today. He's a good-looking kid with a big frame and can track the football down the field. Plus, he did a better job dropping his pad level working the comeback and looked more natural catching the football. I still don't see the guy as a big time NFL receiver who consistently is going to be able to win off the line and separate out of his breaks. But he's got enough natural talent to create some mismatches at the next level.
Follow me on twitter: @WesBunting
Check out the NFP Draft Page here…