January 22, 2013 -
Erik Oehler
Senior Bowl – Players Who Shined on Day Two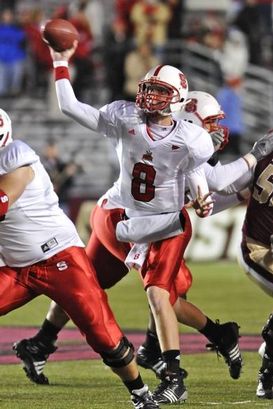 NC State QB Mike Glennon releases pass.
1. Mike Glennon, QB, North Carolina State (6066, 220 and 5.00): Glennon was clearly the superior QB in terms of arm talent today, as he showed the ability to make every throw with outstanding zip and accuracy. He did an excellent job of stepping into his throws and getting lower body torque, which allowed him to spin the ball with excellent velocity. With the exception of one underthrow in the team period, he excelled on deep throws, showing the ability to lead his man to the boundary with proper zip and trajectory. Often time's tall QBs look slow and deliberate in their mechanics, but this was clearly not the case with Glennon.
2. Markus Wheaton, WR, Oregon State (5110, 183 and 4.45): During drills today Wheaton looked like he was simply on another level athletically compared to several other North team receivers. He ran routes at full speed, which allowed him to sell downfield routes and make precise cuts to create separation. Against press coverage he also showed the ability to be physical getting out of his breaks in order to create space between himself and the cornerback naturally.
3. Ty Powell, LB, Harding (6030, 250 and 4.75): Powell showed excellent range today on outside runs and took proper angles of pursuit. He did a solid job of holding containment responsibilities and forcing run plays back into the defense. He was comfortable dropping into space in pass coverage and did a good job of changing directions and closing on passes thrown in front of him.
4. Eric Fisher, OT, Central Michigan (6072, 305 and 4.80): Fisher looks the part of an NFL starting left tackle, as he not only has the size and length to play the position, but throughout practice today displayed excellent athleticism and competitiveness. He flashed solid power on drive blocks and was shockingly fluid and quick in space. He did a great job of using his hands to get a good fit on blocks and was highly competitive throughout practice. Our one issue with his play today was his tendency to block upright, which leaves him susceptible to bull rushes and hinder his ability to redirect back inside.
5. Hugh Thornton, OG, Illinois (6032, 313, and 5.15): Thornton was able to hold his ground at the LOS today because of his ability to sink his hips and absorb contact. In run drills he displayed a strong initial punch and demonstrated the foot quickness needed to seal off LBs in the second level. He did a solid job of punching and resetting in pass protection throughout today's practice.
6. Kawann Short, DT, Purdue (6032, 308 and 4.85): Short displayed excellent strength and initial quickness which allowed him to press the pocket with an aggressive bull rush. Impressive hand quickness and strength made him very productive against blockers today and was essentially unblockable during one-on-one drills.
7. Datone Jones, DE, UCLA (6041, 280 and 4.75): During one-on-one drills Jones showed the ability to win with quickness and misdirection as well as pure power on a bull rush move. This was even more impressive because he defeated Eric Fisher with one quick and explosive inside pass rush move and drove Fisher back into the pocket on an aggressive bull rush. He also displayed a very good first step, which allowed him to press the edge on the pass rush. Jones was most impressive when using his hands to defeat blockers, as he displayed the violence and quickness needed to keep blockers off balance and off his frame.
8. Jordan Mills, OT, Louisiana Tech (6060, 322 and 5.25): Mills was a late addition to the South roster and made an immediate impact in one-on-one drills by stymying Ezekiel Ansah on back-to-back reps. He's a mountain of a man that has the power to match, as he was able to consistently anchor at the LOS against bull rushers today. For such a big man he moves well on his feet and shows the competitive streak NFL teams covet.
9. Larry Warford, OG, Kentucky (6032, 333 and 5.05): Warford had his second straight solid practice today, as he again demonstrated the ability to sink his hips and anchor at the POA. Today he showed excellent hand placement with a strong punch inside, and in pass protection was able to lock on and consistently sustain blocks. He did a solid job of staying over his feet and maintaining his balance against active targets.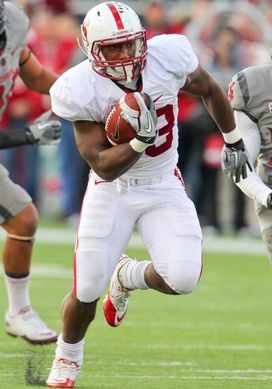 ICONStanford RB Stepfan Taylor runs through traffic with ball.
10. Stepfan Taylor, RB, Stanford (5090, 216 and 4.60): Taylor plays as strong as he looks on "the hoof" as today he was able to consistently run through contact and proved to be difficult to tackle. He runs with good knee bend and forward lean, which allows him to initiate contact at the POA. Taylor also demonstrated soft hands and the ability to turn upfield quickly after the catch.
11. Quinton Patton, WR, Louisiana Tech (6000, 202 and 4.45): After an up-and-down practice on Monday, Patton set himself apart today as the most complete WR on the South squad. He looked explosive and polished getting in and out of his breaks, and was able to consistently get separation against all types of coverage. He used his hands well to prevent defenders from jamming him at the LOS and used subtle push-offs downfield to create space. He consistently plucked the ball away from his body and looked smooth turning upfield after the catch.
12. Lane Johnson, OT, Oklahoma (6062, 302 and 4.95): Johnson had another strong performance today as he showed very good quickness out of his stance and into his set and in general displayed excellent athleticism. Like yesterday, he used his hands well to get a strong, inside fit in pass protection. Playing strength is a concern, as he was jolted backward on multiple occ asions, however he showed the great trait of being able to reset and anchor after initially being knocked off the POA. Johnson was also effective sliding side to side with excellent base, which allowed him to maintain pass blocks.
13. John Jenkins, DT, Georgia (6037, 359 and 5.30): Yesterday's prodding by Detroit's staff clearly got through to Jenkins today, as he was more consistently competitive throughout today's practice. He did an excellent job of playing low and using his hands to control blockers at the LOS. He displayed the strength needed to anchor against double teams as well as bull rush blockers into the pocket on pass rushes.
14. Cornelius Washington, DE, Georgia (6040, 264 and 4.75): Despite jumping offsides on several snaps and drawing the ire of Detroit's defensive line coach, Washington had a very impressive day overall. He was quick off the ball and showed the ability to change directions and beat blockers with quickness inside. His most impressive trait was his violent hands, which allowed him to bull rush blockers and collapse the pocket.
Email Russ at Russelllande@yahoo.com and Follow Russ on Twitter @RUSSLANDE