January 22, 2013 -
Erik Oehler
Senior Bowl – Players Who Struggled on Day Two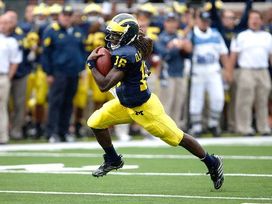 Michigan's Denard Robinson makes a big play running with the ball.
1. Denard Robinson, WR, Michigan (5104, 196 and 4.35): Robinson again took reps only at WR today. While he displayed impressive quickness, burst and fluidity on his breaks, he fought the ball in the air and dropped several passes. He also badly misplayed a punt during special teams period, and simply did not look natural catching the ball. Like yesterday, Robinson wore a yellow "non-contact" jersey and did not participate in team periods. At this stage the health of his arm is as big a question mark as his ability to transition to a new position.
2. Jack Doyle, TE, W. Kentucky (6052, 254 and 4.90): Doyle was sluggish out of his breaks and struggled to get separation from defenders. He showed limited acceleration off the LOS and generally played at one speed. He also struggled to elevate for high balls and did not demonstrate natural hands.
3. Ricky Wagner, OT, Wisconsin (6061, 310 and 5.25): Wagner struggled again today, as he lacked quickness off the ball and was too passive with his hands, resulting in him getting literally bull rushed into the QB on one occasion. Like yesterday, he tended to stop his feet on contact against speed rushers, duck his head and get beaten around the edge. This week he has looked like a day three prospect despite being a multi-year starter Wisconsin.
4. Oday Aboushi, OT, Virginia (6052, 310 and 5.15): Despite displaying smooth athleticism and body control, Aboushi was not aggressive with his hands today and allowed pass rushers to get into his chest and jolt him at the POA. His lack of aggressiveness with his hands also enabled defenders to beat him with secondary pass rush moves both inside and out. Throughout practice he struggled to change directions against quick pass rushers.
Email Russ at Russelllande@yahoo.com and Follow Russ on Twitter @RUSSLANDE