January 23, 2013 -
Erik Oehler
Senior Bowl – Players Who Struggled on Wednesday.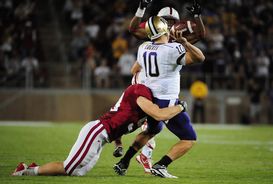 US PRESSWIREStanford OLB Chase Thomas hits former Huskies' QB Jake Locker.
1. Chase Thomas, LB, Stanford (6031, 241 and 4.85): Thomas looked stiff in space as he showed poor lateral agility and range. Today he struggled identifying plays quickly in the backfield, an issue compounded by his lack of explosion. During one-on-one drills he looked spastic and out of control with his movements, and was not able to defeat his man.
2. Robert Lester, SAF, Alabama (6012, 212 and 4.60): Lester has had a rough week in Mobile and simply looks outmatched athletically. Today struggled to stay with TEs and failed to locate the ball in coverage once he turned his back to the QB. He looked stiff and mechanical changing directions and struggled to locate the ball on run plays.
3. Denard Robinson, WR, Michigan (5104, 196 and 4.35): Robinson's natural explosiveness and all-around athleticism was obvious today, but he did little else to impress scouts during this morning's practice. His routes weren't crisp and he struggled to get consistent separation out of his breaks. He generally did not display good hands as he fought the ball throughout practice. This was the first day he was allowed to participate in team drills but was a non-factor. Today capped off a rough week for Robinson, and he will need to significantly elevate his game on Saturday in order to improve his draft stock.
4. Zac Dysert, QB, Miami (OH) (6027, 224 and 4.85): Dysert's passes lacked accuracy today and tended to dip in front of his receivers. The velocity of his throws also lacked consistency and often fluttered in the air. Overall this week, Dysert did not display the skill set expected out of a high draft pick as he looked more like a day three pick.
5. Margus Hunt, DE, SMU (6082, 277 and 4.80): Today Hunt showed flashes of what makes him such an intriguing prospect, but generally was ineffective because of his still very raw skillset. While he demonstrated the ability to lock out against blockers and control the POA, he was unable to shed blocks in time to get involved with plays, and generally was not effective with his hands. He also displayed an explosive first step off the ball but tended to get upright once on the edge, allowing his blocker to recover easily and get into his frame. Despite clearly being a physical talent, it is difficult to imagine Hunt will be a first round pick in April as some have previously hypothesized.
6. Hugh Thornton, OG, Illinois (6032, 313 and 5.20): Thornton was unable to repeat his strong performance from yesterday, as struggled with his balance throughout this morning's practice. He tended to duck his head and bend at the waist after initially making contact, causing him to fall off blocks too early. He also struggled with bull rushes, as he was too easily jolted off balance by aggressive defenders.
Email Russ at Russelllande@yahoo.com and Follow Russ on Twitter @RUSSLANDE