January 24, 2011 -
National Football Post
Senior Bowl practice notes: Day 1
A look at some of the top prospects and standouts from day one at the Senior Bowl.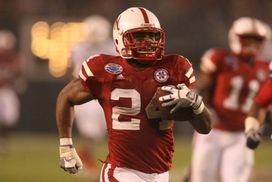 ICONPaul did a nice job catching the football on day one.
It seemed as though Nebraska wide out Niles Paul was a man on a mission today, catching every ball tossed in his general direction. He displayed good concentration all practice, saw every throw into his frame and really plucked the football cleanly. Add that to the fact he has a good initial burst off the line, does a nice job changing gears in order to set up his routes and at 225-pounds possesses the type of physicality to consistently shrug off defenders in man and separate. Chalk up a very solid first impression for Paul today in Mobile, as he looks like a guy who could line-up inside or out at the next level and separate from NFL caliber corners.
However, as good as Paul was it's going to be tough for any senior wide out this week to play at the level of Boise State receiver Titus Young. Young not only is an out and out burner who has the ability to consistently get up to full speed quickly and separate vertically down the field. But, he's a really savvy route runner who is sudden in and out of his breaks and does a nice job changing speeds in order to separate. Reminds me of a more polished/savvy version of Johnny Knox.
The more I watch Oklahoma DE Jeremy Beal, the less I feel like this guy has a position in the NFL. He played with his hand on the ground today and didn't exhibit the kind of get off burst to consistently threaten the edge, doesn't have great power through contact and doesn't use his hands well enough to consistently disengage. Plus, he isn't a real balanced individual when asked to change directions off his outside pass rush and isn't nearly the type of pass rusher his stats at Oklahoma would leave you to believe.
Another defensive lineman who seemed to have a rough go as a pass rusher was Iowa's Christian Ballard. He's a tall, long armed kid with a good initial first step, extend his arms well and can create some leverage for himself off the snap. However, if his initial bull rush is stalled he allows his pad level to pop up quickly, gets hung up too easily through contact and doesn't use his hands well enough to cleanly disengage. He looks more like a DE only who has the length and anchor strength to play the run with some consistency as well as the range to track the football in pursuit. But overall he's not a real natural pass rusher at this stage.
I'm still not nearly as impressed with Colorado OT Nate Solder as most. Despite his long, athletic looking frame I don't think he's nearly as rangy as many make him out to be when asked to reach speed off the edge. Often times, he's consistently forced to lunge into his target and push him past the pocket. And in order to overcome his lack of initial range he will get overextended on his initial kick-step. I also believe he struggles to re-direct and mirror his man inside. In my view would be better suited to play on the right side and reminds me of Patriots RT Sebastian Vollmer.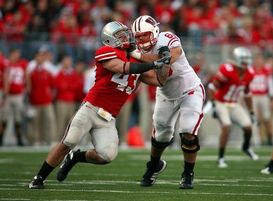 ICONCarimi held up well at left tackle.
Wisconsin OT Gabe Carimi seems to have taken to some additional coaching since he last played on January 1st. He appeared more compact sitting into his stance off the snap, allowing him to be more balanced initially in pass protection and really delivered a powerful punch into contact. He isn't the most athletic of left tackles, but he understands angles, has improved his balance/change of direction skills and has the kind of length to certainly hold up on the blindside at the next level.
He may lack ideal size, but Connecticut linebacker Lawrence Wilson really showed well for himself today in coverage drills. He's a fluid, balanced athlete who does a nice job cleanly getting out of his breaks, keeping his feet under him and quickly driving on throws underneath. He did a nice job in space covering up the best running backs the North squad had to offer. Might be considered a nickel backer on most rosters, but has starting potential in more of a cover two scheme.
On the other hand Michigan State linebacker Greg Jones not only is undersized, coming in at under 6000 at today's weigh-in. But he looked really stiff in coverage, is easy to separate from in any kind of space and simply doesn't have the ability to turn and run with tight ends down the seam at the next level. He's a tightly wound, tight-hipped kind of prospect who is limited to more of a two down guy only.
Finally, Wisconsin TE Lance Kendricks' certainly looks capable of carrying on the Badgers tradition of sending talented pass catchers to the next level. He showcased good initial burst off the line today and displayed the type of fluidity to cleanly get out of his breaks and separate down the field. He was a real miss-match at times vs. linebackers both underneath and down the field and paired with his ability to block as a move guy, looks like an intriguing tight end prospect at the next level.
Follow me on twitter: @WesBunting