January 26, 2011 -
National Football Post
Senior Bowl practice notes: Day 3
A breakdown of what we saw in Mobile from the South side in day three at the Senior Bowl.
Small-school defensive tackle Cedric Thornton from Southern Arkansas has some tools in the shed, but isn't much more than a developmental-type prospect at this stage for me. From a mental standpoint he lacks ideal awareness off the snap and has a hard time consistently getting off the ball on time. From a physical standpoint he has a good initial burst, can gain leverage as a bull rusher and has some natural power through contact. However, he really struggles to disengage from blocks, allows his pad level to get too high and if he doesn't win with his initial burst the battle is over. Again, he's far from a finished product, but he doesn't show enough in my view to warrant much more than a later-round grade.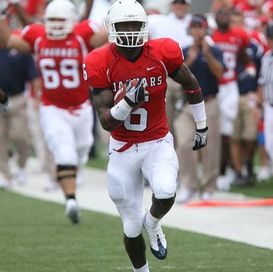 South Alabama wideout Courtney Smith has struggled to catch the football in Mobile.
Speaking of small-school prospects, I talked about South Alabama wideout Courtney Smith after the weigh in Monday, saying that the guy was the most physically impressive wideout down here. And for a 6-4, 220-pound target, the guy can really run. However, catching the football is a different story. He has really struggled to see the ball into his hands all week and consistently saw well-thrown passes fall to the turf. Plus, he's a raw route runner, doesn't have much savvy in the pass game and at this stage is more of a size/speed developmental prospect.
USC center Kris O'Dowd has been known as one of the top center prospects throughout media circles ever since stepping foot on campus as a freshman. However, I came away really unimpressed with his tape as a junior and this past season, and the guy has really struggled to play with any kind of anchor this week at the Senior Bowl. At 6-4 he has a tough time dropping his pad level and playing with leverage inside, consistently allowing defenders to get under his frame and overwhelm him into the backfield. He's a decent athlete through contact, but when you add together the fact he has no anchor and a poor medical history, I don't think you can expect to draft this guy as a potential starter.
I thought Florida State quarterback Christian Ponder really threw the football well today and very quietly is having the type of week he needed in order to give a real boost to his draft stock. He's a balanced athlete in the pocket who can make all the throws and seems very confident reading the defense, deciphering information and getting the ball out on time. We know the guy had it from the shoulders up, but after watching him throw the ball as a senior his lack of zip on his passes were a real concern. However, after having some time to heal up and recover from all the bumps and bruises that really hurt him during the year, Ponder finally looks healthy and has quieted all my concerns about him physically.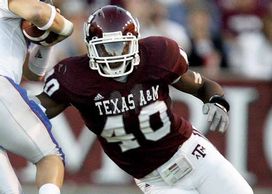 Texas A&M's Von Miller squared off with Mississippi State's Derek Sherrod in a heavyweight matchup.
Finally, it's always fun to watch two top-tier prospects go head to head and that's exactly what we saw this afternoon when Texas A&M pass rusher Von Miller squared off with Mississippi State OT Derek Sherrod in a heavyweight matchup. Now, not siding with Sherrod, but he was on the right side for this showdown, the spot opposite where he played in college. In round one with Miller standing up from a two-point stance, he simply used his great first step and ability to drop his pad level to flatten out around the edge to accelerate right past Sherrod toward the corner.
In round two, Sherrod took the jab, was quicker to reach the corner and did a nice job maintaining his balance and extending his arms into Miller. Miller countered with an inside spin, but Sherrod cleanly redirected — the reason why we think he's the best OT in the nation — and calmly anchored through the play.
When you get two top-tier prospects going head to head it's natural to see wins and losses from each, but in this heavyweight showdown each man exhibited why he has the makings of developing into a very good NFL starter.
Follow me on Twitter: @WesBunting