January 25, 2011 -
National Football Post
Senior Bowl practice notes: South squad, Day 2
Our first look at the top prospects from the South squad on day two at the Senior Bowl.
I have said it before and will say it again, if Baylor OL Danny Watkins was three years younger and two inches taller the guy would be a first-round pick. He displayed tremendous improvement as a senior this past year and is quickly taking to playing inside at guard this week in Mobile. Watkins is a strong kid who can bend, generate leverage for himself off the snap and mirror through contact. He's still is a bit raw with his hand placement — getting too high at times — but takes well to coaching, showcased improvements during practice and strikes me as a guy who can come in and play from day one as an NFL guard.
Speaking of Baylor linemen, defensive tackle Phil Taylor can absolutely be a one-man wrecking crew when the guy plays with proper leverage. At the start of practice he came out of his stance too high, lost the leverage battle and was stonewalled at the point by a smaller offensive lineman. However, after that point he did a much better job staying low off the ball and absolutely overwhelmed opposing blockers through contact. Combine his power with his impressive initial first step for his size and violent club, and the guy can be an absolute bear to block one-on-one inside. An intriguing defensive line prospect who will get looks both inside and out in both a 34 and 43 front.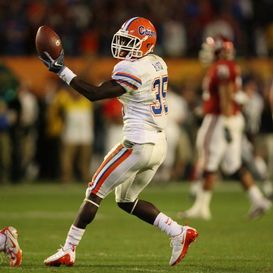 ICONAhmad Black could be a real steal in the middle rounds of the 2011 draft.
It is what it is when you look at Florida safety Ahmad Black as a prospect. He had a great day at practice, is fluid, keeps his feet under him when asked to redirect and has a nose for the football. However, it's tough to take a 183-pound safety high in the draft, especially if he doesn't possess elite range in the deep half, which Black lacks. Now, he plays faster than he runs because of his instincts and ability to cleanly change directions and get up to full speed quickly. But there aren't too many safeties in the NFL who are starting at Black's size. Nevertheless, I like the kid as a football player and think he could end up being a real steal for a team in the mid rounds.
We knew coming into the Senior Bowl that Miami DL Allen Bailey was a freak of nature and he proved it at the weigh in. However, I had severe doubts about the guy's ability to play football. And after watching him today, I wouldn't draft the guy at any point during the first three rounds. He's a strong kid who has a good initial get off for his size and can gain leverage on contact. But he's a linear pass rusher only who doesn't use his hands/length at all to disengage from blocks through contact. Once you get a hold of him the battle is over and for a guy who only can only be effective as a bull rusher, I don't see him ever being real effective getting after the passer.
TCU QB Andy Dalton was inconsistent at times today, however, he showcased the ability to consistently stick the deep out outside the numbers and made the throw with some confidence. His inaccuracies came more so in the shorter passing game when he tried to get the football out quickly and didn't transfer his weight as well from his back foot, short stepping throws and not remaining balanced through his motion. But coming from a spread offense where he had to get the ball out very quickly at times and got into the bad habits of throwing flatfooted it's going to be a work in progress for him. Nevertheless, he's a good enough athlete to certainly develop in that area and in my view is one of the few senior quarterback prospects who I think has a legit shot of fighting for a starting job down the line in the NFL.
Finally, I love everything about Alabama QB Greg McElroy inside the numbers. The guy displays impressive ball placement, gets the ball out on time and consistently is able to throw receivers open. However, when asked to drive the football outside the numbers, he just doesn't have the arm strength to make all the throws. He at times is forced to try to put a little more behind the football than he's naturally capable of, which ultimately causes his passes will sail. Don't get me wrong I think there is a spot in the league for the kid as a serviceable back-up who can make a nice living as a number two and even get some time as a spot starter. But he isn't the kind of guy who I think you can win with week in and week out in the NFL.
Follow me on Twitter: @WesBunting