January 21, 2012 -
National Football Post
Senior Bowl Preview: The Top 10 Defensive Prospects
With the NFP's return from the East-West Shrine game Friday, we now turn our attention to the Senior Bowl and rank the top 10 prospects on the defensive side of the ball.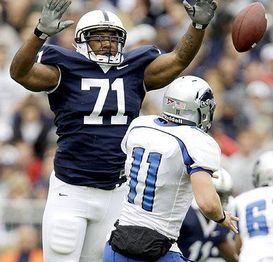 ICONStill took that next step as a senior.
1. DT Devon Still: Penn State (6-5, 310)
Is really starting to put it all together as a senior. If you can keep him motivated has the talent to mature into a very good starting caliber lineman at a number of positions in the NFL.
2. DE Quinton Coples: North Carolina (6-6, 285)
Can be as good as he wants to be in the NFL. The game comes very easy to him and he can be dominant if he learns to use his arms even better to slip blocks in the pass game, but with more time I expect that to improve. The sky is the limit as long as he's willing to work at his trade and keep his motor running.
3. DE Melvin Ingram: South Carolina (6-2, 276)
He is an impressive pass rusher who can get after the QB in a number of ways. Ingram is raw with his technique and can get better, but his suddenness, length and natural feel for the game makes me think he's one of the draft best senior pass rushers.
4. SS Mark Barron: Alabama (6-2, 218)
Has the makings of a heck of a special teams player who can attack downhill, play inside the box and drive on the football in front of him in the pass game. Isn't going to be a threat turning and tracking the football, but his improved instincts makes me think he can start in the league.
5. CB Alfonzo Dennard: Nebraska (5-10, 205)
He's strong/feisty, can press off the line and turn and run. Needs to clean up some technical flaws both in press and off the line, which hinders his balance. But can be a guy who could start both on the outside and in the slot at the next level.
6. DT Brandon Thompson: Clemson (6-2, 310)
A guy who should be able to come in and be a lineman who can win inside vs. the run game. Looks a bit limited as a pass rusher, but will be able to push the pocket and threaten gaps off the ball. A starting caliber 43 nose inside.
7. OLB Courtney Upshaw: Alabama (6-2, 265)
I like him as a 34 outside backer who can play on the strong side, take on linemen at the point and also rush the passer. He's at his best attacking downhill, using his strong hands to disengage and always is around the football. Looks like a year one starter to me at the next level with scheme versatility.
8. CB Jamell Fleming: Oklahoma (5-11, 191)
He's a balanced, coordinated kid who keeps his feet under him when changing directions and can turn and run. Doesn't give up much separation, knows how to make plays on the football and if he can improve as a tackler looks like a guy who warrants a starting job in the NFL down the line.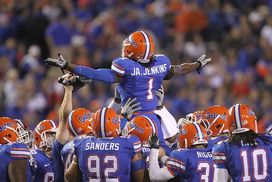 ICONJenkins has always had the talent.
9. CB Janoris Jenkins: North Alabama (5-10, 182)
If he can put it all together off the field, he's got the ability to develop into a very good cover man in the NFL and despite his size he's going to be a really tough guy to separate from in just about any scheme he plays in.
10. DT Alameda Ta'amu: Washington (6-3, 337)
This is the kind of guy who has the ability to anchor the middle of an NFL defense in either a 3-4 or 4-3 front. Needs to do a better job finding the football, but overall he looks like a starter who you eventually will be able to win with in the NFL.
Follow me on twitter: @WesBunting
Check out the NFP Draft page here...