January 20, 2012 -
National Football Post
Senior Bowl Preview: The Top 10 Offensive Prospects
With the NFP's return from the East-West Shrine game Friday, we now turn our attention to the Senior Bowl and rank the top 10 prospects on the offensive side of the ball.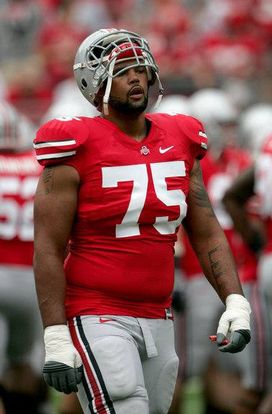 ICONAdams could be in store for a big week.
1. WR Kendall Wright: Baylor (5-10, 190)
In the same mold as a number of Pittsburgh Steelers receivers (Mike Wallace, Emmanuel Sanders) and can be effective both inside and out making plays down the field at the next level.

2. OT Mike Adams: Ohio State (6-8, 320)
He's a talented kid with a big frame, long arms and natural movement skills. He can bend and if he can put it all together and continue to improve his footwork he could certainly mature into a starting caliber left tackle in the NFL.

3. OL Kelechi Osemele: Iowa State (6-6, 347)
A big, thick kid with natural strength, athleticism and flexibility. Has improved his technique and overall range off the edge, but is better suited to play inside or on the right side at the next level.

4. WR Dwight Jones: North Carolina (6-4, 225)
Really came into his own during the second half of the year in 2010 and has simply gotten better ever since. Runs well and can accelerate quickly for a big receiver, exhibiting natural fluidity to his game in the process. Needs to improve as a route runner, but talent is there for this guy to be a play making starting wide out in the NFL.

5. RB Doug Martin: Boise State (5-9, 215)
Martin isn't a dynamic size/speed back, but there aren't many negatives to his game as a back. He plays fast, runs low, is natural through the line of scrimmage and has a skill set somewhat similar to former Alabama RB Mark Ingram last year. He might fall a bit because he doesn't run overly well, but he has the skill set to start in the league.

6. QB Nick Foles: Arizona (6-5, 240)
A big, strong-armed passer who has the tools physically. Made some real strides as a quarterback as a senior without much talent around him. Is going to take some time, but is an potential starting caliber pocket passer.

7. OG Cordy Glenn: Georgia (6-5, 348)
A massive guard prospect who struggles with leverage in the run game. But can keep the pocket clean inside in pass protection because of his size/strength and natural athleticism. Moves well for his size and looks like a starter inside or at right tackle for a team who values bigger linemen.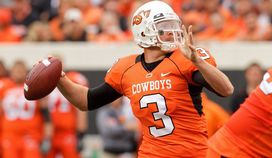 Weeden knows how to spin the football.
8. QB Brandon Weeden: Oklahoma State (6-4, 218)
His age will likely keep him from going as early in the draft as his talents deserve. But there isn't a throw this guy can't make and he has the skill set and mental make-up to mature into a potential starter with some time.

9. RB Chris Polk: Washington (5-11, 222)
Is a big kid with a good feel inside, runs hard and will break some tackles. However, pad level, initial burst and lack of great change of direction skills make me think he's an average NFL starter only.

10. OT Zebrie Sanders: Florida State (6-6, 307)
A natural athlete who can bend, is coordinated and patient into contact. Possesses a good amount of upside as well and looks like a starter on either side of the O-line.
Follow me on twitter: @WesBunting
Check out the NFP Draft page here...