January 29, 2011 -
National Football Post
Senior Bowl Primer
Five things to watch for in today's Senior Bowl match-up.
1. Does Washington QB Jake Locker finally have the kind of performance everyone's been waiting for? It's been an inconsistent week for Locker down here in Mobile as he flashes the ability to make every throw and can buy time outside the pocket. However, he really doesn't have a great feel in the pocket, his eye level quickly drops and he struggles to consistently decipher information. He will be seeing pretty much exclusively cover one and cover three looks today and being able to throw the football through the teeth of two simplistic defenses that he will see consistently on a weekly basis in the NFL will be key.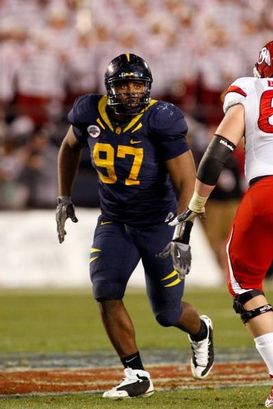 ICONJordan has been a tough block all week in Mobile.
2. Can anyone on the South squad block California DL Cameron Jordan? Jordan has been a man amongst boys all week. He possesses a unique combination of a good initial get off burst, is violent with his hands, long armed and has a motor that runs non-stop. Plus, he has the versatility to play both inside and out and can pretty much be matched up on the weakest link on an opposing offensive line and still be in his comfort zone. Baylor OL Danny Watkins has shown really well for himself this week at guard after making the move from left tackle in college, he's got a good anchor and works his feet well laterally through contact. Looking forward to see these two match-up inside.
3. What safety will make the play? You can never fully evaluate a safety during a practice session because the physical/tackling element of the game is pretty much removed until Saturday. Now, we get to see just how defensive backs like Clemson's DeAndre McDaniel, Oklahoma's Quinton Carter and Florida's Ahmad Black respond to filling alleys inside the box, tracking the football in centerfield and just closing on the play sideline to sideline. All three bring unique skill sets to the field, but being able to hold up vs. a talented receiver core on both sides of the football and make plays both in the box and in space could allow one to begin to separate away from the pack.
4. Speaking of the talented receiving core, what senior wide out is the one to really take over this game and make the play needed in order to ascent toward the top of the senior wide out class. We have talked all week about Boise State's Titus Young, Miami's Leonard Hankerson and Nebraska's Niles Paul as all three have starting potential at the next level. But is there someone else out there like East Carolina's Dwayne Harris working from the slot or San Diego State's Vincent Brown who could end up stealing the show. It's close race when deciphering who the top wide out in the senior class is and in my view it just comes down to picking your flavor. Meaning, depending on what kind of receiver a certain NFL team is looking for - vertical threat, possession receiver, slot guy- will make or break which senior comes off the board first.
5. Will Miami DL Allen Bailey make the kind of final impression he needs in order to go in the top half of the draft? We all know that going forward that Bailey is going to steal the spotlight and rise up just about every media and probably some NFL team's drafts because the guy is going to run lights out at the Combine, is going to test off the charts during the position drills and might even get a look at linebacker during his workout in Indy. However, the tape doesn't lie and just because the guy looks like Tarzan doesn't mean he won't play like Jane. On tape I see a guy who plays hard, but doesn't make a ton of plays and struggles to get off blocks. And this week was no different as there was no creatively to his game as a pass rusher. He doesn't know how to use his long arms to disengage and doesn't have the kind of fluffily to initially slip blocks at the point or through contact. I still think he's a better fit as a one-gap DT who can just shoot through gaps inside and use his first step to be somewhat effective. However, his play on the field doesn't match up at all to his physical capabilities and again wouldn't touch him as anything more than a later round developmental pick.
Follow me on twitter: @WesBunting