January 26, 2011 -
National Football Post
Senior Bowl quarterback report
It's a really interesting group of quarterback prospects on the North roster this year as not only do all three have some legit NFL talent, but each are really unique/different in their own right. Therefore, today I'll take a look at each QB on the roster and break down what I've seen from each of their games so far this week.
Colin Kaepernick: Nevada (6-5, 225)
In all honesty Kaepernick had his strongest performance of the week today, showcasing his strong arm cleanly spinning the football down the field and making some big throws vertically. He exhibited solid touch on the deep ball today, as well, and when the guy has time to get back in his drop and hitch into throws, he sees the field well, anticipates routes and exhibits the ability to be accurate down the field.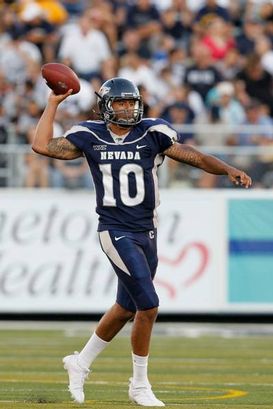 ICONColin Kaepernick displayed his strong arm in Mobile on Wednesday.
However, he's a bit of an awkward quarterback prospect and despite his above-average straight-line speed, he allows himself to lose his base and get a bit upright in the pocket, causing his passes to sail on him. Plus, when you look at the guy's overall release, he's got a real wind-up, taking him too long to get the ball out on time and will struggle with his timing/accuracy in the underneath pass game.
Overall, I think he's an intriguing later-round prospect in more of a vertical pass game. He can make all the throws and when he has time to set his feet he can be very effective. However, his throwing mechanics and footwork leave a lot to be desired when working from under center and despite his physical skill set, the guy is going to need plenty of work and he's just a real wildcard who I don't see maturing into an effective starter in the NFL.
Ricky Stanzi: Iowa (6-4, 221)
Over the course of the first three days of practice, Iowa QB Ricky Stanzi has been the most consistent quarterback on the North roster in my view. He seems to be throwing the football with as much confidence –- maybe even more -- as I have ever seen from him on tape. He's doing a much better job maintaining his balance in the pocket, even when forced to move his feet and just seems to be handling the offense the best of any QB on the roster.
He displays good poise in the pocket, feels defenders around him and consistently has been able to find soft spots in the defense all week and throw receivers open on all levels of the field. He doesn't have the biggest of arms, but he's a guy who can cleanly spin the football and his arm strength will improve as his wrist gets stronger and he continues to bulk up.
Overall, he's the one quarterback on the North roster who seems to always be in control of his surroundings, does a nice job of deciphering information quickly and has the kind of ball placement and arm strength needed to make him one of the more intriguing QB prospects in this year's draft. Looks like a guy with starting potential at the next level that could be had for a bargain in the mid rounds. It's been a very good week for Stanzi in Mobile.
Jake Locker: Washington (6-2, 228)
Physically, Locker is the most gifted quarterback down here. He's a talented athlete who is quick to get away from center in his drop, looks natural on the move and has the quickest release of the bunch. He possesses a strong arm, can make all the throws and when he has time to set himself and can see the throw, the guy looks like a top-tier pick.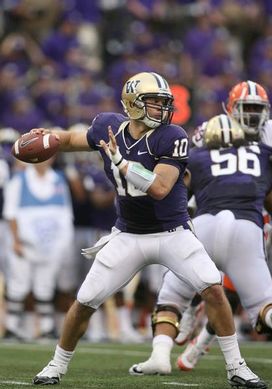 ICONJake Locker is as physically gifted as they come.
However, even vs. seeing exclusively cover one and cover three looks the past three days, he just doesn't seem to trust his eyes. The game seems to be moving too fast for him at times, he's not overly decisive with the football and his eye level too often drops at the first sign of pressure. Plus, his balance in his base is really poor when asked to set and throw from center, causing him to struggle to properly drive off his back foot and accurately deliver the football. But, that can be fixed.
The biggest concern I have for him at this stage is how he struggles to deliver the football through the seams of a defense against looks he knows he's going to get. He struggled on tape to go through his progressions and consistently would get comfortable locking onto his initial read.
In all honesty he seems like a reps guy, someone who is going to take a lot of time to learn and develop in an NFL offense and you're going to need to bring along slowly. The tools are there; there is no doubt about that. But from the shoulders up, I would have severe reservations about selecting this guy as a high pick (first round) and hitching my wagon to him as my franchise quarterback.
Follow me on Twitter: @WesBunting