January 24, 2012 -
National Football Post
Senior Bowl: South Practice Report Day 2
Practice Notes from the South…

Vanderbilt corner Casey Hayward made himself some money with his performance Tuesday. He's a nice sized defensive back with balanced footwork, a good feel in coverage and can cleanly turn to track the football. He's a tough guy to separate from, exhibits "plus" ball skills and possesses an ideal skill set of a cover two type corner in the NFL.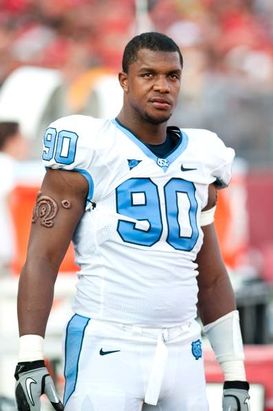 ICONCoples looks the part and has the talent to back it up.
Another corner who impressed today was Georgia's Brandon Boykin. The undersized defensive back competed all practice long, showcasing a burst out of his breaks and good speed vertically down the field. He does have a tendency to get a bit grabby at times when asked to re-direct. However, he did a nice job staying in receivers back pockets throughout and looks like a "plus" slot guy at the next level.

I have to admit, I came away unimpressed with the performance of North Carolina wide out Dwight Jones. Jones was simply unable to get off press coverage throughout the day. He didn't look real sudden off the line and had a tough time getting up to speed through contact. Jones didn't see a ton of press-man this past year, but because of his skill set I thought it was a nuance of the game he likely couple develop in. However, watching him get re-routed with ease off the line Tuesday was a real downer for him.

On the other hand, UNC DE Quinton Coples not only looks the part, but was physical on contact as a pass rusher, used his length well to fend off blocks and could either overpower on contact or cleanly slide step blocks inside. Plus, because of his lower body length he has deceptive speed when asked to run the corner. And despite getting a bit upright, he was still able to fend off blockers on contact off the edge routinely. Overall, there's simply too much talent for this guy not to go in the top 10/15 picks.

South Carolina pass rusher Melvin Ingram was also a bear to block off the edge today. He flashed natural change of direction skills on his spin move, was sudden on his inside club and even dropped his pad level down around the edge. He can reach the pass rusher in a number of ways and because of the lacking talent in this year's class; he should be a first round selection.

Anchor strength is a must at the offensive tackle position, because if you can't hold up on contact you'll make every linemen you go against look like a good pass rusher. And that has been the case for Florida State OT Zebrie Sanders. He's a long kid with solid athleticism, but was routinely overwhelmed today and would get overextend into contact in order to try to make up for his lacking base, causing him to whiff into blocks. Needs to continue to get stronger to have a chance at starting in the NFL.

Arizona WR Juron Criner made a pair of impressive catches Tuesday, plucking the football with one hand even on one occasion with a corner draped all over him. However, the big thing with Criner is that he's a guy who doesn't have much burst to his game, isn't clean out of his breaks and isn't ever going to separate a ton vs. man coverage in the NFL. Looks more like a big inside guy to me.

Finally, I'm starting to warm up on Georgia OL Cordy Glenn. He played inside at guard today and showcased some natural footwork through contact and used his long arms and strong hands to stick. He still got himself into some trouble on the edge when trying to anchor, as he would get his weight out over his knees and fall off the block. However, looks like a guard capable of starting at the next level early on.
Follow me on twitter: @WesBunting
Check out the NFP Draft page here...