January 25, 2012 -
National Football Post
Senior Bowl: South Practice Report Day 3
Notes from the South practice…

I thought North Alabama CB Janoris Jenkins looked a bit rusty yesterday. However, Wednesday he showcased impressive balance off the line in press bail, was consistently able to turn and run, and tracked the football extremely well. He was impossible for the bigger receivers on the South squad to separate from and was as dominant as any defensive back down here this week.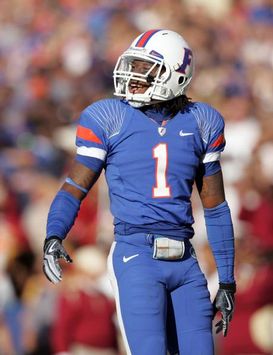 ICONJenkins stole the show Wednesday.
However, not to be outdone was Georgia CB Brandon Boykin. Boykin was again physical off the line today, smooth when asked to re-direct and much more balanced breaking down and closing on the football. He was really able to do a number on North Carolina WR Dwight Jones off the line, re-routing him out of a play before breaking up the pass.

Speaking of North Carolina WR Dwight Jones, no prospect has disappointed me more this week than him. He hasn't been able to get off the line and beat any kind of jam. He was routinely re-routed significantly vs. smaller corners and looks more like an inside player only.

Texas A&M wide out Jeff Fuller is never going to separate much in the NFL, but he adjusts to the football and can balance himself well when going up to make a play down the field. However, he really struggled catching the football all practice long Wednesday. And for a guy who is going to need to win with corners draped all over him at the next level, having "plus" hands is a must, something he hasn't shown since his junior year.

On the D-line, Alabama DE Courtney Upshaw again used his combination of strength and leverage to overwhelm on contact as a pass rusher. However, he also did an impressive job turning speed into power on his outside speed rush, dropping his pad level and running his legs through the corner. He's been a bear to block all week and looks like one of the safer prospects in this year's draft.

Illinois OL Jeff Allen rebounded with a strong practice today. He played primarily at guard and did a nice job quickly getting off the football, extending his arms and sliding his feet through contact. He will struggle with leverage, but with some development he looks like a guy who can start inside in the NFL.

There is no denying the talent of LSU TE Deangelo Peterson. He's an athletic kid who can run, get down the seam and has the potential to be a mismatch type "off the line Y" in the NFL. However, he's struggled with attention to detail throughout his entire career, isn't the cleanest of route runners and will drop the football. Looks like a "boom" or "bust" type guy.

Finally, Florida WR Chris Rainey looks like the most explosive skill guy down here. He's run by opposing corners a number of times this week and has a "plus" natural burst to his game. Now, he is a bit inconsistent catching the football and is a developing route runner. However, this is a guy who can make plays with the football in space and certainly warrants a draft pick as a potential dynamic sub-package option.
Follow me on twitter: @WesBunting
Check out the NFP Draft Page here...