January 27, 2012 -
National Football Post
Senior Bowl Stock Watch
SS George Iloka: Boise State (6-3, 216)
He's a gifted athlete who can play in the deep half, get early jumps on the football and close with authority. Now, at 6-3 he's going to get a bit leggy out of his breaks at times, but he has the size and athleticism needed to cover the mismatch tight ends in the NFL.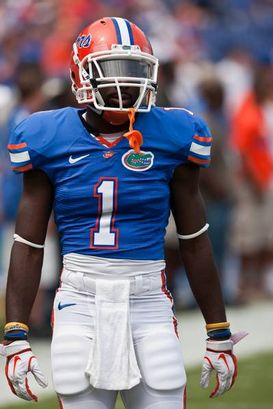 ICONRainey has that track build.
OLB Demario Davis: Arkansas State (6-3, 230)
He jumped out on tape at me this year and did the same all week in Mobile. He's a tough backer with natural quickness, sees the action well and has a "plus" first step. He displays natural range/fluidity in coverage and if he can learn to quiet his feet a bit, he possesses the type of explosive element to his game to win in both the run and pass game.

OG Tony Bergstrom: Utah (6-6, 315)
I wasn't a big fan of Bergstrom coming into the game. However, watching him at guard this week, I thought he did a nice job sinking his hips and extending his arms into contact, while displaying the anchor and fluidity to mirror. He was one of the best blockers on the North squad and looks like a potential starting caliber guard to me.

WR Chris Rainey: Florida (5-9, 174)
He's a narrow framed athlete, but exhibits natural running ability and can consistently make defenders miss. Needs to add some girth, but he can catch the football underneath, create something out of nothing with the ball in his hands and was the most explosive straight-line athlete down here this week, outpacing even the fastest corners on the South squad at times.

DT Brandon Thompson: Clemson (6-2, 310)
Thompson didn't receive quite the love of some of the other higher profile defensive linemen this week. However, he was explosive off the snap, was able to consistently gain leverage in both the run and pass game and overwhelm through contact. You know what you're getting from him and he's one of the safer defensive line prospects in the class.
Follow me on twitter: @WesBunting
For the "fallers" click to page two...