January 24, 2013 -
Erik Oehler
Senior Bowl Summary – Eight Players Who Struggled Most This Week
1. Braxston Cave, C, Notre Dame (6030, 304 and 5.30 E): Despite manning the middle on Notre Dame's highly ranked team in 2012, his play this week in Mobile was disappointing. While his measureables are officially "fine," he does not play up to that size. Too often he was driven backwards by bull rushers and he couldn't get movement on in-line run blocks. Not only was strength an issue, but Cave struggled to stay over feet and maintain pass blocks. Cave's performance this week was more like a third day draft pick than a high draft choice.
2. Zac Dysert, QB, Miami-Ohio (6027, 224 and 4.90 E): In a week where no quarterback stepped up and was outstanding, Dysert definitely struggled throughout the week. Even though he flashed a strong arm on a few throws each practice, most of the time Dysert's throws lacked good zip. Additionally, he struggled to consistently throw tight spiraling passes. His passes lacked power coming out of his hand and wobbled/fluttered on path to receiver. For such a highly productive college passer, I was surprised at the lack of accuracy on his throws. This week Dysert did not look like a quarterback with the talent to start in the NFL.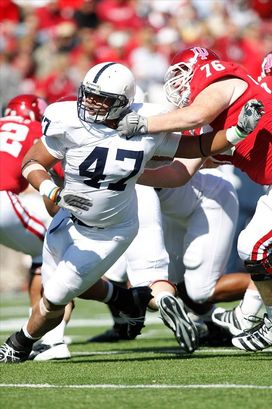 ICONPenn State DT Jordan Hill defeats Indiana blocker to make play.
3. Jordan Hill, DT, Penn State (6014, 294 and 4.85 E): Clearly undersized amongst the defensive tackles, Hill struggled throughout practice this week. Despite having a significant advantage over most of the interior offensive linemen in quickness and athleticism, Hill did not use that to his advantage. He seemed to want to prove he had the playing strength to compete, which allowed offensive linemen to get ahold of him and effectively eliminated him from the play as he could not shed and get free consistently. Too often he was stopped in his tracks as a pass rusher and driven out of the play on in-line run blocks. After a tough week, I would be surprised if Hill were drafted before the fourth or fifth round.
4. Margus Hunt, DE, SMU (6082, 277 and 4.77): A player that I was so excited to see this week, Hunt was one of the bigger disappointments throughout the practices. Although he looks the part of a power defensive end and flashed the natural explosion that NFL teams love, most of the time he was a non-factor. For a player with such natural athleticism, he looked robotic and mechanical most of the time and struggled to defeat blocks. He played upright and high and struggled to disengage from blocks, which led to him being unproductive much of the week. For a player many expected to dominate this week to secure a spot in the first round, Hunt's performance this week raises real questions as to whether he deserves to be drafted before the third or fourth round.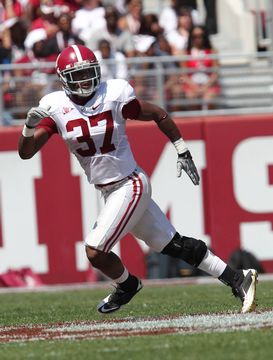 US PRESSWIREAlabama Safety Robert Lester breaks on the play.
5. Robert Lester, SAF, Alabama (6012, 212 and 4.60): A highly productive starter for Alabama, Lester's play this week was not championship caliber. Although he looked the part "on the hoof," he did not display the athleticism required to be effective in pass coverage in today's NFL. Upright in his pedal/footwork and "stiff in the hips," Lester struggled to flip hips to change directions and adjust easily. When asked to cover tight ends in man coverage, he played physical to make up for his lack of quickness and could not stay with man if they got free from his hands. While Lester no doubt displayed the willingness to come up and make hits, he struggled to adjust and tackle consistently out in space. From what I observed in Mobile it would surprise me if Lester was chosen before the fifth round.
6. Joe Madsen, C, West Virginia (6034, 301 and 5.30 E): While playing with an aggressive, attacking style helped Madsen to be a productive starter at West Virginia, he did not display the tools to carry over his production to the NFL. Stiff and un-athletic, Madsen struggled to sink hips to block with base and often ended up leaning and reaching to make blocks, which led to him over-extending and falling off blocks. In pass protection, he was productive blocking in a small area, but when he had to move his feet to adjust to quick pass rush moves he was over-matched. Madsen's playing style and athletic limitations remind me a ton of Jaguars' center Mike Brewster who was a highly productive starter at Ohio State, but was not drafted until very late.
7. Xavier Nixon, OT, Florida (6054, 311 and 5.50 E): From the first practice it was clear that Nixon was over-matched athletically playing offensive tackle. He could not kick-slide out in time to protect the corner vs speed rushers and lacked the feet and agility to re-direct and adjust to fast pass rush moves back inside. His lack of quickness also hindered his ability to get into good run blocking position and often led to him grabbing and holding his man. Nixon slid inside and played some guard this week and was more effective there, but his struggles to bend knees and block with leverage hindered him there too. Nixon is not going to be a high draft pick, but will likely be selected late because of his size, long arms and experience starting three plus seasons at Florida.
8. Denard Robinson, WR, Michigan (5104, 196 and 4.35 E): Perhaps the player who disappointed me most, Robinson was unable to capitalize on his opportunity this week. Obviously, no one expected him to be perfect this week while he converted to receiver after playing quarterback at Michigan. However, his routes were not crisp, he did not display good awareness to get open or find open space and struggled greatly trying to catch the ball. Despite flashing the ability to pluck the ball well occasionally, Robinson looked tentative reaching for the ball and often allowed the ball to dictate to him rather than him taking control of the ball. For a player who came to Mobile expected to shine and challenge to be a third round pick, Robinson will need to greatly improve at the Combine and his pro day to have any chance of avoiding the fifth or sixth round of the Draft.
Email Russ at Russelllande@yahoo.com and Follow Russ on Twitter @RUSSLANDE