January 24, 2013 -
Erik Oehler
Senior Bowl Summary – Ten Players Who Shined The Most This Week.
1. Eric Fisher, OT, Central Michigan (6072, 305 and 4.85 E): In a battle with Luke Joeckel to be the first offensive tackle drafted, Fisher put his best foot forward in Mobile. Fast out of his stance, Fisher's kick-slide allows him to slide out easily to protect the corner from speed rushers. Using his hands and long arms effectively, he was able to "get a good fit" on the pass rusher to tie him up and maintain block. One area that needs improvement is Fisher's tendency to block upright and high, which leaves him susceptible to being bull rushed back into the pocket as Datone Jones did more than once this week. While he is never going to be a dominating run blocker, he proved this week he can be a productive one that keeps his man out of the play. Fisher's battle with Joeckel is far from over and based on the athleticism he showed in Mobile, Fisher made the NFL take notice that he could end up on top.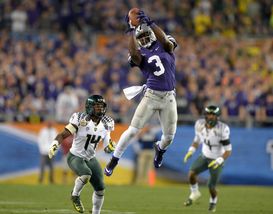 US PRESSWIREKansas State receiver Chris Harper skies to make great catch.
2. Chris Harper, WR, Kansas State (6006, 228 and 4.45): While Harper was productive catching passes from Collin Klein at Kansas State, he demonstrated that he can be significantly better with a more polished passer throwing to him. Well built, Harper looks and plays taller than his measured size of just under 6-1. Precise and smooth running routes, Harper constantly was able to create separation from man coverage despite lacking an explosive burst out of his cuts. Possessing soft hands, uncommon body control and concentration, Harper caught nearly every ball thrown his way and consistently made tough contested catches. Sources have told us that despite not showing great playing speed on film, Harper has consistently run fast forty times, so if he runs in the 4.4's at the Combine he will lock up a spot as a high second round pick.
3. Lane Johnson, OT, Oklahoma (6062, 302 and 4.90 E): I continue to be amazed that Johnson, who played quarterback in high school and his first season in junior college, has developed into such an outstanding offensive tackle. Few tackles with his height are able to bend their knees to block with base/leverage and Johnson makes it look easy and natural. His ability to slide side to side to stay on and maintain pass blocks is remarkable and helps him to overcome his current lack of good playing strength. While he regularly was jolted backwards at initial contact by bull rushers, his ability to re-set and anchor was outstanding and makes me confident that he will eventually have excellent playing strength. Although not many people are talking about it, do not be shocked if Johnson ends up being chosen in the first fifteen picks of the first round.
4. Datone Jones, DE, UCLA (6041, 280 and 4.75 E): Throughout the 2012 season we were impressed with Jones ability to make impact plays for UCLA regardless of where he lined up. However, we kept hearing from scouts that he had an inconsistent motor and did not make as many plays as he was capable of. After this week in Mobile, we are further convinced of Jones high talent level and good competitiveness as he not only competed hard, but when he was defeated on one play it was clear he took it personally and attacked the next few snaps with great passion and aggressiveness. Most impressive this week was the first step quickness and edge pass rush skills that Jones displayed as few 280 pound defensive ends are more than power rushers. For a player rumored to be a third or fourth round prospect when the Senior Bowl began, I am confident that after he showed the ability to defeat Eric Fisher a number of times he will be a second round pick.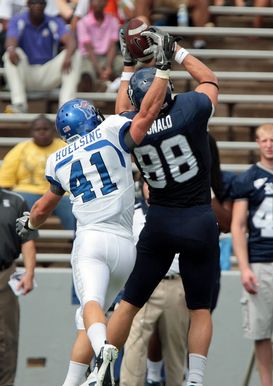 US PRESSWIRERice tight end Vance McDonald goes up high to make tough catch against Memphis.
5. Vance McDonald, TE, Rice (6041, 262 and 4.75 E): Although he did not show the elite playing speed of Rob Gronkowski this week, other than that he looked the part of the new wave of tight ends that are dominating in today's NFL. Quick accelerating to full speed, he can get separation down the seam and has the hands to make the tough over the shoulder catch. Most impressive was McDonald's smooth athleticism running routes, which helped him to create separation vs linebackers and safeties. He has the size and strength to be a better blocker than he is and will need to improve in this area to be more than just a receiving threat. I do not expect McDonald to be a first round pick, but he will hear his name called in the second or third round.
6. Jordan Mills, OT, Louisiana Tech (6060, 322 and 5.35 E): A late addition to the game, Mills arrived in time for practice on Tuesday and immediately made everyone take notice when he stoned Ezekiel Ansah's attempted bull rush. A massive man who looks significantly bigger than his measured size, Mills playing strength made it look easy controlling defensive linemen once he locked up on them. While Mills' size and strength were impressive, he does not have the feet to play left tackle in the NFL and will likely have to play on the right side. I believe that if Mills impresses at the Combine he could force his way into the second day of the Draft because he has many of the traits to start at right tackle as a rookie.
7. Quinton Patton, WR, Louisiana Tech (6000, 202 and 4.35 E): As passing has taken over the NFL, explosive, big play receivers are one of the most desired commodities. At over 6-0 and 200 pounds, Patton has surprising size for such an explosive receiver. Exploding off the ball, Patton can close cushion fast and is able to separate from the cornerback on deep routes with surprising ease. Unlike many fast receivers who throttle down to make their cuts, Patton stays at close to full speed into and out of his cuts, which makes it easy for him to get separation. While Patton frustrates a bit by body catching some passes within his frame, the bulk of the time he plucks the ball with his hands and consistently showed the ability to make the high-lite catch. While I do not think anyone will be able to catch Keenan Allen to be the first receiver drafted, Patton is the middle of the battle to be the second receiver selected.
8. Desmond Trufant, CB, Washington (5111, 190 and 4.45 E): Viewed by many as primarily a nickel corner prior to the Senior Bowl, Trufant showed us that he has the skills to become a starting outside cornerback. Blessed with great foot quickness, Trufant's backpedal is quick and compact, which combines with his agility and body control so that he can transition and close on passes in a flash. While many gifted cornerbacks shy away from playing physical, Trufant seems to enjoy putting his hands on receiver to slow release and shows no fear keeping hands on receiver to push him off stem and throw off the timing between receiver and quarterback. While he is not the top cornerback, in the second or third round some team is going to get a quality starting cornerback.
9. Larry Warford, OG, Kentucky (6032, 333 and 5.25 E): Many have already conceded the top guard spot to Alabama's Chance Warmack, but Warford did everything he could this week to close the gap and get into the discussion. Surprisingly quick out of stance, Warford sets up to block with excellent base/leverage fast and gets his "heavy hands" on the defensive tackle fast. Throughout the week Georgia defensive tackle made it look easy bull rushing all the other interior offensive linemen backwards, but Warford consistently stopped him in his tracks and kept him pinned on the LOS. After his display this week, there is no doubt that Warford will be a first round pick because he will be a day one starter.
10. Markus Wheaton, WR, Oregon State (5110, 183 and 4.55 E): One of the lesser known receivers to the media when he arrived in Mobile, you can be sure everyone knows who he is and how good he is. Viewed by many as a smooth receiver that lacked a quick burst and the speed to get deep, all week he showed good initial quickness of the ball, a burst out of his cuts to get separation and the speed to get behind the defense. Better than his display of quickness, burst and speed, was the show he put on making great catches one after another. Able to twist his body while maintaining focus, Wheaton made tough catches in traffic, over defenders and deep down the field. Although I still doubt that Wheaton will be a very high draft pick, some team is going to get a great bargain when they pick him in the third round.
Email Russ at Russelllande@yahoo.com and Follow Russ on Twitter @RUSSLANDE