January 24, 2011 -
National Football Post
Senior Bowl weigh-in results
MOBILE—Monday morning marked the commencement of practice week for the 62nd Senior Bowl, the nation's most notable college football all-star game that features several elite prospects from around the country.
The National Football Post was on-hand for the weigh-in of 104 senior prospects that will make up the 2011 North and South rosters.
Lets take a deeper look at some of the notable prospects before we dive into the complete breakdown of this year's results:
What a tackle class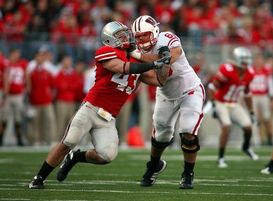 ICONWisconsin's Gabe Carimi (right) has the length to win at the point of attack.
This is one of the more impressive groups of offensive tackles I have seen down here in Mobile from a size/length standpoint. Colorado's Nate Solder, Boston College's Anthony Castonzo, Mississippi State's Derek Sherrod, Florida's Marcus Gilbert, Arkansas' DeMarcus Love and Wisconsin's Gabe Carimi all measured in with or over 34-inch arms—a very good number for the position. The type of attribute that will allow them to consistently gain leverage on most their opponents at the next level.
Length on the defense
Speaking of long armed athletes, Texas A&M pass rusher Von Miller measured in at only 6-2 and half and 237-pounds. However, the undersized sack artist possessed 34-inch arms, an impressive number for a guy his size. Pair that with his great initial burst and you have the making of an impressive 3-4-rush linebacker.
California DE Cameron Jordan and Mississippi State's Pernell McPhee also were really impressive looking athletes. They exhibited well-put together frames, great length (McPhee 34 3/8, Jordan 34 4/8) and certainly looked the part. They're both bigger defensive end prospects that have the ability to consistently stack and shed in the run game. They also have shown the ability to play clean off the edge and rush the passer.
Small school eye opener
One guy who really stood out was South Alabama wide out Courtney Smith. Smith possesses a long, physical looking frame, a strong lower half and had an absolute ideal build for the position. We'll see how he stacks up vs. the jump in competition at practice, but from a physical standpoint he was as impressive looking as any receiver down here.
Size needed
West Virginia RB Noel Devine was one of the only guys to weigh-in with shorts on, likely due to not wanting to display his thinner lower half. He weighed in at only 160-pounds and despite his muscular looking upper body, his lower half looked really frail.
Florida safety Ahmad Black also looked undersized at only 183-pounds and measuring in under 5-10. He plays with reckless abandon and loves to throw his body around, but you'd like to see your safeties a little bigger than what Black showcased this morning.
Girth at running back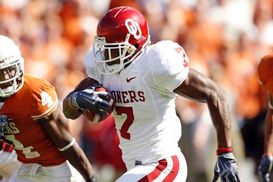 ICONOklahoma's DeMarco Murray
Oklahoma State RB Kendall Hunter and Oklahoma RB DeMarco Murray both looked a bit bigger than I expected. Hunter packed nearly 200-pounds into his 5-7 frame and the majority of it was located in his thick base and lower half. Murray on the other hand also seemed a lot thicker in the legs, weighing in at 214-pounds and appearing more physical than his framed indicated this year.
Made it work
Baylor DL Phil Taylor carried 337-pounds about as well as you can for a defensive linemen. At 6034 he didn't seem to have much extra girth through the mid-section and also appeared to be in good shape. The kind of size/length to get looks both inside and as a potential five-technique at the next level.
Kingpin
We all knew coming into the weigh-in that Miami DL Allen Bailey was going to look the part and the guy did not disappoint. He was a long-armed, well-strapped together athlete with a minimal amount of body fat and a cut up 278-pound frame. It's rare to find a lineman with this kind of physique.
Follow us on Twitter: @WesBunting @MattBowen41 @JoeFortenbaugh
NORTH TEAM WEIGH-IN RESULTS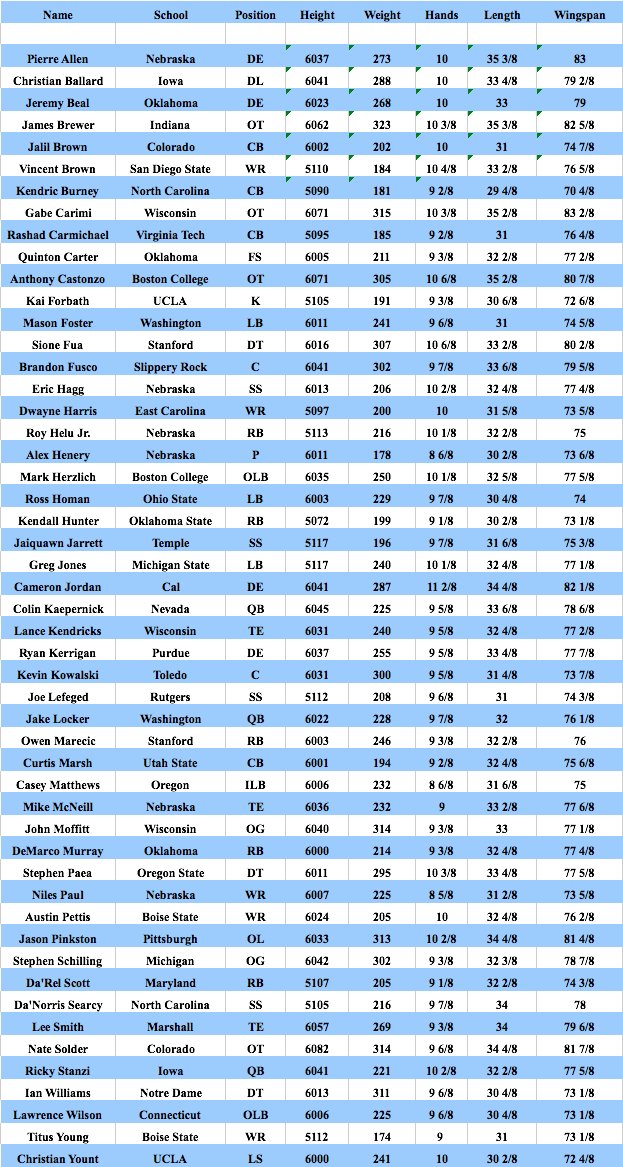 SOUTH TEAM WEIGH-IN RESULTS