November 09, 2011 -
Barry Dorey
Senior receivers on roller coaster ride
Breaking down the senior wide out class…
Top Dog…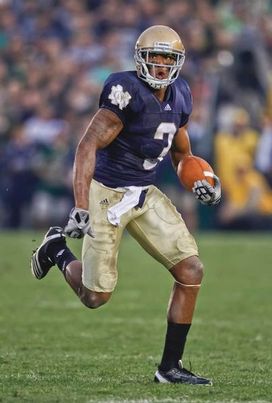 ICONFloyd is one of the draft's top senior prospects.
Michael Floyd: Notre Dame (6-3, 224)
Didn't seem quite as dynamic when he bulked up in 2010. However, he's looked sudden, explosive and has showcased the ability to separate quickly and create after the catch as a senior. Is not only one of the draft's top receiving prospects, but one of the top prospects overall.
Senior Studs…
Kendall Wright: Baylor (5-10, 190)
In the same mold as a number of Pittsburgh Steelers receivers (Mike Wallace, Emmanuel Sanders) and can be effective both inside and out making plays down the field at the next level.
Dwight Jones: North Carolina (6-4, 225)
Really came into his own during the second half of the year in 2010. Runs well and can accelerate quickly for a big receiver, exhibiting natural fluidity to his game in the process. Needs to improve as a route runner, but talent is there for this guy to be a play making starting wide out in the NFL.
Marvin McNutt: Iowa (6-4, 215)
A tall, long-armed receiver who can win off the line and use his big frame to box out and go get the football. Looks capable of fighting for a starting role at the next level.
Jarius Wright: Arkansas (5-10, 180)
A coordinated athlete who is sharp as a route runner, tough over the middle and knows how to get open vs. man and zone. Will get re-routed vs. press at times and looks more like an inside player at the next level, but has the skill set to make a roster and carve out a big niche early.
Senior Duds…
Greg Childs: Arkansas (6-3, 217)
He knows what he is and plays to his strengths. Looks like a big, coordinated possession type receiver at the next level who can win in the three-step game and create some big plays for a team in jump ball situations. However, needs to prove he is fully healthy, which has been a struggle for him as a senior.
Jeff Fuller: Texas A&M (6-4, 220)
A talented kid who looked like one of the draft's best wide outs as a junior, but his game has really fallen off as a senior. A lack of focus, dropped footballs and questionable separation skills will cause him to fall.
Juron Criner: Arizona (6-4, 215)
He's a talent; there is no doubt about that. However, the key in determining his draft stock is where he's at mentally and physically. If he checks out in both areas he could develop into a starting caliber wide out. But looks more like a sub-package guy at this stage.
Follow me on twtter: <a href="http://twitter.com/#!/WesBunting" target="_blank">@WesBunting
Check out the NFP'S NEW NFL DRAFT PAGE...