January 17, 2012 -
National Football Post
Shrine Practice Notes: West Day 2
<p>
West practice notes…
The west offensive line as a whole did a slightly better job Tuesday and I thought
Texas OL David Snow
was much improved. Snow displays the ability to bend, move his feet laterally in pass protection and has sneaky heavy hands once engaged. Now, he does have a tendency to get a bit upright and overextend through contact. But, overall in a weak center class, I think Snow is an intriguing later round flyer.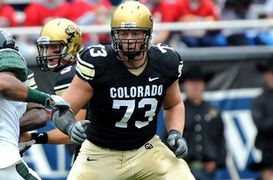 ICONMiller has struggled with leverage all week.
However, Colorado OL Ryan Miller on the other hand wasn't nearly as impressive. Miller at 6-8 struggles to shoot his hands quickly off the snap, gets upright and exposes far too much of his frame into contact. He was routinely overwhelmed at the point in both the run and pass game and honestly I don't see him warranting more than a late round/free agent grade.

Iowa OT Markus Zusevics had an up and down practice. He started the day off strong during one-on-one run blocking drills. Zusevics fired off the ball low with a real snap into contact, extended his arms and ran his legs through his target once he gained leverage. However, he got rolled up on during the same drill and really had a tough time sitting into his base as a pass blocker and anchoring. Nevertheless, I like the toughness of Zusevics deciding to just get the ankle wrapped up and play through the pain.

When Missouri DT Dominique Hamilton doesn't try to get cute off the snap he can be an effective bull rusher. However, too often he tries to work the swim and gets upright, making himself an easy target to be blocked. Now, when he does keep it simple he's long armed, strong kid who can fight through contact and get up field. Therefore, he looks more like an intriguing 5-technique prospect only to me at the next level who has the ability to be a tough move setting the edge.

I thought Arkansas ILB Jerry Franklin did a nice job Tuesday sniffing out the football inside during 9 on 7 drills. He took good angles toward the ball carrier and didn't take many false steps reading the action in front of him. However, he was engulfed a number of times when asked to stack vs. pulling guards at the point and is going to have a tough time defeating blocks consistently at the next level.

The safety class on the west squad also had a number of strugglers Tuesday. San Jose State's Duke Ihenacho showcases good instincts when asked to find the ball in coverage. However, he looks choppy with his footwork in his drop, is a bit tight when transitioning and lacks any kind of burst to his game. He's a tough kid who can find the football, but looks limited in terms of his ability to play in space in the NFL.

I thought Northwestern OL Al Netter was much more balanced today at guard than on Monday. He looked more natural keeping his weight distributed between his knees and has shown solid improvement in a limited amount of time.

USC RB Marc Tyler has had a solid first two days of practice. He's compact, has a good feel picking his way through traffic, is decisive in tight areas and has the power to run through tackles. Plus, despite not having a real natural set of hands, he did a much better job catching the football Tuesday.

Finally, Ole Miss DE Kentrell Lockett has been quiet so far this week. But flashed during pass rushing drills today turning speed into power off the edge and flat out running over Nebraska OT Marcel Jones. Lockett is a long kid with a decent get off and has flashed, but he has had some struggles staying healthy and his medical will be key for him if he hopes to be much more than a free agent come April. Nevertheless, there is some talent there to work with.
Follow me on twitter: @WesBunting
Check out the NFP Draft page here...