January 18, 2012 -
National Football Post
Shrine Practice Notes: West Day 3
West practice notes…

Boise State DE Tyrone Crawford had possibly his best performance of the week today. He showcased the ability to win at the point of attack in the run game, as he overpower opposing tackles during 9 on 7. But also was able to win consistently off the edge as a pass rusher during both team and 1on1 drills. He did a nice job turning speed into power as a pass rusher creating the needed leverage to overwhelm and was sudden enough to slip blocks when opposing tackles wanted to get physical. Looks like at worst a rotational defensive end who has the skill set to start as a base 43 lineman.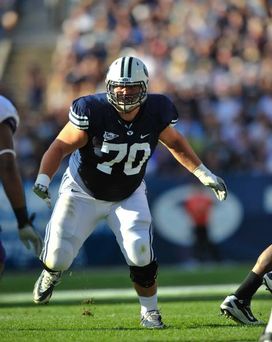 ICONReynolds has lost some weight, but struggles to anchor.
Crawford's counterpart inside was Missouri DT Dominique Hamilton who not only displayed "plus" power for a 6-5, 320-pound defender as a bull rusher, but was also very disruptive knifing his way into the backfield today during the team session. When he keeps his pad level down the guy has the skill to routinely win on contact and looks like a potential starting caliber 34 five-technique in the NFL.

On the other side of the ball, Miami (OH) OG Brandon Brooks continues to improve his balance and footwork in pass protection. He was routinely able to mirror through contact, lock out his arms and keep his back flat. He's a heavy-handed player with strong lower half and looks like a capable starting NFL guard prospect.

It's key to evaluate how a quarterback prospect is able to spin the football in wet conditions, and Wednesday's weather were ideal for this evaluation. Northern Illinois QB Chandler Harnish is a shorter prospect with a smaller set of hands and seemed to have a tough time gripping the football and cleanly spinning throws on all levels of the field. Too often his passes came out with a bit of a tail and overall he had a tough time being real effective trying to throw the ball down the field in driving rains.

Despite the wet field conditions, Fresno State wide out Devon Wylie still was able to run routes at full speed, generate a burst and play fast. He does a nice job keeping his feet under him, showcases good knee bend and even with most of the prospects on skates trying to get out of their breaks today, Wylie was still very sudden and explosive. He's one of the top slot receivers in the class and if he checks out medically, I wouldn't have any qualms using a mid-round pick on him.

South Dakota OT Tom Compton displayed a little more snap through the hips as a run blocker than I gave him credit for on tape. Now, he still looks tight in pass protection and lacks ideal range toward the edge, as he was worked over a couple times today. But he's got a stronger lower half and looks like a guy who should get a shot as a later round/free agent developmental right tackle in camp.

Finally, BYU OT Matt Reynolds has really had a tough week. He lost some weight in order to improve athleticism (weighing in at only 310-pounds at the weigh-in) and has struggled with anchor strength as a pass blocker. He's not a natural bender either, gets doubled over the waist too often and plays straight-legged when trying to hold the point of attack. Those tendencies take away from his balance through contact and allow defenders to easily shed his block through the play.
Follow me on twitter: @WesBunting
Check out the NFP Draft Page here...