April 28, 2012 -
National Football Post
Sixth round breakdown
Round six notes…
• Northwest State CB Jeremy Lane was a player I really liked at this year's Players All-Star Classic. He displayed impressive foot quickness and fluidity when asked to turn and run. He's raw and still developing at the position, but at this stage in the draft if you can find a potential starter long term, it's a good pick and that's what the Seahawks got in Lane.
• The Jaguars also found a really good football player in Florida State corner Mike Harris. Harris is a physical tackler who has some man-to-man cover skills, but is at his best in zone. He looks more like a physical/instinctive sub-package guy, but should be able to carve out a niche in the Jaguars defensive backfield early on.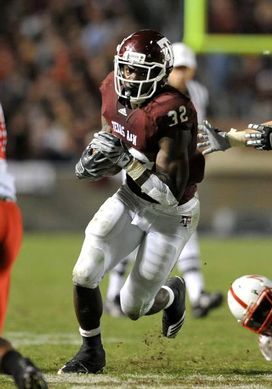 ICONCould Gray eventually evolve into an NFL starter?
• Another DB who could end up making an impact in an NFL secondary long term is Presbyterian CB/S Justin Bethel. Bethel showcases good size, natural change of direction skills and balance, and is a tough guy to separate from in man coverage. He lacks a great closing burst, but could compete for playing time at either corner or safety in the Cardinals secondary. A guy with a lot of upside and a great sixth round value.
• You can always find talent at the RB position late in the draft and that's exactly what the Chiefs did by landing Texas A&M's Cyrus Gray. Gray is a sudden, quick-twitch athlete who can make himself small between the tackles and explode toward daylight. He's not the most instinctive of runners and will leave some yards on the field. However, if the light ever goes on for him and everything starts to click, the guy can be a starter for an NFL offense.
• There is no doubt that Oklahoma State FS Markelle Martin is a gifted athlete who can hold his own in man coverage, fly around the field and close space quickly. But he takes inconsistent angles when tackling the football and there are some medical concerns that have caused him to fall. If he can stay healthy, Martin possesses the natural athleticism needed to compete for a starting job as an NFL free safety down the line for the Tennessee Titans.
• It's funny how despite the production of some of the taller receivers in this year's draft, if there was any type of question about a wideout's straight-line speed they fell on draft day. And that is exactly what happened to Iowa's Marvin McNutt. McNutt is a big, smooth wideout who runs the vertical routes and can adjust to the football. He's never going to separate on sharply breaking routes, but he should find a way to make the Eagles roster and contribute inside as a big slot or even as the "Z" receiver split out.
• The Redskins added some nasty to their offensive line in South Dakota OT Tom Compton. He's not the most athletic of linemen, but he can bend and get after it in the run game. Looks like a potential "plus" run blocker in the league and a guy who could fight for a starting job on the right side in the NFL.
• Finally, credit the Eagles again for adding a talented offensive lineman in Miami's Brandon Washington. He's a thick kid who can bend, is natural on the move and has some pop to his game. He played all over the offensive line at Miami, which has really stunted his development. But if given some time to mature at one spot, Washington has the skill set to start (most likely at guard) in the league.
Follow me on Twitter: @wesbunting