March 21, 2011 -
National Football Post
Small school OT David Mims is no longer a "sleeper"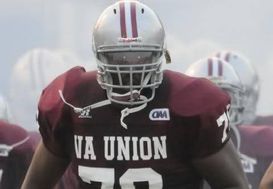 ICONMims is an impressive small-school prospect
When I was going over small school tape this summer, I was instantly intrigued by the size of Virginia Union OL David Mims who at 6-8 and 350+ pounds was at the time one of the bigger prospects in the entire draft. Now, it was pretty obvious that he didn't have a firm grasp on what he was doing from a technique standpoint. However, for his size he was an impressive athlete with a long, strong set of arms, could bend and displayed some natural explosion off the football. He was an absolute dominant force at the D-II level and really opened my eyes with his ability to get out to the second level, breakdown and just destroy opponents on contact.
At 6-8, 331-pounds he's definitely more of a right-sided player at the next level who is going to need some proper time to develop. However, physically and athletically the guy certainly possesses an NFL caliber skill set. He carries his weight well, has a thick base, long arms and displays natural fluidity and change of direction skills through contact when engaged.
Mims also still has a ton of upside to his game and after his impressive pro day workout he definitely has scouts buzzing about his long term potential. I spoke with a scout this weekend who told me following his workout, "Unfortunately he's not a sleeper anymore."
Last year small school developmental tackles Ramon Harewood (6th round, Ravens) and J'Marcus Webb (7th round, Bears) both had similar physical attributes to Mims that warranted a late round draft grade and both now look like potential long term NFL players as they continue to develop. And I think Mims fits that same kind of bill this year. He will end up being a later round guy needing some time to develop and learn the nuances of the NFL game, before putting himself in position to fight for some playing time 2/3 years down the line as an NFL right tackle.