April 20, 2011 -
Brad Biggs
Source: Mallett skips out on meeting with Panthers
Arkansas quarterback Ryan Mallett did not show up for a meeting with the Carolina Panthers earlier this month during an official pre-draft visit to Charlotte, N.C.
Mallett met team officials for dinner April 8, the day he arrived in town, but meetings the next day at Bank of America Stadium were cancelled after Mallett called and said he was sick, multiple sources told the National Football Post.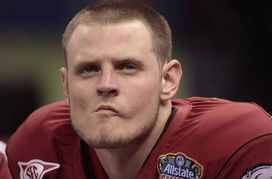 It looks like Mallett will have some more questions to answer prior to next Thursday.
Complicating the matter is the fact sources said Mallett was seen out on the town late following the dinner. Off-field questions have followed Mallett every step of the process since he announced he was leaving school in January with eligibility remaining.
Mallett, who was arrested for public intoxication in March 2009, declined to answer questions from reporters about rumored drug use at the combine in February. Nolan Nawrocki of Pro Football Weekly reported that Mallett was candid about drug usage with teams in interviews, scoring him some points for his forthright nature. Arkansas coach Bobby Petrino recently said that Mallett never failed a drug test in school.
Panthers coach Ron Rivera said at the owners meeting that Mallett was in consideration for the No. 1 overall pick. In mid-March, the Panthers sent quarterbacks coach Mike Shula to Fayetteville, Ark., to work out Mallett. There hasn't been any recent buzz about Mallett to the Panthers. Carolina has done extensive work with the top quarterbacks in the class and many expect the team to draft Auburn quarterback Cam Newton with the top pick April 28.
Mallett has seemingly gained momentum, at least in the court of public opinion, of late. Multiple stories indicate he's done well in workouts. The 6-7, 253-pounder might be the most physically gifted thrower in the draft after a record-setting season for the Razorbacks.
There is a tremendous amount of misinformation spread in the weeks leading up to the draft, but there is no mistaking that Mallett called the Panthers and told them he was ill after a late night in Charlotte. Considering the scrutiny Mallett has been under, it's surprising he would not show up no matter how under the weather he felt.
Follow me on Twitter: @BradBiggs
Brad Biggs covers the Bears for the Chicago Tribune