December 20, 2011 -
Barry Dorey
Standout prospects in tonight's Beef 'O' Brady's Bowl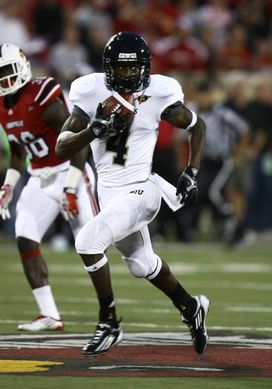 ICONHilton can run away from defenders in space.
WR T.Y. Hilton: Florida International (5-10, 183)
A slight, narrow wide out with a thin waist/lower half, Hilton lacks ideal bulk/musculature for the position and I would like to see him fill out a bit physically. However, he is a natural football player who lines up nearly exclusively inside and can be dynamic in the pass game. He exhibits a good feel slow-playing routes off the line and being sudden out of his breaks before accelerating quickly away from his defender. He also shows a good burst to his game both off the line and out of his breaks and has a legit second gear as well. He can routinely outrun defenders both down the field and with the ball in his hands and he plays really fast in all avenues of the game. He's shifty, balanced and can be tough to bring down in the open field. Hilton accelerates well toward daylight, displays the second gear to outpace angles and does a nice job being sudden enough to make a defender miss, stay on his feet and create through contact. He is still developing as a route runner, he will roll into his routes at times and is a bit limited running the route tree. However, the natural burst, balance and footwork makes it evident that he should develop as a route runner with more time. He needs to do a better job plucking the football underneath, and too often lets throws get into his frame and he also likes to cradle balls against his chest.
Hilton isn't a guy who I would trust beating press coverage at the next level. He's thin framed, lacks power in the lower half and is going to have a tough time fending off contact. However, he doubles as a dynamic kick/punt return option as well, and he looks patient setting up blocks, picking his way through traffic, hitting the gas and running away from defenders. He isn't a guy who's going to hold his own blocking on the edge at the next level, but is a threat you can run reverses to as he gets up to speed quickly and maintains balance well when accelerating around the bend.
Impression: He is limited where he can play in the NFL, however, he has the vertical skill set, play speed and ability after the catch to make his fair share of plays from the slot at the next level.
Follow me on twitter: @WesBunting
Check out the second standout on page two...