September 06, 2011 -
Barry Dorey
Star System
Opening Salvos
It's funny how the euphoria of a 132-day lockout ending in July couldn't infuse the tedious agony of exhibition ball in August. But an uninspiring preseason Week 4 provided tangible relief in one respect: It afforded us one last chance to debunk a few fantasy misconceptions about the stars of today and tomorrow:
1. Vincent Jackson only deserves Top-15 love amongst his fellow receivers. In his last four reasonably healthy seasons (2006-09), V-Jax increased his receptions each year (27-41-59-68) and tallied 25 total touchdowns. But at age 28, there's no guarantee that a pronounced uptick in catches/TDs will occur in 2011. Yes, he had 114 yards and three touchdowns against the 49ers to highlight last year's holdout/suspension-filled campaign; but in the Chargers' most crucial game of the playoff chase -- a desultory loss to the Bengals in Week 16 -- Jackson finished with a pedestrian 4 catches/54 yards. Plus, there's the little matter of Jackson's NFL existence not taking place in a vacuum: His track record of injuries or suspensions must carry some weight when doling out preseason rankings. Hence, the No. 13 spot in standard-scoring leagues ... for which I deem more than fair.
2. Mike Sims-Walker only warrants Round 8-or-later consideration in 12-teamers. Various media reports have praised Sims-Walker for developing immediate chemistry with Rams QB Sam Bradford during the preseason, a great first step in a potentially dynamic relationship. However, in MSW's final 16 games with Jacksonville (2009-10), he registered 3 or fewer receptions 10 times. That kind of invisible production just screams a mid-to-late-round pick in 12-team leagues -- even for the owners who ignore Sims-Walker's two catches (and one TD) in four exhibition games with St. Louis ... and forget that Rams O-coordinator Josh McDaniels has plenty of playmaking options, starting with alpha male Steven Jackson (3,362 total yards, 10 TDs from 2009-10).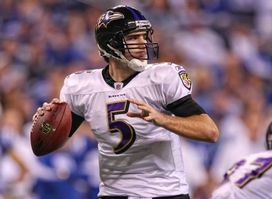 ICONFantasy owners don't seem too excited about Joe Flacco.
3. Joe Flacco's draft-time freefall is hard to explain -- or justify. When considering his progression from Year 1 to Year 2 to Year 3, it's quite reasonable that Flacco (63 career TDs) could tally 27 touchdowns and only 12 interceptions in Year 4. And yet, his lack of sex appeal or humble place in the Ravens' rock-solid offense has lulled prospective fantasy owners into a state of slumber on draft day. Yes, Matthew Stafford, Matt Ryan and Eli Manning can reach the 30-touchdown summit at any point in the future (a big-time factor in keeper leagues); and yes, there's something alluring about Josh Freeman working his magic when wearing the Buccaneers' retro-creamsicle uniforms. But in fantasyland, where only numbers matter, Flacco has inexplicably slipped a notch below the above names in standard leagues. For those who preach draft-day patience with quarterbacks, say hello to Flacco in Round 9!
4. Brandon Marshall will reclaim his elite standing with wideouts this year. If Marshall had played the full 16 games last season, he likely would have collected 14 receptions in the missing two games to clinch a fourth straight 100-catch campaign. So, it's not like he completely fell off the earth with 86 catches, 1,014 yards and three TDs in 2010; he simply had a poor year for someone named Brandon Marshall. And at 27, I'm willing to give B-Marsh a relative free pass here, now that his personal life appears stable and the spate with Miami QB Chad Henne has seemingly been rectified. Throw in the Dolphins' lackluster power-running game (Reggie Bush, Daniel Thomas, Lex Hilliard) ... and the stars are once again aligned for Marshall racking up 100 receptions and 7-8 TDs.
5. Tim Hightower and Roy Helu should live long and prosper in Mike Shanahan's offense. In July, I listed the Redskins as the prohibitive NFC favorite to win the Andrew Luck Sweepstakes in next year's draft. But that came before the Washington brain trust stealthily traded for Hightower (23 TDs with Arizona from 2008-10) and immediately entrusted Helu (team-high 220 total yards) with primetime touches during the preseason. The result: The tepid QB competition between Rex Grossman and John Beck may not matter ... if Hightower, Helu and veteran Ryan Torain, a Shanahan favorite, collectively earn 50-plus touches per game. And if that's the case (fingers crossed), the 'Skins will surely pass last season's deplorable rushing total of 1,461 yards ... sometime around Week 10.
6. Don't rule out James Jones for 60 catches and/or 7 TDs. If Jones (50 catches/5 TDs in 2010) had signed with a bottom-feeder club during the abbreviated free-agency period in July, he'd be a WR1 in the real world and Round 6/7 pick in fantasyland (12-teamers). But after re-signing with Green Bay, he'll have to sing for his fantasy supper each week against the likes of teammates Greg Jennings, Donald Driver, Jermichael Finley, Jordy Nelson, Ryan Grant, James Starks and potentially explosive rookie Randall Cobb. Still, he's a lead-pipe cinch for at least four games of 85 yards receiving and one TD -- and a sneaky-good pick for Week 1 greatness.
7. Andre Johnson cannot be slowed by the notion of turning 30. Johnson has amassed 465 catches, 6,358 yards and 38 touchdowns in his last 70 games (2006-10); and last year, he drew nine or more targets in 10 of his 13 games, while collecting 86 catches, 1,216 yards and eight touchdowns. Bottom line: Until Johnson starts showing some serious wear-and-tear, I will confidently mark him down for 102/1,375/11 in a full 16-game campaign. NEXT!
The Tao Of Dwayne Bowe
It should surprise no one that Dwayne Bowe (72 catches/1,162 yards in 2010) is a regular threat for 80 catches and 1,100 receiving yards, given his immense physical tools, Matt Cassel's emerging QB prowess (when healthy) and the aggressive nature of head coach Todd Haley. But how to explain Bowe's league-leading 15 touchdowns? More importantly, is there reason to believe he'll sniff that number in consecutive seasons?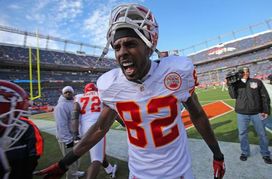 Is there any chance Bowe duplicates last year's numbers?
Going back to the prolific days of Hall of Famer Don Hutson, a player has amassed 15 or more receiving TDs 27 times -- covering 18 different wideouts (such as Randy Moss, Cris Carter, Sterling Sharpe, Mark Clayton, Terrell Owens, Braylon Edwards, Andre Rison, Carl Pickens). And in the 27 follow-up years to 15-plus TDs, only Jerry Rice has surpassed the previous year's level of scoring greatness (22 TDs in 1987) ... and only one wideout (Marvin Harrison) annihilated the previous season& #39;s benchmark (143 catches/1,722 yards/11 TDs in 2002). Translation: Bowe may have a Toucan Sam-like nose for the end zone ... but the odds are stacked against him repeating 15 TDs -- let alone pulling down 12 or 13.
My modest Bowe prediction for 2011: 79 catches, 1,091 yards, 9 TDs.
Week 1: QB Locks For 275 Yards and/or 3 TDs
1. Aaron Rodgers vs. New Orleans
2. Drew Brees @ Green Bay
3. Philip Rivers vs. Minnesota
4. Tom Brady @ Miami
5. Kevin Kolb vs. Carolina
6. Matt Schaub vs. Indianapolis
RB Locks For 120 Total Yards and/or 2 TDs
1. Adrian Peterson @ San Diego
2. Frank Gore vs. Seattle
3. LeSean McCoy @ St. Louis
4. Ray Rice vs. Pittsburgh
5. Matt Forte vs. Atlanta
6. Beanie Wells vs. Carolina
7. Steven Jackson vs. Philadelphia
8. Ryan Mathews vs. Minnesota
9. Darren McFadden @ Denver
WR Locks For 110 Yards and/or 1 TD
1. Andre Johnson vs. Indianapolis
2. Brandon Marshall vs. New England
3. Marques Colston @ Green Bay
4. Larry Fitzgerald vs. Carolina
5. Calvin Johnson @ Tampa Bay
6. Roddy White @ Chicago
7. Vincent Jackson vs. Minnesota
8. James Jones vs. New Orleans
9. Mike Wallace @ Baltimore
Kicker Locks For 3-Plus Field Goals
1. Shaun Suisham @ Baltimore
2. Ryan Succop vs. Buffalo
3. Nick Folk vs. Dallas
4. Robbie Gould vs. Atlanta
5. Sebastian Janikowski @ Denver
6. Josh Scobee vs. Tennessee
Keep It Simple, Stupid
This quick Public Service Announcement goes to the owner who prepped for and drafted a superb fantasy team ... only to be paralyzed by fear and anxiety when consummating his/her Week 1 starters: Don't Overthink Your Lineups!
If you have stud receivers like Hakeem Nicks (@ Washington) and Reggie Wayne (@ Houston), they're automatic starters -- regardless of who's throwing 'em the football. On the next tier, please don't bench Dez Bryant (@ N.Y. Jets) or Percy Harvin (@ Minnesota) for Emmanuel Sanders or Plaxico Burress ... off a misguided hunch that Plax is ripe for a big game against Dallas -- even though he's been killing time in a jail cell the last two NFL seasons. Is it possible that Sanders could score higher than Harvin? Of course, anything is possible in fantasyland. But the odds of Harvin falling flat against the Chargers are pretty slim -- especially in PPR leagues.
Bottom line: You'll have all season to tinker with your rosters and lineups. But Week 1 -- when dealing with healthy players -- is the one time to sit back and play your bankable stars, with no real worries. Win or lose. And it's the only Sunday when you can't feel the internal pressure of avoiding a two-game losing streak in a highly competitive 12-team league. The rule of thumb: Ride your studs ... until they give you reason to think otherwise. (cough -- Michael Crabtree -- cough)
Radio Daze
You know what makes the stuck-in-a-cubicle workday run smoothly during the fall months? Podcast after podcast after podcast! Here are my favorite football-specific podcasts/radio shows:
1. Yahoo! -- "Fantasy Blitz"
2. ESPN -- "Fantasy Focus" with Matthew Berry and Nate Ravitz
3. CBSSports.com -- "Fantasy Football" with Dave Richard and Jamey Eisneberg
4. KFAN in Minneapolis -- "Fantasy Football Weekly" with Paul Charchian
5. RotoWire.com -- "Fantasy Sports Podcast"
6. WDFN-AM in Detroit -- "Fantasy Sports Geekly" with Sean Baligian
Into The Great Wide Open
For those who haven't completed their drafts yet (a savvy move, by the way), here's a revised listing of my Top 40 wideouts in Points Per Reception leagues:
1. Andre Johnson, Texans
2. Roddy White, Falcons (don't expect another 30-catch jump in 2011 -- HA!)
3. Larry Fitzgerald, Cardinals
4. Hakeem Nicks, Giants (an annual threat for 87 catches/10 TDs)
5. Calvin Johnson, Lions
6. Reggie Wayne, Colts (takes a slight hit amid Peyton Manning's expected absence)
7. Miles Austin, Cowboys
8. Brandon Marshall, Dolphins
9. Greg Jennings, Packers
10. Mike Wallace, Steelers
11. Marques Colston, Saints
12. Wes Welker, Patriots (should recapture 100-catch form in 2011)
13. Dwayne Bowe, Chiefs
14. Vincent Jackson, Chargers
15. Mike Williams, Buccaneers (expect an uptick in catches ... and reduction in TDs)
16. Brandon Lloyd, Broncos
17. Dez Bryant, Cowboys (needs a few 10-catch, 100-yard efforts before dominating next year's rankings)
18. DeSean Jackson, Eagles
19. Santonio Holmes, Jets
20. Percy Harvin, Vikings (only migraines and injury can preclude Percy from flirting with 85 catches)
21. Sidney Rice, Seahawks
22. Jeremy Maclin, Eagles
23. Kenny Britt, Titans (mark him down for two games of at least 160 receiving yards)
24. Steve Johnson, Bills
25. Anquan Boldin, Ravens
26. Santana Moss, Redskins
27. Mario Manningham, Giants (a potential No. 1 ... mired behind Mr. Nicks)
28. Austin Collie, Colts
29. Pierre Garcon, Colts
30. Chad Ochocinco, Patriots
31. Lance Moore, Saints
32. Mike Thomas, Jaguars
33. Davone Bess, Dolphins (a silent, flex-option killer in PPR leagues)
34. Hines Ward, Steelers
35. Lee Evans, Ravens
36. A.J. Green, Bengals
37. Julio Jones, Falcons
38. Mike Williams, Seahawks
39. Antonio Brown, Steelers (I plan on stealing Brown in my three Tuesday drafts)
40. Danny Amendola, Rams
40a. Mike Sims-Walker, Rams
Practi ce Makes Perfect
Here are six of the best sites for round-the-clock mocking -- covering standard-scoring and keeper leagues.