April 09, 2012 -
National Football Post
Stock Watch: Part II
Who is making their move up boards with under a month to go till draft night?
DL Fletcher Cox: Mississippi State (6-4, 295)
I think his best spot might be as a 34 five technique who is able to penetrate and make plays off the ball. He's raw and needs to learn to play with his pad level lower. However, as a potential five technique he's a guy who has the skill set to earn a starting role.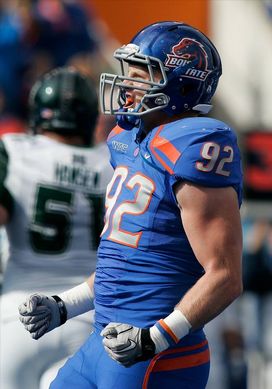 ICONMcClellin is a fringe first round option.
DT Kendall Reyes: Connecticut (6-4, 295)
Displays some natural talent and did a better job at Senior Bowl playing with a lower pad level. If he can continue to play lower should be able to fight for a starting role in both a 34 or 43 scheme as a three or five technique.

OLB Shea McClellin: Boise State (6-3, 258)
McClellin is a productive pass rusher with a big motor, good skill set and can get after the QB in a number of ways. Looks like a potential starter at the next level.

ILB Mychal Kendricks: California (6-0, 240)
Is a thick, shorter compact backer who explodes through contact and is a real violent striker. Finds the ball quickly vs. the run and has the range to make plays in pursuit. Lacks ideal size however to stack and shed and lacks a great feel in zone. However, as a thumper inside with the potential to get into the backfield as a blitzer who should get plenty of looks from 34 teams in need of a versatile, high motor backer.

CB Stephon Gilmore: South Carolina (6-1, 193)
Is a "plus" sized corner with good quickness and fluidity. Needs to clean up his footwork in off/zone concepts, but has skill set to play near the line, check receivers and turn and run. Should be able to fight for a starting role during his rookie year in more of a zone scheme.

FS Brandon Taylor: Louisiana State (6-0, 195)
He can tackle in the box and in space, despite being a bit inconsistent at times. Displays some natural coverage ability and looks capable of maturing into tweener starter/nickel safety at the next level.

SS Mark Barron: Alabama (6-2, 218)
Has the makings of a heck of a special teams player who can also attack downhill vs. the run game, play inside the box and drive on the football in front of him in the pass game. Isn't going to be a major threat turning and tracking the football, but his improved instincts makes me think he can start in the league early on.