March 23, 2011 -
National Football Post
Stock watch: part II
A look at a three prospects who have hurt their draft stock throughout the post-season process.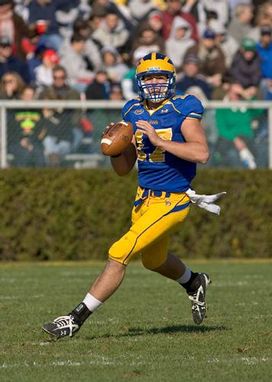 Devlin's ability to make all the throws is a major question.
QB Pat Devlin: Delaware (6-3, 225)
I really liked what I saw on tape from Devlin this past year. He displayed a quick release, got the ball out on time and exhibited impressive ball placement underneath. Plus, he was an above-average athlete who could move around the pocket and used his eyes as well as any QB in the draft in order to manipulate a defense. However, ever since watching him throw live this post-season, I simply have severe doubts about him developing into anything more than a reserve QB in the NFL. His passes don't have a real zip on them on any area of the field and he struggles when asked to fit throws into tight spots in the intermediate pass game. He's still worthy of a pick in the later half of the draft and still has some upside. But if you're looking for a late round flyer at QB with the physical capabilities of potentially starting down the line, I don't think Devlin fits the bill.
WR Vincent Brown: San Diego State (5-11, 187)
When breaking down Brown's game you could tell the guy was a natural receiver. He displayed a good feel deciphering defenses, was comfortable going up and getting his hands on the football and exhibited good short area quickness/fluidity out of his breaks. However, I thought he really seemed to fight himself off the line and lacked the initial burst needed to consistently create separation for himself at the next level. And my concern came true at the NFL Combine when Brown ran a 4.7 in the 40-yard dash. He's a guy who simply struggles to get up to speed quickly and doesn't have a real explosive first step in any area of the game. Now, Brown does know how to use his body to box out defenders and is a natural plucker. But at this stage looks more like a late round pick who is destined for a reserve role only in the NFL and doesn't look like a dynamic slot guy at that.
FS Will Hill: Florida (6-1, 202)
It was obvious on tape Hill didn't have a great feel for the game and wasn't the most instinct of safeties in the class. However, being a former five-star recruit at Florida the perceived notion was that he was a gifted enough athlete with good speed and if ever willing to put it all together had the upside to mature into a legit NFL player. However, after running in the mid 4.6 range at the NFL Combine Hill's stock really seems to be falling. He's not quite the athlete many thought he was when he declared, there are also some character concerns and overall he never made many plays on the football during his time at Florida. He will still likely get drafted at some point on day three, but as of now don't expect it to be anytime before round six.