July 24, 2010 -
National Football Post
Summer tape sessions: biggest prospect surprises
As many of you know, I'm taking most of the summer to break down the top college football teams in the nation to begin to get a feel for the 2011 NFL draft class. As of now, I have finished up just about 50 teams, so here is a look at some of the most surprising prospects who I have seen so far that aren't getting much love but really popped out on tape to me this summer.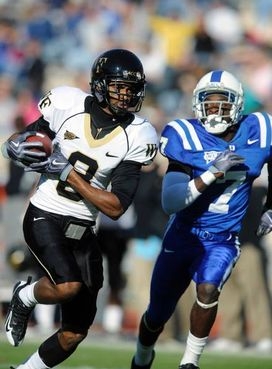 IconWilliams has the ability to be sudden and cleanly separate out of his breaks.
WR Marshall Williams: Wake Forest (6-1, 186)
Coming from a program like Wake Forest, it's easy to overlook a guy who has only had one real full season of production. However, when I popped on the tape of Williams this summer I saw a balanced, sudden route runner who had the ability to cleanly get in and out of his breaks and accelerate away from defenders. The guy was consistently able to separate vs. man coverage against the top cornerbacks in the ACC and possesses the kind of sneaky straight-line speed to routinely get behind defenses and make plays down the field. Now, he needs to continue to add some more bulk and overall strength to his frame, but there is definitely a little Chad Ochocinco in his game.
QB Zach Frazer: Connecticut (6-4, 236)
Just take a minute to watch this kid simply spin the football and you can't help but be impressed. Physically, the guy has it all. He can make all the throws asked of him, exhibits good touch down the field and the football just really seems to jump out of his hands. Now, he does lack a ton of experience, is still trying to get a better feel for the offense and can get sloppy at times with his footwork. But, his best performances all came at the end of the year and I just think he's a quarterback that has the makings of really putting it all together for a strong senior year and will end up being one of the top prospects at his position when it's all said and done.
OT Cody Habben: Washington (6-6, 295) QB Jake Locker isn't the only prospect worth your time if you take a look at Washington this season, as it's one of the guys who will be protecting him up front that has me really intrigued. Habben is a tall, flexible kid who knows how to sit into his stance, keep his base down on his kick-slide and smoothly/quickly reach the corner. He possesses above-average lateral ability and looks really comfortable when asked to get out in space and hit a target in the run game. Now, he does have a tendency to get a bit overextended, especially when asked to redirect back inside and lacks ideal lower body strength at this stage. Nevertheless, he's got a great athletic skill set, he's a natural bender and with some time to mature, this guy has the ability to develop into a very capable tackle in the NFL.
DL Lucas Patterson: Texas A&M (6-4, 303)
Go ahead and look around the Internet or any other NFL draft rankings for that matter and you tell me where this guy is listed. Ten to one, he isn't part of the list. Patterson is a guy who has been given no love in NFL draft circles and I almost didn't even evaluate him for that very reason. However, when I turned the tape on of the guy I couldn't believe how good of a prospect he really was. Patterson is a tall, long-armed kid who plays with natural flexibility in his lower half, exhibits a strong base for his size and possesses a good first step off the football. And all the guy does is beat block after block, playing with leverage and using his violent hands to disengage and make a play. I think he could be used as a swing nose/three technique in a 4-3, but his real calling card could end up being on the outside as a 3-4 defensive end prospect. Either way, he's an underrated guy who I really like and would go to bat for on draft day.
Follow me on Twitter: @WesBunting
Ready for fantasy football? Click here to purchase the 2010 Total Access Pass/Draft Guide from the NFP.