August 22, 2011 -
National Football Post
Supplemental draft preview
A breakdown of the Supplemental Draft's top three prospects and where they could end up going on Monday.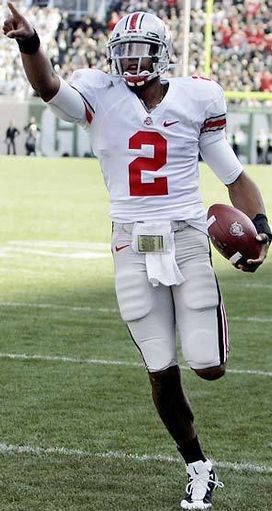 ICONPryor is the Supplemental Draft's top prospect.
1. QB/ATH Terrelle Pryor: Ohio State (6-6, 248)
A gifted size/speed athlete who ran in the sub 4.4 range at his recent pro day and possesses the short area quickness/body control to get looks as a wide receiver as well. Is a better "thrower" of the football than given credit for. However, he's raw with his footwork, struggles to decipher information in the pocket and is at his best when asked to improvise.
Pryor is not a guy who will be ready to come in and compete right away for a starting job, plus he's going to have to serve a five game suspension to open his NFL career. Nevertheless, Pryor is the type of athlete who could have his own package on an NFL offense by the end of the season and long term certainly has the skill set to develop as a potential starter at either wide out or quarterback.
Personally, I would rather bet on his physical skill set as a receiver, more so than on his mental capabilities as a quarterback.
Three potential suitors: Oakland Raiders, Washington Redskins and Cincinnati Bengals.
For the full NFP breakdown on Pryor click here.
2. DE Michael McAdoo: North Carolina (6-6, 250)
A tall, angular defensive end prospect who possesses a good first step for his size, extends his long arms well into contact and displays some natural strength at the point. Exhibits natural suddenness as a pass rusher as well, using his long arms/hands to fight through blocks and work his way toward the edge. Showcases the ability to drop his pad level once he gains a step and works his way well around the corner.
However, the last time we saw McAdoo was at the 2010 UNC spring game where he recorded 4 sacks and used his combination of power, length, burst and quickness to shed blocks and make his way toward the quarterback all afternoon. Lacks much experience though, as he has never started a game at the NCAA level, has some character concerns and will need time to develop. But, he's a tall, long armed pass rusher with a "plus" caliber skill set and plays a position that is always in high demand in the NFL.
Three potential suitors: Cleveland Browns, St. Louis Rams and Houston Texans
3. RB Caleb King: Georgia (5-11, 223)
Possesses good thickness through the mid-section and thighs, but looks a bit thin in the calves. Showcases good patience when asked to set up blocks both on the perimeter and between the tackles. However, is a much more comfortable when asked to run downhill, as he runs with much more authority, sinking his hips and side stepping defenders inside.
Allows his pad level to rise however on more miss-direction plays, causing him to get a bit tentative and can be brought down easily on contact.
Needs to run downhill in more of a power scheme at the next level in order to be effective. Is only an average athlete that looks at best like a NFL reserve as there is nothing real dynamic about him and I don't think he warrants a pick.
Three potential suitors: Detroit Lions, Denver Broncos and Arizona Cardinals.
Follow me on twitter: @WesBunting