January 05, 2012 -
National Football Post
Syracuse DE Chandler Jones Declares for Draft: Where does he rank?
The breakdown…

DE Chandler Jones: Syracuse (6-5, 265)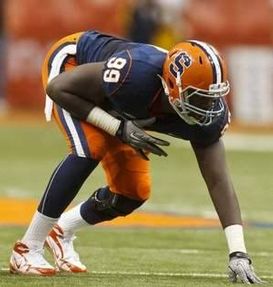 ICONJones looks tighter trying to sit into his stance.
Possesses a tall, lean frame with a long set of arms and a lot of growth potential. Exhibits some natural width through his lower half and should be able to continue to fill out. Isn't a real natural bender though. Has a tough time sitting into his stance, staying low off the football and really keeping his base under him into contact. Doesn't eat up a ton of ground off the snap and lacks the first step burst to consistently be a threat to the corner. Uses his length well into contact and when on the edge showcases some coordination to jab with his inside hand and work a club/arm over in order to slip the block and get around the corner. However, isn't overly fluid when trying to turn the edge, gets upright and looks tighter, but uses his length well to make himself big and wrap. Gets upright as a bull rusher, showcases some natural power to his game, but exposes his frame and struggles to gain leverage. Drops his head into contact, but is routinely the higher man. Has the length and power to get away with it at the college level but will be stonewalled in the NFL. Isn't real sudden laterally and doesn't showcase a real quickness about his game when setting up a counter. Is upright, looks tighter and doesn't have much change of direction skills.
Plays upright vs. the run game as well, fails to consistently gain leverage and doesn't extend his arms well into contact. However, has the natural length to extend when engaged in order to create room for himself and shed. Showcases good range for his size off his frame in the run game and can chase off his frame and use his length to close in pursuit. Lacks ideal anchor ability, but because of his natural strength and length makes it tough for opposing blockers to stay engaged.
Missed time this season with a knee injury and will need to check out medically.
Impression: I love his size and length. But I worry about defensive lineman who play upright, lack a great get off burst and struggle to change directions. I don't see him as a big time pass rusher. But if he improves his pad level he could mature into a potential starting option.
Follow me on twitter: @WesBunting
Check out the NFP Draft Page here...