October 15, 2013 -
Jason Cole
Tampa trouble could stretch beyond Schiano
As the Tampa Bay Buccaneers continue their free fall under coach Greg Schiano, the question may soon become not about whether Schiano survives. The issue may be how many people will be fired in the process.
While few people have questioned the safety of General Manager Mark Dominik as the Buccaneers lost for the 10th time in their past 11 games under Schiano, the rumors will no doubt trickle Dominik's direction as fans continue to show their anger (a large group of fans jeered Schiano as he left the field Sunday after a loss to Philadelphia). Moreover, the question may soon become whether Dominik will be allowed to make significant changes at head coach and quarterback after the failures of two coaches and quarterback Josh Freeman under his watch.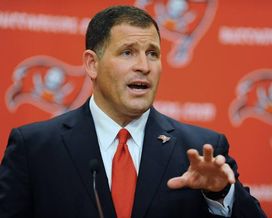 Schiano's Buccaneers are off to a miserable 0-5 start.
Over the past two years, Dominik has been allowed to spend freely on players, bringing in the likes of cornerback Darrelle Revis, wide receiver Vincent Jackson, guard Carl Nicks, safety Dashon Goldson and cornerback Eric Wright. Wright was a bust. Nicks has been tragically hurt and then infected with MRSA. Revis, Jackson and Goldson have all been good, but that hasn't translated to victories.
More importantly, Freeman went from promising to bust in a short period of time. His implosion can be blamed on a failed relationship with Schiano. Addi-tionally, the recently MRSA outbreak (Nicks and two other players have been infected), has been an embarrassing blemish on top of the losing.
Is that Dominik's fault? Not really, it's more about bad luck. Likewise, Dominik did not make the final call on hiring Schiano or previous coach Raheem Morris. That blame goes on the Glazer Family, which owns the team.
But the track record of the Glazers taking responsibility for failure is not good. Previous employees, such as PR people, have been fired over circumstances that weren't necessarily in their control.
That gets us back to Dominik, who took over in 2009. Dominik is incredibly bright, understands how to build a team and gets both player analysis and salary cap realities. But, again, for all the things Dominik has done right, it hasn't translated on the field.
When that happens, generally someone takes a fall. Usually, when things get this bad, it's more than just "someone." It's some people. That group could easily go beyond Schiano and his coaches.
Follow Jason on Twitter: @JasonPhilCole