July 27, 2010 -
National Football Post
Tape sessions: biggest prospect disappointments
As many of you know, I'm taking most of the summer to break down the top college football teams in the nation to begin to get a feel for the 2011 NFL draft class. As of now I have finished up about 50 teams, so here is a look at some of the most disappointing prospects that I have seen up to this point this summer.
Summer tape sessions: biggest prospect surprises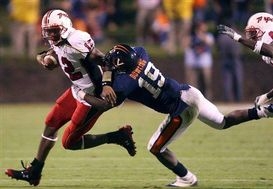 ICONDowling has the size to certainly come up and tackle in the run game.
DB Ras-I Dowling: Virginia (6-1, 199)
Now don't get me wrong, I think Dowling is a physically strapped-together kid with good ball skills and could end up being a very good cover two corner/safety in the NFL. However, the idea that this guy is one of the top potential man-to-man corners in the draft just doesn't make sense to me. On tape he was a guy who didn't look real flexible or fluid in his lower half, had a tendency to double over at the waist and simply wasn't real clean/compact with his footwork. He exhibited the ability to track the football down the field once he got going, but he always needed a couple steps in order to get back up to speed out of his transition and just didn't strike me as a guy who I would trust to hold up in man coverage on the outside at the next level.
CB DeMarcus Van Dyke: Miami (6-1, 185)
It quickly becomes obvious on tape that Van Dyke possesses good overall size for the position, exhibits natural fluidity in and out of his breaks and has the kind of speed to turn and run with receivers down the field. However, after being ranked as one of the top corners by National this summer, he's a guy who is now assumed to be one of the top potential corners in the draft. But after watching him on tape last week, I saw a guy who isn't real impressive in off-coverage as he quickly allows his pad level to rise and struggles to generate a burst when asked to click and close. And as a tight man-to-man corner he really gets sloppy with his footwork, allowing his lower half to get overextended, which takes away from his ability to quickly redirect and get after the football. Now, there is no doubt the guy has the skill set to play in the NFL. But, as of now, he doesn't look like anything more than an intriguing size/speed athlete who is worth a draft pick, but is going to need some time in order to contribute to an NFL defense.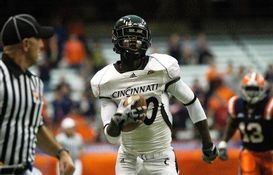 ICONBinns is limited in what he can give you on the outside at the next level.
WR Armon Binns: Cincinnati (6-3, 210)
The main reason why college receivers struggle to make the transition to the next level is because they fail to adjust to the physicality of consistently beating press coverage, and that is exactly the main fear I have concerning Binns in the NFL. Now, he's a wideout who possesses a big frame, good body control and knows how to go up and pluck the football at its highest point. However, the guy really only has one gear, isn't real explosive/sudden off the line and struggles to generate a burst for himself out of his breaks. Therefore, all those attributes add up to a receiver who will simply be unable to efficiently make plays on the outside in the NFL. Now, I could see him making an NFL roster as a potential sub-package guy who can work from the slot and make some plays down the middle and move the chains. But, he just doesn't project as a legit starting wideout in the NFL in my book.
DE Sam Acho: Texas (6-3, 260)
In all honesty, there isn't too much that excited me concerning Acho's game. He does possess a long, athletic-looking frame, but doesn't exhibit the kind of initial burst to consistently threaten the edge. Plus, he wastes a lot of motion trying to get out of his stance and doesn't have the kind of power or play with the kind of leverage to be a real effective bull rusher. Now, because of his length he can eventually work his way free from college tackles and fight his way toward the quarterback. However, I don't see the physicality in his game to consistently disengage from offensive linemen in the NFL and he's definitely not a guy who I would trust setting the edge for me vs. the run game. Overall, some natural talent and athletic ability is there, but I wouldn't expect him to mature into much more than a reserve defensive end in the NFL.
OLB Michael Morgan: Southern Cal (6-4, 220)
I know USC has had a nice run of sending talented linebackers into the NFL and Morgan is a former four-star recruit who was supposed to be one of the next big-time prospects to come from the program. However, after watching tape of the guy, I just don't know where he's going to fit into an NFL defense. First off, his build looks more like a strong safety prospect than an actual outside linebacker. And although he is long and does a nice job making plays down the line and closing on run plays away from his frame, he plays with absolutely no base and isn't a guy who can play the run game with any kind of anchor when run at. Now he does exhibit some natural range/balance in coverage and can quickly get into his drop. However, he too often gets leggy when asked to redirect and doesn't play nearly as fast as he times because of his struggles to quickly/cleanly redirect. He's definitely not a guy who will be able to hold up in the run game in the NFL and best-case scenario is that he becomes a special teams ace who could end up helping out in nickel situations.
Follow me on Twitter: @WesBunting
Ready for fantasy football? Click here to purchase the 2010 Total Access Pass/Draft Guide from the NFP.