August 30, 2011 -
Barry Dorey
Targets Acquired
Ask ... And You Shall Receive
Now that fantasygoers have been granted clearance (Clarence?) to snare a superstar or two in fantasy drafts -- without fear of exhibition-game injury -- I thought it'd be proper to include the updated rankings for quarterbacks, running backs and wide receivers in one tidy Philanthropist column. But before we get to that, it's story time!
No Guts, Some Glory
Mike Wallace or Marques Colston?
This was the question posed by my wife during the 'Philanthropist & Friends League #3' draft on Sunday afternoon -- the third of four fantasy leagues hosted by yours truly, starring only loyal readers of this column. Why would a woman whose only interest in football lies with 1) Who is Auburn playing? 2) Who has a chance to knock off Alabama? and 3) maybe the Super Bowl ask about two top-15 receivers ... while sitting poised over the laptop, eagerly awaiting a reply? Let's do this in a timeline:
1 p.m. -- The League #3 draft room officially opens 62 minutes before the first pick. While lying on the couch, I ask my fellow owners, via Twitter, 'Which spot do I have?' in the 16-team megadraft.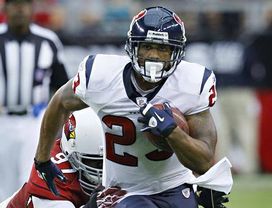 Arian Foster's hamstring has become a hot topic.
1:02 p.m. -- En masse reply of "3rd," which means I'm now stuck with gauging whether Arian Foster and his heightened hamstring woes are worthy of an elite pick. Twelve minutes prior to Saturday's game against San Francisco, Foster would have been a no-brainer at No. 3.
1:38 p.m. -- Just seconds before putting down the trusty iPhone and walking to the laptop to host/participate in the League #3 draft, a rush of negative, strength-sapping energy zooms from the stomach to my brain, causing the dizzy spell of all dizzy spells ... and one of the most sweat-inducing panic attacks of my young life. What is the cause of such nausea? Do I have a concussion? Where did that immense pain come from? ... and How am I going to sit at a computer, making draft picks and starting lively debates with the other owners, without taking a header into the glass table?
1:42 p.m. -- After repeated attempts to open my eyes without squinting or even sit up on the couch, I'm faced with the hard truth that I cannot handle the seemingly mundane rigors of a 90-minute draft, and that my wife would have to execute the task in my honor.
-- At this point in my sudden illness, I'd have a better chance of explaining geometry to a dog than helping the wife enter a draft room, just minutes before it starts.
1:58 p.m. -- Hallelujah ... she's in! But the momentary exultation is quickly dulled with the realization that I'm on the cusp of vomiting ... and that Patricia has no experience with the "Player Queue" box -- a method of lining up candidates for drafting while on the clock -- which is crucial, given the 60-second time limit for picks.
2:02 p.m. -- Adrian Peterson is the first stud off the board. No surprise there.
2:03 p.m. -- Next up, Jamaal Charles ... leaving me the awkward, three-pronged choice amongst a petulant holdout (Chris Johnson), my consensus No. 1 in PPR and standard leagues when healthy (Foster) and my personal lock for 2,000 total yards (Ray Rice).
2:04 p.m. -- Ray Rice it is! Ich bien wuss.
2:15 p.m. -- Armed with the 30th pick in Round 2, I ignore the treasure trove of receivers to grab my highest RB on the board, Ahmad Bradshaw. So far, so good. Until ...
2:18 p.m. -- My wife and I spend approximately 212 seconds debating the merits of Marques Colston/Dez Bryant/Mike Williams/DeSean Jackson ... before I grab a plastic shopping bag to do something I hadn't done with that much intensity since 1991 (how Seinfeldian!). With no time to ask the wife if running backs Ryan Mathews, Knowshon Moreno or Shonn Greene were still on the board, I was left with the ultimate multi-task assignment of remembering the precise order of Colston/Bryant/Williams/Jackson while uncomfortably filling up a bag that was primarily designed to harness boxes of Frosted Flakes. The last words I hear are "Mike Wallace or Mar-keese Colston?" And with one final breath before being incapacitated for the next 18 minutes, I meekly murmured "Colston."
... And that's the story of how a woman who had no interest in her husband's livelihood became versed in the art of enduring a 16-team draft, where every other owner knows your likes/dislikes, sleepers/dead weight. All in all, she did a great job. Here's how she fared in the megadraft:
Team #3
Round 1 -- RB Ray Rice, Ravens
Round 2 -- RB Ahmad Bradshaw, Giants
Round 3 -- WR Marques Colston, Saints
Round 4 -- RB BenJarvus Green-Ellis, Patriots
Round 5 -- WR Sidney Rice, Seahawks
Round 6 -- QB Matthew Stafford, Lions
Round 7 -- TE Marcedes Lewis, Jaguars (one of two default/time-expired picks ...)
Round 8 -- WR Antonio Brown, Steelers
Round 9 -- RB Jerome Harrison, Lions (... and Mr. Short Screen to Almost Paradise was the other)
Round 10 -- WR Jerome Simpson, Bengals
Round 11 -- RB Stevan Ridley, Patriots (completing the BenJarvus handcuff)
Round 12 -- QB Matt Hasselbeck, Titans (should have a good game against Cincy in Week 9 -- Stafford's bye)
Round 13 -- WR Mohammed Massaqoui, Browns
Round 14 -- PK Alex Henery, Eagles
Round 15 -- D/ST St. Louis Rams
Round 16 -- WR Donnie Avery, Rams (shocked that he survived the first 253 picks)
The Weekend That Was
Here are some mini-Revelations from a surprisingly bland preseason Week 3: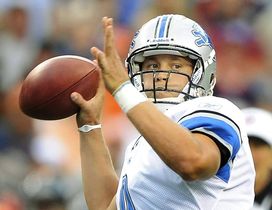 Is Stafford poised for a big year?
1. Matthew Stafford is singlehandedly disrupting draft boards. My fantasy ambivalence knows no end after watching Stafford (200 yards passing, 2 TDs) dissect the Patriots' first-teamers Saturday night. As a native Detroiter and current Georgian who's been foretelling Stafford's greatness since his first collegiate pass in 2006, I'm happy for his preseason success (24-of-31 for 356 yards, 5 TDs); however, from this point forward, there is a zero-percent chance of landing Stafford in Round 8 of a 12-team draft ... and that's disappointing news for owners who preach 'value' at every turn. On the positive side, Joe Flacco, who may throw for 27 touchdowns, can now be had for a rock-bottom price in Round 8 or 9.
2. Prospective drafters ought to buy whatever Antonio Brown is selling. It's not in my nature to go loco about a second-year wideout with 16 career catches, but who among us can possibly resist the temptation of Brown after his two highlight-reel-worthy TDs against the Falcons? We're not talking about garden-variety scores in a meaningless August exhibition; his speed, athleticism and insane body control draw immediate comparisons to Mike Wallace ... and his recent production should be enough to warrant a Round 9 flier pick in 12-team leagues. It also helps that QB Ben Roethlisberger loves targeting Brown in a pinch.
3. The over/under for Jaguars wideouts and 45 catches stands at 1.5. Outside of Mike Thomas and tight end Marcedes Lewis, the Jacksonville receiving corps reads like a list of past/future Arena League all-stars. Jason Hill? Cecil Shorts? Jarett Dillard? Armon Binns? Kasim Osgood? Dontrelle Inman? It's enough to audibly wonder if Jimmy Smith (age 42) and Keenan McCardell (age 41) are willing to come out of retirement? After all, Smith (12,287 yards/67 career TDs) and McCardell (11,373 yards/63 TDs) hold the Jaguars' top-14 marks for receptions in a single season. So much for franchise depth. Yikes!
4. Vernon Davis will hopefully survive the 49ers' shaky transition of power in fantasyland. I have all the confidence in Jim Harbaugh's ability to someday transform the 49ers into a championship contender, but the 132-day lockout was an absolute death blow to San Francisco's title chances in 2011. From a fantasy perspective, injury-prone Frank Gore is on the verge of a holdout or possible trade demand, Michael Crabtree has devolved into the NFL's Invisible Man and Alex Smith (2-year average: 2,360 passing yards, 16 TDs) is a living testament to fantasy mediocrity. Which brings us to Davis (134 catches/20 TDs in 2009-10) ... whose pre-existing rapport with the veteran Smith is enough to preserve his standing as the No. 4 tight end. For now.
Passing Fancy
Here's a revised listing of my always-fluid rankings for starting QBs, 1 through 32:
1. Drew Brees, Saints (the golden arm with the golden schedule)
2. Tom Brady, Patriots
3. Aaron Rodgers, Packers
4. Michael Vick, Eagles
5. Philip Rivers, Chargers (a cinch for 4,000 yards passing)
6. Matt Schaub, Texans
7. Tony Romo, Cowboys
8. Ben Roethlisberger, Steelers (can't go wrong with Wallace, A-Brown and Hines Ward)
9. Matt Ryan, Falcons
10. Peyton Manning, Colts (avoided the PUP list -- no surprise there)
11. Josh Freeman, Buccaneers
12. Eli Manning, Giants
13. Joe Flacco, Ravens
14. Matthew Stafford, Lions
15. Jay Cutler, Bears (IF only the team could settle on a No. 1 receiver)
16. Sam Bradford, Rams (ditto for Mr. Bradford)
17. Kevin Kolb, Cardinals
18. Matt Cassel, Chiefs (the ghost of Charlie Weis, where art thou?)
19. Mark Sanchez, Jets
20. Kyle Orton, Broncos
21. Ryan Fitzpatrick, Bills
22. David Garrard, Jaguars
23. Chad Henne, Dolphins (one of only six QBs to throw 46-plus passes in three games last year)
24. Donovan McNabb, Vikings
25. Colt McCoy, Browns
26. Matt Hasselbeck, Titans
26. Alex Smith, 49ers
28. Jason Campbell, Raiders
29. Tarvaris Jackson, Seahawks
30. Cam Newton, Panthers
31. Andy Dalton, Bengals (the Dalton/A.J. Green connection has a bright future)
32. John Beck, Redskins
Tiers Of A Clown: Tight Ends
Tier 1 (1,000 total yards and/or 8 TDs)
Antonio Gates, Jason Witten, Dallas Clark, Vernon Davis, Jermichael Finley
Tier 2 (800 total yards and/or 6 TDs)
Kellen Winslow, Jr., Owen Daniels, Tony Gonzalez, Brandon Pettigrew, Rob Gronkowski, Marcedes Lewis, Jimmy Graham, Dustin Keller, Jermaine Gresham, Chris Cooley, Greg Olsen, Zach Miller (Seahawks)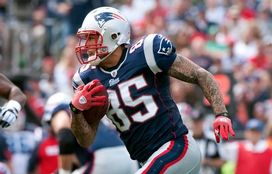 ICONAaron Hernandez could be a steal as a Tier 3 tight end.
Tier 3 (675 total yards and/or 5 TDs)
Benjamin Watson, Aaron Hernandez, Tony Moeaki, Visanthe Shiancoe, Brent Celek, Todd Heap, Heath Miller
Tier 4 (500 total yards and/or 4 TDs)
Lance Kendricks, Ed Dickson, Kevin Boss, Jared Cook, Dennis Pitta, Travis Beckum, Jeremy Shockey, Tony Scheffler, Fred Davis, Jacob Tamme, Anthony Fasano, Martellus Bennett, Shawn Nelson
Tier 5 (375 total yards and/or 3 TDs)
Kyle Rudolph, Kellen Davis, Joel Dreessen, Daniel Fells, Bo Scaife, Evan Moore, John Carlson, Andrew Quarless, Michael Hoomanawanui, Daniel Graham, Luke Stocker, Randy McMichael, Delanie Walker, Rob Housler, Zach Miller (Jaguars)
<p>
Running With The Moon, Part I
It took some time to settle on a list of Top 50 running backs (standard leagues):
1. Adrian Peterson, Vikings (4-year average: 1,445 rushing yards/13.5 TDs)
2. Jamaal Charles, Chiefs
3. Ray Rice, Ravens
4. Arian Foster, Texans (still a top-4 pick, hammy injury and all)
5. LeSean McCoy, Eagles
6. Chris Johnson, Titans (his penance for a nasty holdout)
7. Rashard Mendenhall, Steelers
8. Darren McFadden, Raiders
9. Michael Turner, Falcons (mark him down for 1,200 rushing yards)
10. Maurice Jones-Drew, Jaguars
11. Frank Gore, 49ers
12. Peyton Hillis, Browns
13. Matt Forte, Bears
14. Ahmad Bradshaw, Giants (a major fantasy wild card for risk-taking owners)
15. Steven Jackson, Rams
16. DeAngelo Williams, Panthers
17. Ryan Mathews, Chargers (don't be afraid to embrace his 2011 greatness)
18. Jahvid Best, Lions
19. Knowshon Moreno, Broncos
20. LeGarrette Blount, Buccaneers (Earnest Graham comparisons fuel this low ranking)
21. Shonn Greene, Jets
22. Cedric Benson, Bengals
23. Joseph Addai, Colts
24. Fred Jackson, Bills
25. Marshawn Lynch, Seahawks
26. Tim Hightower, Redskins
Would You Like To Play A Game?
The National Football Post has once again partnered up with the good folks at FanDuel.com to offer weekly fantasy football contests throughout the regular season. Here 9;s a breakdown of how the FanDuel Game works: Players are given a $60,000 salary cap to assemble a starting lineup comprising 1 QB, 2 RBs, 3 WRs, 1 TE, 1 kicker and 1 D/ST.
Most points wins. And if you can put up more points than NFP head honcho Joe Fortenbaugh, you'll win $5 right off the bat. Oh, and for Week 1 ... there is NO entry fee! You'll have a chance to take home a slice of $300 in prizes without having to put anything down. Enter today!
Running With The Moon, Part II
27. BenJarvus Green-Ellis, Patriots (double-digit TDs is doable again)
28. Beanie Wells, Cardinals
29. Jonathan Stewart, Panthers
30. Pierre Thomas, Saints
31. Ryan Grant, Packers (a make-or-break year in the eyes of the Packers' brass?)
32. Felix Jones, Cowboys
33. Mike Tolbert, Chargers
34. Rashad Jennings, Jaguars
35. Michael Bush, Raiders
36. Reggie Bush, Dolphins
37. Mark Ingram, Saints (flashed some goal-line brilliance against the Raiders)
38. Daniel Thomas, Dolphins
39. LaDainian Tomlinson, Jets
40. Brandon Jacobs, Giants
41. James Starks, Packers
42. Roy Helu, Redskins (one half of the preseason's most prolific rushing duo)
43. C.J. Spiller, Bills
44. Jerome Harrison, Lions
45. Ben Tate, Texans
46. Jason Snelling, Falcons
47. Stevan Ridley, Patriots
48. Thomas Jones, Chiefs (rock-solid rusher who doesn't get his fantasy due)
49. Anthony Dixon, 49ers
50. Ronnie Brown, Eagles
Watch List
Kendall Hunter, 49ers
Javon Ringer, Titans
Cadillac Williams, Rams
Taiwan Jones, Raiders
Joique Bell, Saints
Isaac Redman, Steelers
LaRod Stephens-Howling, Cardinals
Ian Johnson, Lions
Jamie Harper, Titans
Chris Ivory, Saints
Delonte Carter, Colts
Jacquizz Rodgers, Falcons
Tiers Of A Clown: Kickers
Tier 1 (29 field goals)
Sebastian Janikowski, Neil Rackers, Nate Kaeding, Stephen Gostkowski, Mason Crosby
Tier 2 (27 field goals)
Rob Bironas, David Buehler, Josh Brown, Robbie Gould, Matt Bryant, David Akers, Alex Henery
Tier 3 (25 field goals)
Graham Gano, Ryan Succop, Rian Lindell, Josh Scobee, Jason Hanson, Nick Folk, Garrett Hartley, Lawrence Tynes, Matt Prater, Dan Carpenter, Adam Vinatieri, Ryan Longwell
Tier 4 (22 field goals)
Jay Feely, Phil Dawson, Olindo Mare, Connor Barth, Billy Cundiff, Jeff Reed, Mike Nugent, Shaun Suisham
The Real Thing
Here are my squads from the first two 'Philanthropist' drafts -- both 16-team leagues. For Draft #1, I was in an experimental mood and wanted to grab as many top 50 running backs as possible -- setting the table for sneaky-good trades around Week 5. Of course, by doing this, I'm putting a great deal of pressure on my thin corps of wideouts to carry the freight. This is a classic boom-or-bust draft ... with the potential of failing miserably:
Round 1 -- RB LeSean McCoy, Eagles
Round 2 -- RB Ahmad Bradshaw, Giants (passed on V-Jax/Knowshon Moreno)
Round 3 -- RB Ryan Mathews, Chargers
Round 4 -- WR Percy Harvin, Vikings (passed on Mario Manningham/Dallas Clark)
Round 5 -- WR Sidney Rice, Seahawks
Round 6 -- RB Rashad Jennings, Jaguars (passed on Stafford/Josh Freeman)
Round 7 -- QB Eli Manning, Giants
Round 8 -- RB Roy Helu, Redskins
Round 9 -- RB Ben Tate, Texans (passed on Stevan Ridley/Mark Sanchez)
Round 10 -- TE Zach Miller, Seahawks
Round 11 -- QB Kyle Orton, Broncos
Round 12 -- WR Donnie Avery, Rams
Round 13 -- TE Jermaine Gresham, Bengals
Round 14 -- D/ST St. Louis Rams
Round 15 -- PK Ryan Longwell, Vikings
Round 16 -- WR Brandon Tate, Patriots
For Draft #2, I had the clear objective of taking the best player available at every turn, regardless of position. The lone exception came in Round 6, where I splurged for Matthew Stafford, knowing he'd never make it to Round 7:
Round 1 -- RB Darren McFadden, Raiders
Round 2 -- WR Calvin Johnson, Lions (an absolute steal at No. 20)
Round 3 -- WR Marques Colston, Saints
Round 4 -- WR Brandon Marshall, Dolphins (highway robbery with the 52nd pick)
Round 5 -- RB Michael Bush, Raiders (wanted the D-Mac handcuff)
Round 6 -- QB Matthew Stafford, Lions
Round 7 -- RB Rashad Jennings, Jaguars (passed on Jimmy Graham/Steve Smith)
Round 8 -- RB LaDainian Tomlinson, Jets
Round 9 -- TE Zach Miller, Seahawks
Round 10 -- WR Jerome Simpson, Bengals
Round 11 -- WR Donnie Avery, Rams
Round 12 -- RB Donald Brown, Colts
Round 13 -- QB Chad Henne, Dolphins
Round 14 -- PK Sebastian Janikowski, Raiders
Round 15 -- D/ST St. Louis Rams
Round 16 -- TE Heath Miller, Steelers
Into The Great Wide Open
Here are the revised rankings for my Top 51 wideouts in standard-scoring leagues:
1. Andre Johnson, Texans
2. Calvin Johnson, Lions
3. Roddy White, Falcons
4. Larry Fitzgerald, Cardinals
5. Hakeem Nicks, Giants
6. Miles Austin, Cowboys
7. Mike Wallace, Steelers
8. Greg Jennings, Packers
9. Reggie Wayne, Colts
10. Marques Colston, Saints
11. Brandon Marshall, Dolphins
12. Dwayne Bowe, Chiefs
13. Vincent Jackson, Chargers
14. Dez Bryant, Cowboys
15. Mike Williams, Buccaneers
16. DeSean Jackson, Eagles
17. Percy Harvin, Vikings
18. Sidney Rice, Seahawks
19. Kenny Britt, Titans
20. Brandon Lloyd, Broncos
21. Anquan Boldin, Ravens
22. Santonio Holmes, Jets
23. Pierre Garcon, Colts
24. Mario Manningham, Giants
25. Jeremy Maclin, Eagles
25a. Santana Moss, Re dskins
Pet Peeves 'R' Us
I'm happy to take questions and respond to hate-filled messages on Twitter; but in return for the advice, I must ask one favor: Please refrain from including NFL players' Twitter handles when crafting a reply to one of my predictions -- positive or negative. Take Ray Rice, for example: I sincerely doubt that Mr. Rice cares about some yahoo in Atlanta guaranteeing 2,000 total yards this season; on the flip side, I doubt Tony Romo has any interest in my breakdown of why Matt Schaub might post slightly better fantasy numbers by season's end. Seriously, what's your angle, Twitter dude? Are you trying to curry Rice or Romo's favor by serving as their social-media watchdogs? It's not like this tattle-tale correspondence will be the first brick in a budding relationship between NFL star and Joe Six-Pack.
This time last year, some random Twitter honk had the gall to run to Chris Johnson after I said on national radio that Johnson would not rush for 2,000 yards in consecutive seasons. His Tweet: "Yo Chris, this guy doesn't think you can do it. What an a***ole!" To which I retorted, "So, I'm the bad guy for saying that Johnson will ONLY rush for 1,600 yards? You know double 2Ks has never been done before, right?" For the record, Johnson rushed for 1,364 yards on 316 carries in 2010. Hmmmm.
Into The Great Wide Open, Part II
26. Wes Welker, Patriots
27. A.J. Green, Bengals
28. Steve Johnson, Bills
29. Antonio Brown, Steelers
30. Chad Ochocinco, Patriots
31. Steve Smith, Panthers
32. Mike Thomas, Jaguars
33. Lee Evans, Ravens
34. Julio Jones, Falcons
35. Lance Moore, Saints
36. Braylon Edwards, 49ers
37. Austin Collie, Colts
38. Malcom Floyd, Chargers
39. Mike Williams, Seahawks
40. Hines Ward, Steelers
41. Michael Crabtree, 49ers
42. Robert Meachem, Saints
43. Mohammed Massaquoi, Browns
44. Jerome Simpson, Bengals
45. Steve Breaston, Chiefs
46. James Jones, Packers
47. Mike Sims-Walker, Rams
48. Davone Bess, Dolphins
49. Earl Bennett, Bears
50. Nate Burleson, Lions
Watch List
Danny Amendola, Rams
Harry Douglas, Falcons
Donnie Avery, Rams
Arrelious Benn, Buccaneers
Donald Driver, Packers
Taylor Price, Patriots
Eric Decker, Broncos
Marcus Easley, Bills
Brandon Gibson, Rams
Jason Hill, Jaguars
Donald Jones, Bills
Terrence Austin, Redskins
Denarius Moore, Raiders
R.I.P. Killer Kowalski
Today's column is dedicated to the memory of Tom "Killer" Kowalski, the longtime Detroit Lions beat reporter/columnist for MLive.com and Booth Newspapers, who died Monday at the age of 51. Kowalski, who debuted on the Lions beat in 1980 (the first full season I can recall as a youth), was a larger-than-life institution in Detroit, known for his candor and humor in print and gentle nature when confronting/motivating cub reporters in the late 1990s and early 2000s, like myself. He was also a charismatic hero on the radio airwaves of WDFN, bringing life to the "Sean, Terp and Killer" show and reviving the credibility of a once-dormant sports station.
On a personal note, Killer was also a closet fantasy football nerd; and on Sunday, I awoke to a note from Killer that threatened my existence via bodily harm -- if my soothsaying advice didn't bring him a fantasy championship. If only I could've made him a winner! (cue deep, sad sigh) There will never be another media giant like Tom Kowalski in Detroit. Godspeed, Killer!
An award-winning fantasy writer with Sports Illustrated (2008-2010) before joining the National Football Post, Jay Clemons' Fantasy Philanthropist Blog can be found here every Monday, Wednesday and Friday. Clemons can be reached, day or night, via Twitter.