July 19, 2014 -
Greg Gabriel
Team preview: Baltimore Ravens
Over the last 15 years, the Baltimore Ravens have been one of the most stable franchises in the National Football League. Under the leadership of long time general manager Ozzie Newsome, the Ravens stay focused on their plan. Unlike many NFL franchises, they don't make changes every few years. Since 1999, the Ravens have had only two head coaches in Brian Billick and John Harbaugh. Their scouting staff under Newsome and assistant general manager Eric DeCosta is one of the best in the league. Baltimore does an outstanding job of finding players who fit within the organization. The key is continuity. When a club stays with the same philosophy, it is much easier to win. The Ravens consistently have one of the best rosters in the league year after year.
Quarterback
Joe Flacco had a huge year in 2012, the Ravens won the Super Bowl and Flacco was awarded with a new contract worth over $120 million. The Super Bowl hangover set in and Flacco had one of his worst seasons in 2013 with only 19 touchdown passes and 22 interceptions.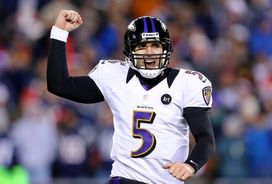 With Steve Smith now in the mix, Flacco should bounce back from a dreadful 2013 campaign.
I have mentioned a few times in this preview series that I feel there are only four true franchise quarterbacks in the NFL. They are Tom Brady, Drew Brees, Peyton Manning and Aaron Rodgers. Flacco is not near that caliber of quarterback. Additionally, he might not be in the next grouping that would include Eli Manning and Andrew Luck, but he is a consistent winning NFL quarterback. Flacco has his limitations, but he knows how to play within himself. He is a very smart player with excellent instincts. While he isn't the most mobile guy around, for the most part, Flacco is a solid decision maker who seldom puts the Ravens in a hole. It will be interesting to see how he works with new offensive coordinator Gary Kubiak after having so much success under Jim Caldwell.
Running back
Until last year, Ray Rice had been a very consistent NFL running back. While he lacks ideal height, he is strong, quick and fast with outstanding run instincts. With this being Rice's seventh year in the NFL, last season may not have been an aberration. Running backs have a short shelf life and when they start to go downhill, it can be a quick slide. We will know more early in the 2014 season. Rice was involved in an off-season situation and it remains to be seen if he will miss any time due to a league suspension. Behind Rice there are some question marks. The Ravens signed Justin Forsett, who is more of a situational back, but he has spent some time with Kubiak and knows his system. Rookie Lorenzo Taliaferro is a bigger version of Rice, but like Rice, he too had an off-season problem that has to be settled. The Ravens also have third-year player Bernard Pierce, but he is coming off surgery and a sub-par 2013 season.
Receivers and tight ends
When the Ravens lost Anquan Boldin to free agency last year, they lost not only a talented receiver but a veteran in the position room who helped bring the young receivers along. During free agency, the Ravens signed former Carolina Panther great Steve Smith. While Smith doesn't have the physical tools he once had, his presence will help the young guys. The Ravens' top returning receiver is speedy Torrey Smith. Smith is a consistent deep threat, but really works better when he is the complement to a solid number one. Steve Smith's presence will only help Torrey. Marlon Brown was a surprise as a rookie last year. The undrafted free agent caught 49 passes and scored seven touchdowns in 2013. He should look even better this year given it's his second season in the league. Veteran Jacoby Jones was re-signed this off-season and he should do well in Kubiak's offense. Jones and Brown give the ravens two big receivers to complement the Smiths. At tight end, the Ravens have consistent Dennis Pitta. Pitta missed the first 12 games last year because of a hip injury, but caught 20 passes in the final four games to show he was back to 100 percent. During free agency, the Ravens signed former Texan Owen Daniels, who was very productive under Kubiak. He missed a good part of 2013 with a leg injury.
Offensive line
Going into training camp, the one positon group that has to improve over a year ago is the offensive line. They were the weak link on the 2013 team. Last year's mid-season trade for left tackle Eugene Monroe was the beginning of the restructure of the line. Monroe is a consistent run and pass blocker and is a huge upgrade. During the off-season, the Ravens traded with Tampa Bay for Jeremy Zuttah. Zuttah can do a better job handling the bigger nose tackles than former starter Gino Gradkowski. Both guards are coming off surgeries but should be good to go at the start of the season. Kelechi Osemele had back surgery and All-Pro Marshall Yanda had his shoulder repaired. Those two give the Ravens a strong inside duo. The spot that still could be a problem is right tackle. Going into camp the starter is second-year man Rick Wagner, who started two games as a rookie and flashed. Also in the equation is fourth-year man Jah Reid. Reid has been a disappointment to date and also had an off-season legal issue that needs to be resolved. If Wagner fails, the Ravens could move Osemele to tackle. A rookie to keep an eye on is John Urschel from Penn State, who is a very consistent run and pass blocker. Another interested signing was Will Rackley, who was with Jacksonville. Early in his career, the Lehigh grad looked like he was going to be a steady pro, but injuries hurt his development.
Defensive line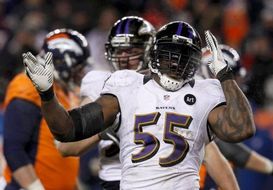 Terrell Suggs anchors a defensive unit just two years removed from winning the Super Bowl.
The defensive line, which has always been a mainstay for the Ravens, was a bit of a disappointment in 2013. On top of that, Baltimore lost Arthur Jones to free agency. Still, the group is strong and ready to bounce back. The leader of the line is perennial Pro Bowler Haloti Ngata. Ngata moved inside to nose tackle last year, but he still played at a high level. Second-round pick Timmy Jernigan from Florida State will be a big addition and could replace Jones. Jernigan is quick and explosive and has some natural pass rush talent. Jernigan can play as a 5-technique or on the nose, which will enable the Ravens to move Ngata around. The other end is Chris Canty, who plays consistently, but the Ravens need more big plays from him. Second-year man Brandon Williams, who played at the Division II level in college, should come on with a year's experience. He has the physical tools but he just needed to adjust to the speed of the NFL. Two players who could figure strongly into the rotation are second-year man Kapron Lewis-Moore and rookie Brent Urban. Lewis-Moore missed 2013 recovering from an ACL but was a three-year starter at Notre Dame and is an ideal 5-technique. If Urban had not had an injury history at Virginia, he would have been a much higher pick than the fourth round. When healthy, he is a very steady player with great size (6'7 – 305).
Linebackers
The Ravens have always been known for their strong linebacker play and it will be no different in 2014. Last year Baltimore signed Daryl Smith as a free agent to a one-year contract. He played so well that he was awarded with a $16 million multi-year deal. Smith is the complete package as he can defend the run, rush the passer and drop into coverage. The other inside backer will be first-round draft pick C.J. Mosley from Alabama. Like Smith, Mosley is the complete package. A potential worry is that many teams had Mosley off their boards because of the numerous injuries he suffered while at Alabama. In reserve inside is 2013 second-round pick Arthur Brown. Brown needs to step it up as he didn't play as well as expected as a rookie. The Ravens are strong outside with two of the best in the league. Terrell Suggs is in his 12th year, but he can still rush the passer as well as anybody. On the other side is Elvis Dumervil, who may be short (5'11), but has length and is extremely explosive. The top reserve is Courtney Upshaw who is stout versus the run and a consistent pass rusher. He gets plenty of playing time rotating with Suggs and Dumervil.
Secondary
The Ravens have two very solid corners in Jimmy Smith and Lardarius Webb. Smith was another Raven who had an off-season legal issue and the result of that could lead to a suspension for a few games. The third corner should be Chykie Brown, who replaces Corey Graham. Graham signed with Buffalo as a free agent. Asa Jackson will compete with Brown for that nickel back position. At safety, last year's first-round pick in Matt Elam started 15 games, but did not play as well as expected. He is being moved over to strong safety this year and that will help his play. The starter at free safety will be either free agent signee Darien Stewart, who was with the Rams last year, or rookie Terrence Brooks. Brooks was the Ravens' third-round pick and has very good range, but needs to improve his ball skills.
Outlook
The Ravens finished 8-8 last season and missed the playoffs for the first time in five years. I don't expect that to happen this year because the roster is just too talented. The offense will change under Kubiak and that should help Flacco. The two tight ends (Daniels and Pitta) should have big years. A key will be who plays running back and how well they perform if Ray Rice gets suspended for any length of time. The AFC North is a tough, physical division. Pittsburgh, Cincinnati and Baltimore will all be in it until the end. Because the AFC North plays the strong NFC South in the crossover games this year, it is a strong possibility that only one team in the AFC North gets to the playoffs. Going into camp, my bet would be on Baltimore to win the division.
Follow Greg on Twitter:
@
greggabe