July 12, 2014 -
Greg Gabriel
Team preview: Dallas Cowboys
It's been a while since the Dallas Cowboys have been a part of the NFL playoffs. The most recent instance was following the 2009 season when the Cowboys beat Philly in a wild card game, which was followed by a loss to Minnesota in the divisional round.
Looking at their roster and comparing it to the other teams in the NFC East, it may be a while before Dallas gets to the playoffs again. I cannot see the Cowboys finishing any better than third in the NFC East this season.
Quarterback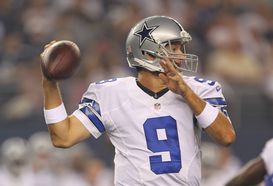 US PRESSWIREAt 34 and coming off back surgery, how much does quarterback Tony Romo have left in the tank?
Going into the draft, owner Jerry Jones was supposedly enamored with Texas A&M quarterback Johnny Manziel. Yet, when it was time for the Cowboys to make their first round selection, Jones passed on selecting Johnny Football. That means Tony Romo will again be the Dallas quarterback, with no change in sight.
Romo is coming off back surgery and should be ready for camp, but if he gets hurt again, the Cowboys could be in real trouble. As of this writing, backup Kyle Orton has yet to determine if he will play this season. Orton is one of the better backup quarterbacks in the league and if he retires, it will be a huge loss for the Cowboys.
As insurance against Orton retiring, Dallas signed former Cleveland Brown bust Brandon Weedon. Weedon is not the answer. Also signed was Caleb Hanie, who has been with various clubs during his five years in the league. I would take Hanie over Weedon, but that isn't saying much.
Running back
The Cowboys have DeMarco Murray at running back and that's a lot, but after him there isn't much depth. Murray ran for over 1,100 yards in 2013 and went to the Pro Bowl. He is a physical runner with speed.
At this time, the backups are Lance Dunbar, who is a speedster but has shown little, and Joseph Randle, a fifth-round pick a year ago. Don't be surprised if the Cowboys bring in some veteran help during training camp.
Receivers and tight ends
The wide receiver unit starts with Dez Bryant, who is one of the most talented pass catchers in the NFL. As good as Bryant is, he is very emotional and that works against him at times. Lining up opposite Bryant should be Terrance Williams. Williams had 44 catches as a rookie and the Baylor speedster should take a big jump in his second year.
There isn't a lot behind the two starters. Rookie Devin Street from Pittsburgh is a slender possession receiver who knows how to get open. Dwayne Harris wants to do more than be just a kick returner and he will get his chance this year.
Old reliable Jason Witten is the tight end. It seems like Witten has been the Dallas tight end forever, but he is still productive and is one of Romo's favorite targets. The other tight end is second-year man Gavin Escobar. He should be a big part of the Dallas offense in 2014. At 6'6" he can create matchup problems.
Offensive line
In Tyron Smith, the Cowboys have one of the best young left tackles in the NFL. What is so impressive is that Smith is still only 23-years-old, but is entering his fourth professional campaign. Opposite Smith is old pro Doug Free. Free is reliable and steady, but not special.
In the first round of the draft this year, the Cowboys selected Zack Martin, who was a four-year starter at left tackle for Notre Dame. Martin will play guard this year but may move to tackle in 2105 to replace Free. The other guard will be either Ron Leary or Mackenzie Bernadeau. The winner will be determined during the pre-season.
Last year's surprise first-round pick Travis Frederick is the center. Frederick played well as a rookie and is smart and intense.
Defensive line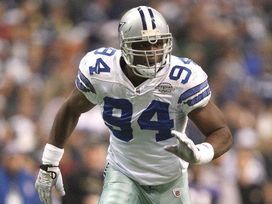 Gone is DeMarcus Ware, who left Dallas for Denver during the off-season.
Rod Marinelli is the Dallas defensive coordinator as well as the team's defensive line coach. As a line coach, there are few in the business who are better. To play his version of the Tampa 2 defense properly, the club needs a top 3-technique defensive tackle. Dallas has that player in Henry Melton. Melton was a Pro Bowl defensive tackle under Marinelli in Chicago. He tore his ACL early in the 2013 season but is healthy now and having already played in this scheme, he will be a great fit in Dallas.
Marinelli is a big believer in rotating the defensive line to keep players fresh during the game. With that said, the other defensive tackles will be Nick Hayden, Terrell McClain and Amobi Okoye. Okoye played for Marinelli in Chicago where he had his best season.
The ends will be Tyronne Crawford, who the Cowboys feel has starter potential, Anthony Spencer, who is coming off knee surgery, and rookie DeMarcus Lawrence. The Cowboys moved up to draft Lawrence in the second round because Marinelli feels he can be a dynamic pass rusher. Also in the mix at end is Jeremy Mincey, who the Cowboys signed as a free agent.
Linebackers
The Cowboys linebacker unit took a big hit during OTA's when Mike linebacker Sean Lee went down with a knee injury. He will be lost for the season. On paper, the starting role now goes to rookie Anthony Hitchens, but last week the Cowboys traded for Rolando McClain from the Baltimore Ravens. McClain did not play last year and had "retired" during the Ravens off-season program. There is no telling what, if anything, McClain brings to the table.
There will be camp competition for both the Will and Sam linebacker positions. Former Sam backer Justin Durant moves over to Will to compete with Bruce Carter who has been a bit of a disappointment. On the strong side, Kyle Wilbur looks to have an advantage over 2013 draft choice DeVonte Holloman.
Secondary
Dallas ranked 30th in pass defense a year ago and that is unacceptable. Corner Brandon Carr was signed for big money in 2013 and did not perform, so he really has to step it up in 2014. 2012 first round pick Morris Claiborne also has to show improvement. Right now, Claiborne is playing behind Orlando Scandrick, who is perhaps the Cowboys best corner.
At safety, the Cowboys are in better shape. They expect J.J. Wilcox to come on strong in this his second year. Barry Church played well last year and is also expected to show continued improvement. Two rookies also figure into the mix. They are Ahmad Dixon and Terrance Mitchell, both late round draft picks this year who have strong athletic traits.
Outlook
In recent history, the Cowboys have been a disappointment. Going into each season, much has been expected and little has happened. Looking at their roster, I can't see how things will change in 2014.
The Cowboys play the AFC South this year and that brings a little hope, as other than Indianapolis, the AFC South is weak this year. Still, I can't see the Cowboys as anything better than a 7-9 or 8-8 team in 2014.
Follow Greg on Twitter: @greggabe