July 11, 2014 -
Greg Gabriel
Team preview: Denver Broncos
The Denver Broncos were the best team in the AFC a year ago, but that team showed they were a long way from being the top franchise in the NFL. Not only were they beaten by Seattle in the Super Bowl, they were humiliated. Was it just a bad day or is there that much of a difference between the two clubs? I believe that it is a combination of the two.
During the off-season, John Elway and John Fox looked for ways to shore up Denver's weaknesses and, on paper, did a fairly good job. In about another month we will begin to find out if these changes translate to on-the-field success.
Quarterback
If Peyton Manning is not the best quarterback to ever play the game, he is damn close. He is the epitome of what work ethic, football character and leadership is all about. Yes, there are quarterbacks who are more mobile and have better arm strength, but few work at and study the game harder than Manning. While he doesn't carry the title, he is the offensive coordinator on the field. Everything the Broncos do runs through Manning.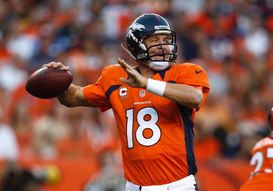 Manning set fire to the record books during last season's Super Bowl run.
At 38-years-old, Manning is near the end of the line. How much longer can he play? No one but Peyton knows the answer to that question. Behind him on the depth chart are two question marks. Brock Osweiler is in his third year and has shown flashes, but in two years he has attempted only 20 passes. Last year's seventh-round pick, Zac Dysert from Miami (Ohio), will never be a starting NFL quarterback. Plain and simple, he is the total opposite of what Peyton Manning personifies.
Running back
The Broncos let Knowshon Moreno sign with Miami during free agency. He ran for just over 1,000 yards a year ago, but really is not an upper echelon NFL back.
Last year's second-round pick, Montee Ball from Wisconsin, is Moreno's replacement. Ball had some trouble with ball security as a rookie but that was never a problem while he was in college. I look for Ball to have an outstanding year in 2014. He is a physical inside runner who knows how to score.
Ball's backups will be C.J. Anderson and Ronnie Hillman. Both are adequate NFL runners.
Receivers and tight ends
The main loss the Broncos sustained in their receiving unit was Eric Decker signing with the Jets. While Decker was productive in their scheme, I don't think his loss will be that big of a deal.
Leading receiver Demaryius Thomas is back, who had 92 catches and 14 touchdowns a year ago. In this his fifth year, Thomas is just beginning to come into his own as a dominant NFL receiver.
The rest of the wide receiver group is very strong. Wes Welker isn't what he was a couple of years ago, but he still has a lot left. The Broncos signed former Steeler Emmanuel Sanders and he will be an upgrade over Decker. While Sanders lacks Decker's size, he has more speed and toughness. Sanders will be able to play both inside and outside.
In the second round of the draft, the Broncos selected Indiana's Cody Latimer. Personally, I thought Latimore was overrated. He has great size and timed fast, but he doesn't play like a sub-4.5 guy. What he does possess are excellent hands and the ability to compete in traffic. For depth, the Broncos have reliable Andre Caldwell.
The Broncos tight end duo is as good as any in the league. Julius Thomas is like a big wide receiver and can be flexed out. Jacob Tamme is Mr. Reliable in that he can run good routes, play on special teams and is an adequate blocker.
Offensive line
If a player wants to be on the Denver offensive line, he has to be able to pass protect. With Manning not being most mobile guy, pass blocking is of the utmost importance.
Ryan Clady is the anchor of the Denver offensive line. He is an athletic left tackle who protects Manning's blind side. Last year's right tackle, Orlando Franklin, moves inside to guard to replace Zane Beadles, who left during free agency. The right tackle will be Chris Clark, who filled in for Clady when he was out.
The other guard is Louis Vasquez, who had his best season in 2104. The center position is in the capable hands of Manny Ramirez. For depth, the Broncos drafted Michigan's Mike Schofield, who can play both tackle and guard. More depth is provided by Winston Justice and Will Montgomery.
Defensive line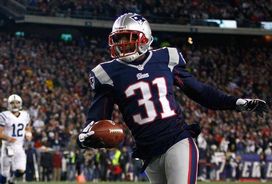 Talib bolted New England during free agency to sign with the Broncos.
The big signing on the defensive line was former Dallas Cowboy DeMarcus Ware. He will give the Broncos another edge rusher opposite linebacker Von Miller on passing downs. On base downs, the end opposite Ware is Malik Jackson, who can also line up inside. The third end in the rotation is Derek Wolfe, who had a spinal injury a year ago that caused him to miss time, but Wolfe is expected back healthy for 2014.
The Broncos have three starting caliber tackles in Kevin Vickerson, Terrance Knighton and Sylvester Williams. Williams was a first-round pick a year ago, filled in nicely when Vickerson got injured and actually may have played a little better. He has big-time potential.
A player to keep an eye on is Quanterus Smith. Smith was a 2013 draft choice who missed last year recovering from an ACL tear. He has good outside pass rush talent.
Linebacker
Getting Von Miller back full-time is a huge addition. When healthy, Miller is one of the top defensive players in the NFL. The other outside linebacker is Danny Trevathan, who had a breakout year in 2013. Trevathan almost never comes off the field, as he is very good in coverage. The Mike linebacker is Nate Irving, who is more of a base down-type defender.
The Broncos added some depth in the draft with the addition of LSU's Lamin Barrow. I watched a lot of tape on Barrow preparing for the draft and believe he was a fifth-round steal.
Secondary
The secondary will have a different look in 2014. Gone are Champ Bailey, Dominique Rodgers-Cromartie and Mike Adams. Key additions are T. J. Ward, Aqib Talib and first-round pick Bradley Roby.
The additions at corner should allow the Broncos to play a more physical brand of press coverage. With Ward, Denver adds a very physical presence at safety.
The starting corners should be Talib and holdover Chris Harris. Harris will be challenged by Roby for the starting job and second-year man Kayvon Webster provides excellent depth.
Opposite Ward at the other safety position is Rahim Moore who, when healthy, is a very good player.
Outlook
As good as the Broncos are at the moment, they will not be handed the AFC West. Kansas City came on strong a year ago under Andy Reid and will be even stronger in 2014. San Diego is also a team on the rise. If the Broncos are to remain on top of the AFC West, Manning has to stay healthy and the defense has to come back from their poor showing in the Super Bowl. Having Von Miller back for the whole season should help.
Follow Greg on Twitter: @greggabe