July 02, 2014 -
Greg Gabriel
Team preview: Indianapolis Colts
Since Ryan Grigson became general manager and Chuck Pagano was named head coach in Indianapolis, the Colts have done a lot more right than wrong. They have been to the playoffs in each season since the overhaul and now they need to take the next step and get to the conference championship or even Super Bowl. But does Indy have the personnel to get there? Let's look at the roster.
Quarterback
It's a good thing the NFL doesn't have a lottery system in place for the draft. If they did, chances are the Colts may not have won and gotten the opportunity to draft Andrew Luck.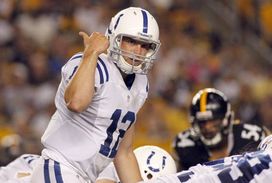 Luck improved in almost every statistical category last season.
Luck has played excellent football during his first two years and is on the verge of being the next true franchise quarterback in the league. In my thinking, there are only four quarterbacks who are "franchise quarterbacks" in the league today. They are Aaron Rodgers, Tom Brady, Peyton Manning and Drew Brees. If Luck keeps improving he will join that group shortly. He has the physical and mental tools to be great.
Behind Luck is veteran Matt Hasselbeck. With this being his 15th year in the league, it may be time to find a younger backup.
Running backs
If there is a weakness in the Indy offense, it's at running back. The Colts traded their 2014 first-round pick to Cleveland for Trent Richardson who did next to nothing. Veteran Ahmad Bradshaw was their most reliable back in 2013, but his best football is behind him.
The Colts have to hope that Vick Ballard, who missed a lot of time with injury in 2013, comes back strong.
Receivers and tight ends
The Colts' tight end group is excellent. Coby Fleener can play in tight or as a move tight end and will soon be one of the better tight ends in the NFL. Dwayne Allen, who missed last year with a hip injury, is healthy and that gives the Colts a strong duo.
The Colts signed former Giant All-Pro Hakeem Nicks during free agency. If Nicks can revert back to the way he played in 2010 and 2011, the Colts have a legitimate number one receiver.
In his second year, T.Y. Hilton came on strong with over 80 receptions and is a true big play threat. Reggie Wayne isn't what he used to be coming off an ACL injury, but he is still a savvy veteran who can get open and make plays. A rookie to keep an eye on is third-round pick Donte Moncrief from Ole Miss, who has great size and speed but is still raw. He played in a simple spread offense at Mississippi and will need to develop his route running, but he has some special traits.
Offensive line
Offensive coordinator Pep Hamilton wants a stronger running game and to get there, the Colts have made changes to the interior of the offensive line. Gone are Samson Satele and Mike McGlynn. 2013 draft choice Hugh Thornton replaces and McGlynn and Khaled Holmes, also drafted a year ago, replaces Satele.
The other guard will be Donald Thomas, who only played in two games a year ago before suffering an injury. 2014 second-round pick Jack Mewhort from Ohio State may also figure into the mix. He played tackle in college and worked at tackle and guard during OTAs. Mewhort is big and talented.
Defensive line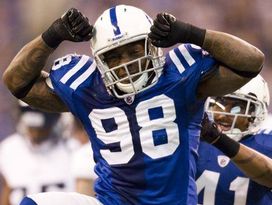 Mathis led the NFL with 19.5 sacks last season.
I like the look of this team's defensive line group. The have added depth and have the makings of a good rotation. The nose tackle is Josh Chapman, who is a wide body that can hold the point. The ends are Ricky Jean-Francois, who had his best season in 2013, and Veteran Cory Redding.
The Colts added Arthur Jones from the Ravens and he will push for a starting job. Fili Moala can play inside or outside as a backup. 2013 draft choice Montori Hughes has the raw talent to be excellent but needs to develop consistency. He spent much of last year on injured reserve, but may be ready to break out.
Linebackers
During the off-season, the Colts suffered a huge loss to the linebacker unit when pass rusher Robert Mathis was suspended for the first four games of the regular season. The Colts are hoping last year's top draft choice in Bjoern Werner shows improvement this year. If that is the case, the loss of Mathis won't be as big.
The other outside linebacker is Erik Walden, who performed well during his first season in Indy. The inside backers consist first of 2014 free agent signee D'Qwell Jackson from Cleveland. Jackson is still at the top of his game. The other inside linebacker should be Jerrell Freeman. Freeman is a former CFL player who played very consistent football in 2013.
For depth inside, the Colts have former Buffalo starter Kelvin Shepperd. Shepperd started seven games last year and is a valuable reserve.
Secondary
The Colts lost a key player in free agency when Antoine Bethea signed with the 49ers. His most likely replacement will be second-year man Delano Howell from Stanford. Howell has talent, but he is no Bethea. The free safety will be LaRon Landry, who I felt was inconsistent in his first season with the Colts. The Colts signed former Eagle Colt Anderson during free agency, but he is nothing more than a backup.
At corner, Indy has three strong players. Vontae Davis may be the Colts best cover guy. The other corner is Greg Toler, who missed a lot of time last year with an injury. The third man in the group is Darius Butler, who quietly goes about his business and makes plays.
Outlook
The AFC South isn't one of the stronger divisions in the NFL and the Colts can probably win it by default. What the fans in Indy want is for the Colts to go further in the playoffs. On paper, the team is stronger than last season. But it remains to be seen if that translates to playoff victories.
Follow Greg on Twitter: @greggabe