July 01, 2014 -
Greg Gabriel
Team preview: Jacksonville Jaguars
I have known Jacksonville general manager David Caldwell since he was a young scout with the Carolina Panthers. He was trained the right way and has worked under one of the best team builders in the business in Bill Polian.
With approximately 18 months on the job, just about every transaction Caldwell has made has been the right move starting with the hire of head coach Gus Bradley. He has drafted wisely and while he has been outrageous during free agency, he has made very good moves.
Caldwell is trying to build a long term winner and knows it can't be done overnight. It takes sound decision making and patience and that's exactly how he has gone about this mission. Will the Jaguars be a much improved team over a year ago? Maybe not, but they are going in the right direction.
Quarterback
Anyone who has read my articles knows that I am not a huge fan of Blake Bortles. It's not that I don't recognize Bortles' talent, because I do. However, I feel he was overrated as a prospect and not worthy of a top-five or top-ten selection. I felt he would have been better served staying in school and gaining more experience.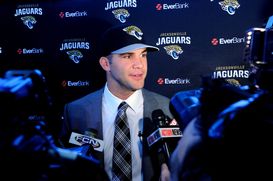 Will we see much of Bortles this season?
Caldwell obviously disagreed with my opinion and frankly, I admire him for taking a strong stand on the player. What I admire even more is what he said right after the draft. Caldwell stated it was doubtful that Bortles would play much this year, as veteran Chad Henne would be the starting quarterback and Bortles would use 2014 to develop and learn the NFL game.
In the long run, that is the best way to develop Bortles. Don't play him until he is ready and when he is ready he will be able to handle the situation much better. It's a very smart move on the part of both Jacksonville and Caldwell and they will be a better team in the future because of it. The key question is will they adhere to that philosophy for the entire season?
Receivers and tight ends
Going into the draft, no one knew if receiver Justin Blackman would ever play again in the NFL. It's now two months after the draft and nothing has changed. Knowing this, the Jags drafted two highly touted players in the second round. Their first second-round selection was USC's Marqise Lee, who a year ago looked as if he was going to be the best receiver in the class. Lee is an excellent deep threat and is outstanding after the catch.
The other second-round pick was Penn State's Allen Robinson. Robinson is the opposite of Lee in that he is a big, physical type who will make the tough catches. In time, they will be excellent complements to each other.
The other players in the wide receiver group include Cecil Shorts, who is only in his fourth year and keeps getting better, and Tandon Doss, who was with the Ravens a year ago.
At tight end, the Jags have Marcedes Lewis, who is one of the better combination tight ends in the NFL. By combination, I mean he can play in tight as a "Y" and also flexed out. He is productive when used either way.
Running back
Gone is Maurice Jones-Drew and he will be replaced by free agent signee Toby Gerhart. Gerhart played behind Adrian Peterson in Minnesota and has never really had the opportunity to shine. Now is his chance.
I look for former Michigan quarterback Denard Robinson to show drastic improvement this year. This is now his second year as a running back and he reportedly had a strong spring. Robinson should give the Jaguars a strong breakaway threat. Rookie Storm Johnson from Central Florida could turn out to be a seventh-round steal.
Offensive line
The O-Line that started the season a year ago and the one we will see open 2014 are very different. Last year's first-round pick in Luke Joeckel was injured and played only five games as a rookie. He has moved over to the left side and, if healthy, has a chance to be a great one.
The other tackle should be Austin Pasztor, who played well after Joeckel's injury. The top guard will be Zane Beadles, who was a free agent signed from Denver. Beadles is a steady five-year veteran who will provide leadership. Rookie Brandon Linder, who can play anywhere along the line, will be the right guard.
The center will be Mike Brewster, a third-year player who learned behind Brad Meester. The Jags don't have great depth on the line and have to hope they stay healthy. It wouldn't surprise me if they pick up a veteran for depth sometime during training camp.
Defensive line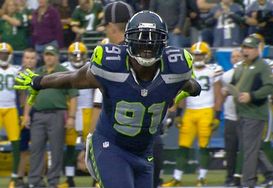 Clemons notched double digit sack totals with the Seahawks in 2010, 2011 and 2012.
With a defensive minded head coach, this is the area that will be most improved in 2014. Signed in free agency were two players Bradley coached in Seattle. Both tackle/end Red Bryant and end Chris Clemons still have a lot to give and will upgrade the line. Bryant will play end on base downs and move inside on passing downs.
The starting tackles should be Roy Miller and Sen'Derrick Marks. Both are very steady, competitive guys who can make plays. In reserve, the Jags have former starter Tyson Alualu, Ziggy Hood and Andre Branch. Overall, this is a solid group.
Linebackers
The Mike linebacker is steady Paul Posluszny. He makes all the defensive calls and is very instinctive and tough. The outside backers are two Florida State players in Geno Hayes, who played well in 14 games last year until he got a knee injury. The other outside linebacker should be Dekota Watson, who was with Tampa Bay last season. He is an ideal Sam fit.
A third Florida State linebacker provides depth. Telvin Smith, the Jags fifth-round pick this year, can play either outside position. Others in the mix include J.T. Thomas, Nate Stupar and John Lotulelei. Lotulelei is another former Seahawk and knows the scheme.
Secondary
There are not a lot of big names in the secondary, but there are plenty of guys who can play steady football. The biggest name is second-year safety Johnathan Cyprien, last year's second-round pick who started 15 games. He could be a future Pro Bowl player. The free safety is another second-year player in Josh Evans, who started 11 games as a rookie and played well.
The corners will be Dwayne Gratz, a third draft choice form a year ago who played through some minor injuries in 2014. Though playing hurt, he showed steady improvement. The right corner will be Alan Ball, who the Jags signed a year ago from Houston. Ball was the leader of the group.
In reserve, the Jaguars have Will Blackmon and Jamell Fleming at corner and Martin Sherrod and Chris Prosinski at safety. The Jags drafted Oklahoma corner Aaron Colvin in the fourth round, but he will most likely miss his rookie season after tearing an ACL at the Senior Bowl.
Outlook
The Jaguars finished 4-12 a year ago and should be a much improved team in 2014. That improvement might not be shown in the record, but it will manifest itself in their play. Having to play the tough NFC East doesn't make things easy.
I look for the Jags to be a 7-9 team in 2014. While that may not sound like much, they are headed in the right direction and I feel they can challenge for the AFC South title in another year.
Follow Greg on Twitter: @greggabe