July 08, 2014 -
Greg Gabriel
Team preview: Miami Dolphins
To put it mildly, I don't know what to expect from the Miami Dolphins in 2014. They are a franchise that is still in disarray.
After all the locker room problems that went down last season, owner Stephen Ross fired general manager Jeff Ireland and replaced him with Dennis Hickey. I have known Dennis for years and he is a very capable evaluator, but he must not have sold the owner that he was because he only received a two-year contract. What that essentially means is that Dennis is on a one-year tryout. How can you get anything done in a situation like that?
Many moves look more like band aids than long-term solutions. Head coach Joe Philbin and Hickey are under pressure to win, but do they have the support and players necessary to do that?
Quarterback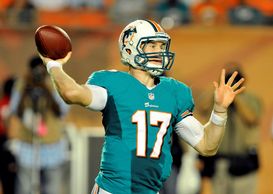 US PRESSWIREA poor season from Tannehill could have the Dolphins looking elsewhere in 2015.
Going back to the 2012 draft, I recognized Ryan Tannehill's physical traits, but there is no way that I thought he was a top-10 player. The only legitimate first round quarterbacks in that draft were Andrew Luck and Robert Griffin III.
Now going into his third year, nothing Tannehill has done has changed my opinion. Yes, he has shown flashes of top play, but that's all it's been…flashes. If he doesn't come on strong this year, Miami could be looking for a quarterback in the 2015 draft.
Running back
When healthy, Knowshon Moreno is a very capable NFL running back. The key word here is "healthy," because Moreno seldom is. His running style is conducive to taking a lot of hits and he has worn down. How effective he will be in 2014 remains to be seen.
The back who looked like he was going to be the Dolphins lead runner during OTA's was third-year man Lamar Miller. Miller ran for just over 700 yards last year and had 26 receptions, but he is not a lead NFL back. He works best in a rotation.
Receivers and tight ends
Last year, the Dolphins spent a ransom to acquire Mike Wallace during free agency. While Wallace caught 73 passes, he did not play as well as the Dolphins had hoped. He needs to come on strong in 2014.
Opposite Wallace is Brian Hartline. Hartline is an overachiever who gets better with experience and is a legitimate number two receiver. The slot receiver may be Brandon Gibson. He played very well in 2103 before going down with an injury.
The rookie everyone expects to have a big impact is second-round pick Jarvis Landry. Landry is a very good route runner with excellent hands. He competes for the ball in traffic and consistently gets yards after the catch. What he lacks is speed.
The tight end is Charles Clay, who had his best season as a pro last year with 69 receptions. Clay is more of a "move" tight end and rookie Arthur Lynch will be the blocking tight end.
Offensive line
The line looked much improved through most of OTA's, but that was before center Mike Pouncey had surgery to repair a hip problem.
Pouncey could miss up to half the season and who will replace him remains to be seen. That experiment will take place once camp opens in a few weeks. The first thing the Dolphins did when Pouncey went down was sign veteran Daryn Colledge. Colledge can play guard or center, but is far more comfortable at guard.
In camp, the Dolphins will work Shelly Smith, Nate Garner and Sam Brenner at the position and find out who is the best solution.
The tackles will be free agent signee Branden Albert at left tackle, who spent the last six years in Kansas City. The right tackle will be rookie Ja'Wuan James, who was the Dolphins' first-round pick in May. While I like James' talent, I did not think he was worthy of a first round selection.
Before Pouncey's surgery, Garner and Smith were slated to be the starting guards. If one of those two moves to center, than Colledge will be the likely replacement at guard.
Three other players to keep an eye on are second-year guard Dallas Thomas, who did not live up to expectations as a rookie, free agent signee Jason Fox and rookie Billy Turner. Turner will need time to develop as he played his college football at the FCS level.
Defensive line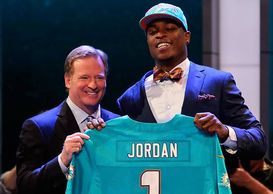 Jordan notched just 24 tackles and two sacks during his 16-game rookie season.
Last year's first-round pick Dion Jordan was a disappointment. He worked hard during the off-season to gain strength and bulk, but he may have tried too hard as last week he was suspended for the first four games of the season because he tested positive for PED usage.
The defensive ends in 2014 look to be Cameron Wake, who is Miami's best defensive lineman, and Olivier Vernon. Vernon has made great strides since coming into the league and should have a bright future.
The tackles will be Randy Starks and Jared Odrick. Both are big, stout and athletic. The third man in the defensive tackle rotation will be Earl Mitchell, who was with Houston last year. Mitchell is a talented inside player and could prove to be a valuable signing.
Linebackers
Miami was not happy with their linebacker play in 2013. To help fix the problem they made two changes: Koa Misi and Dannell Ellerbe switched positions. Ellerbe goes from inside to outside and the opposite happens with Misi. The Dolphins' defensive staff hopes the changes will have each player playing to his strengths.
The other outside linebacker is Philip Wheeler. Wheeler also did not play up to expectations in 2013. If the veterans don't show improvement, there are two young players waiting for their chance. 2013 fourth-round pick Jelani Jenkins can play inside or outside and is very instinctive. 2014 fifth-round pick Jordan Tripp from Montana is talented but raw. He may be a year away from contributing.
Secondary
The Dolphins had two big signings in their secondary during free agency. Louis Delmas was signed from Detroit and can be a very good player when healthy. The problem is that Delmas is rarely healthy. Delmas came out of college with bad knees and they have only gotten worse.
The other big signing was corner Cortland Finnegan. Finnegan is a solid number two corner for anyone. He will play opposite Brent Grimes, who is Miami's best corner. Last year's third-round pick Will Davis should be the third corner, but his play must improve. A talented rookie is Walt Aikens from Liberty. AIkens has size and can be very physical. He proved at the Senior Bowl he is ready for the NFL
The strong safety will be Reshad Jones, another player who has had hot and cold performances since he came into the league. Michael Thomas is the main backup at safety.
Outlook
If the Dolphins were in any division other than the AFC East, I would say they were destined for fourth place. However, being that there is only one strong team in the AFC East (New England), anything can happen.
The problem for the Dolphins is they open up at home with New England and that could get ugly. Four of the Dolphins' first five games are against teams that could very well be division winners in 2014. Kansas City, Green Bay and Chicago are all strong clubs. A slow start for M iami could spell doom in South Beach.
Follow Greg on Twitter: @greggabe