July 13, 2014 -
Greg Gabriel
Team preview: New Orleans Saints
For any NFL franchise to be successful, there has to be a strong and open relationship between the head coach and general manager. New Orleans has that with Sean Payton and Mickey Loomis.
That relationship has brought about much success. Throw out the 2012 season when Payton was suspended and the Saints have been a very successful franchise with the two working together. Still, when a team is successful, there are players that make a lot of money. In the salary cap era, that means tough decisions have to be made and players that have helped you win games in the past have to be let go.
That was the case in New Orleans this off-season when players like Will Smith, Jabari Greer, Roman Harper and Jonathan Vilma were either released or not re-signed. When those decisions were made, the hope was that the players replacing them would be just as good or at least close to it.
Quarterback
In Drew Brees, the Saints have one of four signal callers whom I feel is a legitimate NFL "franchise" quarterback. The others are Peyton Manning, Aaron Rodgers and Tom Brady. Those four are clearly the best quarterbacks in the league.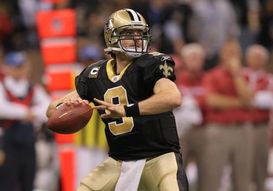 ICONBrees tossed 39 touchdown passes last season with just 12 interceptions.
While Brees doesn't have the size of the others, he is still one of the most instinctive quarterbacks in football. He is a quick thinker who almost never makes a poor decision. He is the ideal player to run Payton's offense.
Like many NFL clubs, the Saints don't have a top backup at the position. Luke McCown can get the Saints out of a game, but if Brees misses extended time due to injury, the Saints are in trouble.
Running back
When the Saints made Mark Ingram their first round draft choice in 2011, I think the team felt they were getting a "bell cow" type back. Unfortunately, that hasn't been the case. Ingram is a rotational back who can do a lot of things well but really does nothing great.
In my opinion, the better back is former college free agent Pierre Thomas. The two complement each other and have given the Saints a fairly successful ground game, but I know they want more.
A player to keep an eye on for this season is second-year man Khiry Robinson. He has more size than the other two and his play as a rookie may warrant more touches in 2014.
At this time, the Saints don't have a player to give them what departed Darren Sproles provided.
Receivers and tight ends
I wouldn't say the Saints have a great wide receiver unit, but it certainly is a good one. With the veterans, there isn't a difference maker in the group, but this is a collection of solid players who fit Payton's scheme.
Marques Colston is a big, physical possession receiver who can always be counted on. Second-year man Kenny Stills played much better than expected as a rookie and moved to the top of the depth chart opposite Colston. In 2013, Stills had 32 receptions. Those numbers could very well double in 2014.
The player who everyone is excited about seeing is first round pick Brandin Cooks. The Saints have not had a wide receiver with his skill set. Cooks will likely line up primarily in the slot. With his speed and run-after-the-catch skills, he will get the touches that Sproles had a year ago.
The best reserve will most likely be Robert Meachem. While the former Saint struggled while he was in San Diego, he is a perfect fit for this offense and should get a lot of playing time.
The Saints have the most dangerous player in the game at the tight end position in Jimmy Graham, who has tight end size with a wide receiver skill set. He creates a mismatch as soon as he walks on the field. What is nice to see is that Graham has become a much better blocker as he has gained experience.
Benjamin Watson is a very reliable backup and does a good job when lined up at "Y."
Offensive line
The Saints always seem to get very good offensive line play. With most NFL clubs, the strength of the line is at the tackle position, but that isn't the case in New Orleans. With Brees standing only six feet tall, the guards have to keep the passing lanes open. In Jahri Evans and Ben Grubbs the Saints have two of the best guards in the NFL. Both have size and power and do a great job keeping middle pressure off Brees.
The left tackle is second-year man Terron Armstead, who struggled some with his early play but kept getting better with experience. He has the physical traits to be a very good NFL left tackle. The right tackle is reliable Zach Strief, who people seldom notice, but he always gets the job done.
The center may be Tim Lelito in his second year from tiny Grand Valley. The Saints thought enough of him to let Brian De La Puenta leave during free agency. Just in case, the Saints recently signed Jonathan Goodwin, who started in San Francisco the last three years.
Defensive line
The Saints are listed as a 3-4 team, but with offenses being spread out the way they are, New Orleans is in a four-man front the majority of the time.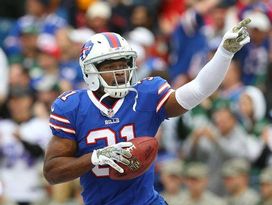 Jairus Byrd was a huge get for the Saints during the off-season.
In their base scheme, the starters at end are Cameron Jordan and Akiem Hicks. Jordan is already a Pro Bowl-type player and had 12.5 sacks a year ago. Hicks, who is just in his third year, keeps improving and may very well be a Pro Bowler in the near future.
The nose tackle is Broderick Bunkley, who doesn't have the size of many NFL nose tackles, but he has more athleticism.
Former undrafted free agents Glenn Foster and Tyrunn Walker have exceeded expectations and get playing time in the rotation.
When the Saints go to four down linemen, linebacker Junior Galette moves to end and is an outstanding edge pass rusher. He had 12 sacks a year ago.
Linebackers
When the Saints are in their base scheme, the inside linebackers are Curtis Lofton and David Hawthorne. They both enjoyed perhaps their best seasons a year ago under new coordinator Rob Ryan.
Victor Butler missed 2013 with a knee injury but is back healthy and should line up at one of the outside linebacker spots. Galette is of course at the other outside position and is becoming one of the better 3-4 outside linebackers in the league.
If Butler isn't totally healthy, Parys Haralson is ready to step in. There are also two rookies who could figure into the equation as well. Fifth-round pick Ron Powell from Florida has second or third-round talent, but dropped because of two previous ACL injuries. When healthy, he is a player. Fourth round selection Khairi Fortt from Cal can play either inside or outside. Fortt is a better athlete than he is a player, but he has the natural traits to develop.
Secondary
The key addition in free agency for the Saints was free safety Jairus Byrd. Byrd is one of the most instinctive ball hawks in the game and is a huge upgrade. Byrd had what was called "minor" back surgery near the end of OTA's. He will probably miss some time during the pre-season, but is expected to be full go for the regular season.
Opposite Byrd is last year's first-round pick in Kenny Vaccaro, who played outstanding football as a rookie before getting injured.
At the corner spots are Keenan Lewis, who was a free agent signee a year ago and proved to be an immediate upgrade, and former Br onco All-Pro Champ Bailey. Bailey is in his 16th season and is not what he used to be. The backups are former first-round pick Patrick Robinson, who is coming off an injury, and third-year player Corey White.
The Saints are high on second-round pick Stanley Jean-Baptiste, who is best when used in press coverage. But he can struggle some when he has to play "off." He also needs to be more aggressive in run support.
Outlook
The NFC South is one of the tougher divisions in the NFL. Carolina came on strong a year ago and they should continue to improve. Atlanta had a surprising off year in 2013 and you can't expect them to remain down. With Lovie Smith now in Tampa Bay, the Bucs will be vastly improved.
Three of those teams have very good NFL quarterbacks and that being said, the team that stays the healthiest will win the division. One thing is certain: Whoever wins the division will be a damn good football team. Opening day will tell us a lot, as the Saints visit Atlanta to start the season.
What is odd about the Saints' schedule is that three of their first four games are on the road. Something tells me that there are people in the league office who are still a little angry with New Orleans.
Follow Greg on Twitter: @greggabe