June 23, 2014 -
Greg Gabriel
Team Preview: New York Jets
The Jets haven't had a winning season since 2010 when they went 11-5. Last year, they finished 8-8 by winning their final two games. Their strong play at the end of the season saved Rex Ryan's job. He only got a one year extension, so he has to hope the Jets can challenge the New England Patriots for the AFC title.
While the Jets have a fairly strong defense, the offense has to get on track. Offensive Coordinator Marty Mornhinweg has a very capable system, but like all systems, the team has to execute plays for the system to work. The Jets were inconsistent at doing that a year ago. Now in Mornhinweg's second year, the hope is that the offense will be that much better,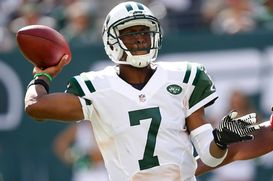 Smith's performance may make or break the Jets' 2014 campaign
Quarterback
The Jets drafted Geno Smith at the top of the second round last year to be the quarterback of the future. He played in all 16 games last year with mixed results. His completion percentage was just over 55% and he threw only 12 touchdowns compared to 21 interceptions. These numbers have to change in 2014. He needs to complete better than 60% of his throws and turn the touchdown-to-interception ratio around.
Michael Vick is the backup, and while there are people around the league who think Vick can challenge Smith, I am not one of them. Vick can flash and will always be able to make plays with his feet but he is a turnover waiting to happen in the red zone. If Smith doesn't show drastic improvement, the Jets are in trouble.
Receivers and Tight Ends
The weakest part of the Jets offense may be the wide receiver corps. There do not have a true number one receiver and may not have a number two. The Jets signed Eric Decker form the Broncos during free agency, and while he is talented, he is more of a complementary receiver. He can struggle versus physical corners.
The leading returning receiver is Jeremy Kerley, and he only caught 43 passes in 2013. The Jets have to hope that rookies Jalen Saunders and Shaq Evans play well as rookies. Saunders is very talented but small, so there is a question as to how he will hold up.
The players who may turn out to be Geno Smith's top targets are the tight ends. Jeff Cumberland had his best year as a pro in 2013 with 26 receptions. The player who could turn out to be an important part of the offense is rookie Jace Amaro. Amaro is like a big wide receiver who runs good routes, has great hands and can run after the catch. He should be able to create some mismatch problems.
Running Back
The Jets most important signing in free agency may very well have been Chris Johnson. Johnson is only in his seventh year and he still has breakaway ability, but his play has fallen off in the last few years. The Jets have to hope a change in scenery will help Johnson's game. To back up at running back is Chris Ivory and Bilal Powell. Both of them are better inside getting the tough yards than Johnson.
Offensive Line
The offensive line has some quality starters but their play has been inconsistent. The line is led by guard Willie Colon, left tackle D'Brickashaw Ferguson and center Nick Mangold. That trio is as good as there is in the league. It's the other two starters that may be cause for concern.
Second year man Brian Winters holds down the guard spot opposite Colon, he showed some flashes as a rookie in 2013, but there was no consistency in his play. The Jets lost Austin Howard in free agency and signed Breno Giacomini from Seattle to replace him. Giacomini is not as talented as Howard.
An interested rookie, who may be a year away, is fourth round pick Dakota Dozier. Dozier was a top player at IAA Furman and will need time to adjust to the NFL, but he has the talent to be a quality guard or tackle.
Defensive Line
The Jets are strong along the defensive line. Their two starting defensive ends can match up with any in the NFL. Last year's first round pick Sheldon Richardson played like a seasoned pro and was defensive rookie of the year. Muhammed Wilkerson keeps getting better with experience. He is very athletic for a big man, with strength and explosion. The starting nose will be Damon Harrison. While he may not be much of a pass rusher, he is excellent versus the run. He will play in a rotation with former starter Kendrick Ellis. Ellis looked like he had a bright future a couple years ago, but has been slowed by injuries the last two season. Leger Douzable is a quality reserve.
Linebackers
Former first round pick and former defensive lineman Quinton Coples lines up at one of the outside linebacker spots. Coples has the physical talent to be a quality NFL player. His play in the NFL is just as it was in college: hot and cold!
Calvin Pace lines up at the other outside spot, and even though he is getting up in age, he can still rush the passer. Antwan Barnes was playing well last year before being sidelined with an injury. He has to figure in the mix.
The inside linebackers are strong. 2012 third round pick Demario Davis came on strong in 2013, and even more is expected from him this year. The other inside guy is eight-year vet David Harris who has been very consistent his entire career in New York.
Secondary
The Jets went into the draft with huge needs in the secondary. Many thought they would draft a corner in the first round. Instead, they selected safety Calvin Pryor from Louisville. Pryor is a very physical player who add some nastiness to the Jets defense. Dawan Landry is the other safety, and while he isn't special, he plays a steady game. Last year's first round pick Dee Milliner had to be considered a disappointment as a rookie. He really struggled early in the year but did come on the last few games. The hope is that his strong late-season play will carry over to 2014.
Last year's starter at the other corner, Antonio Cromartie is gone. The Pro Bowler was released in February and signed with Arizona. Right now, the starter at that slot looks to be Demetri Patterson, who was signed as a free agent after spending the last two seasons with the Dolphins. Former first round pick Kyle Wilson has never lived up to expectations, and this year may be his last chance. The Jets have to hope that third round pick Dexter McDougle from Maryland is ready to play as a rookie.
Schedule
The league schedule makers were not kind to the Jets. While they open at home against the Raiders in a game they should win, the next three games are against NFC North opponents Green Bay, Chicago, and Detroit. While two of those games are at home, those three teams will certainly challenge the Jets questionable secondary. If the Jets don't come out of their opening four games with at least a two and two record, it could be a long year as their next two opponents are at San Diego and home versus Denver.
Follow Greg on Twitter @greggabe